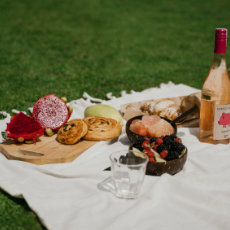 We all love a picnic outside with the family or a loved one, sat outside in the glorious sun (if you are lucky) with a nice sandwich or cake. But as sweet lovers, we believe that any picnic should also include a variety of sweet treats to make it truly unique. To celebrate National Picnic month we wanted to share our top sweets to make the perfect picnic.
Where did picnics start?
Picnics are a staple of any British summertime. As soon as the sun comes out our minds drift to think of eating outside with a refreshing drink to enjoy the weather. The earliest picnics are dated back to medieval England. Legend has it that Robin Hood and his merry men regularly ate feasts of bread and cheese on the ground under the trees of Sherwood Forest. However, the modern tradition as we know it comes from the 1700s after the French Revolution meant that royal parks were open to the working classes. Over the years picnics have become a great way to spend time with our family and friends, making the most of the sunshine and fresh air.
TOP SWEETS FOR PICNICS
So we all have our ideal picnic foods. That might be a nice sandwich and crisps, some pastries or even some posh fizz to make the occasion a special one. Let's be honest, with our weather we rarely get to sit outdoors and eat so we better make the most of it when we do!
Whilst these are all important elements of the ultimate picnic feast, we think finishing it off with a selection of sweets is equally important. After eating, what better way to settle down and sunbathe or read with a selection of yummy sweets to munch on!
Fudge
Not only do we have the awesome
Cadbury Fudge
, but we also have a great variety of fudge flavours that will take you back to your childhood! From the traditional
vanilla fudge
, we have
salted caramel fudge
, rum and raisin fudge
rum and raisin fudge
, and of course, chocolate! Now on a hot Summers day, chocolate may not be the most practical of sweets to take on a picnic so our
Chocolate Fudge
is the perfect answer. That creamy, rich, chocolatey taste without the risk of melted chocolate ruining your picnic.
Rhubarb and Custard boiled sweets
When it comes to traditional British pastimes, it just makes sense to include traditional British flavours! When I think of Rhubarb I think of English country gardens and Sunday dinners finished off with Rhubarb crumble. So rather than spend hours baking, grab a bag of our Rhubarb and Custard boiled sweets to give you more time to enjoy your picnic!
Jelly Insects and Animals
One thing that can spoil any picnic? The inevitability of insect invasion at the first sight of potato salad! So why not embrace the irritating additions to your picnic and bring your own instead? We have every creature you could imagine:
Jelly-filled Snails
,
Jelly Spiders
and
Jelly Snakes
. If you're taking your picnic to the beach, why not take some of our
Gummy Starfish
or
Jelly Dolphins
? If you want to mix things up, we even have
Foam Unicorns
! Truly an animal for every occasion and perfect if you have children on your picnic.
Strawberry and Cream Boiled Sweets
Is there a more summery treat than strawberries and cream? Add a touch of class to any picnic by serving some of our deliciously flavoured boiled sweets for guests of any age to enjoy. Perfect for a picnic or even a Summer trip to Wimbledon!
Prosecco Bottle Sweets
Something for the grown-ups! Cast off the
Cola Bottles
and indulge in some prosecco flavoured gummy treats with just enough fizz to delight the tongue. Gluten-free and with no additional colours these are almost guilt-free!
Toffee
This buttery confection is hard to beat and a great option for picnics (as long as you keep it cool!), and boy do we have a selection for you! Toffee is something that is loved across the generations and we've got something for everyone to ensure your picnic is as tasty as possible! From Toffee Wheels to Bonbons, Banana Splits to Butterscotch be sure to check out our selection for your next picnic outing
Rose and Lemon Turkish Delight
Add an exotic hint to any picnic gathering by offering up some delicious Rose and Lemon Turkish Delight. Not only is our Rose and Lemon Turkish Delight delicious, but it's also Vegan-friendly and gluten-free which means it can be shared by all of your friends. We searched high and low for the perfect Turkish Delight, and now you have one that is picnic perfect!
Sherbet Lemons
Fizzy, fruity and utterly delicious – the taste of summer in a sweet. Our Sherbet Lemons will be the hit of your picnic. A lovely lemon flavour on the outside with a fizzy sherbet surprise waiting in the middle and each is individually wrapped so perfect for sharing.
Mints
After any meal, one thing people will never turn down is a classic mint. The best thing about our mint selection is that we have loads of different types to choose from!
Buttermints
,
Chocolate Mints
,
Extra Strong Mints
– whatever you need for your picnic to round the day off you'll find it with us!
TIPS FOR A SUCCESSFUL PICNIC
The perfect picnic should be simple. Grab some food, a blanket and find the ideal spot for some outdoor dining. To help you plan your perfect picnic we've come up with some top tips to help your picnic go without a hitch!
Choose foods that are easily portable, foods that aren't heavy and can easily be transported in Tupperware.
Pack foods that can be eaten with fingers! While paper plates are always a must, finger foods remove the awkwardness of trying to cut up while balancing it on your lap!
Avoid foods that melt or anything too sticky – not only do these help remove the messy aspect of picnics, they can also attract unwelcome flying guests. Rather than cake, choose a variety of sweets instead.
Don't worry about different courses, simply lay out your food buffet style and let people help themselves. You'll find your food goes much quicker and it's much more relaxing when you can pick and choose your food from a nice selection.
Our top tip? Pop your soft drinks and water either in the fridge or in the freezer before packing and these will act as extra cooling agents to stop your food from getting too warm.
Don't forget your picnic essentials either (apart from the food and sweets of course), which include
- Sunscreen
- Sunglasses
- Picnic rug
- Hand wipes
- Bags to ensure you can take everything home
So now you can plan the perfect summertime picnic with all your perfect picnic sweets available here with fast delivery at AQuarterOf.co.uk. Get outside and start enjoying the great British summertime…just as soon as it stops raining!