Hello retro sweets lovers! Here are our current, Alan "Fluff" Freeman "Pick of the Pops" style top 40 most popular, mouthwatering sweets. How many of these vintage sweet classics do you remember chomping on?
The Best Sweets Ever... Top of The (Lolly)Pops!

Retro Sweets: Where Does The Love Come From?
We love old fashioned sweets UK style! Can you tell? There's something undeniably delightful in finding something you haven't tasted since childhood, purchasing it from a small business, stowing a bit of clinking change in your pocket, and hurrying off with your prize. As for actually unwrapping and eating it – yum! What a trip down memory lane... and now you can enjoy loads of the memories from your old sweets shop when you order sweets online from A Quarter Of.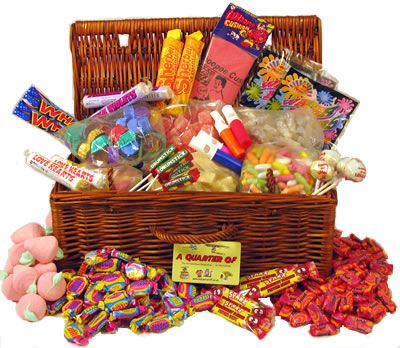 But why? Why are we so drawn in by vintage sweets? Well, who doesn't love a good sugar hit? Sweets come in every size and flavour, so no matter who you are, you're bound to have a favourite that sets your taste buds tingling, but we think there might be more to this trend than meets the eye.
A lot of us love anything nostalgic. We look back on the golden days of childhood with great fondness, and we love to reminisce about the things we remember. Just watch your uncle's eyes light up as he remembers his favourite
1950s sweets
! Even better are moments when you and another person remember the same thing at the same time – and if that recollection is sweetened by sugar, so much the better! Old sweets certainly tick that box.
Discover a treasure trove of traditional confectionery, candies, liquorice & sherbet. The best sweets from the 1950s, 60s 70s, 80s sweets and 90s too: you'll find them all in our old-fashioned sweetshop. From Space Dust to Love Hearts Candy and all the mallows & pencils, bubblegum & chews that you love too... Pretty well everyone remembers sherbet fountains, aniseed balls and space dust - but we bet you haven't seen any of them in any shops for years and years. So surely, you think, they must have stopped making them. Well think again, because they haven't (as you will see from our massive selection at A Quarter Of...)

You might remember hanging around in the playground, sticking Cherry Lips to your face with your best friend. You might remember baring your Strawberry Vampire Teeth on Halloween. You might remember grabbing a paper bag of Sherbet Pips or White Gems or Milk Gums on a cycle home from the park. Some of us got through more Apple Pencils than real pencils during our school years! Whatever your go-to snack was, old school sweets UK style are bound to carry a plethora of fond memories.

Many of us are delighted and surprised when we find out that old sweets we loved still exist, whatever our age. When I created AQuarterOf.co.uk most of our customers were children of the 60s, 70s and 80s - but more recently lovers of 90s sweets have joined the fray! There's such a wonderful thrill in being able to get something we thought might have been lost to the annals of time, something that reminds us of the glow we felt when we first discovered our favourite sweet in the quiet, muffled corner of the local sweetshop. Something special, something unique – and it's lasted throughout history. Vintage sweets have certainly proven themselves against the test of time.

But perhaps there's yet another reason that old school sweets trigger our emotions. They represent the feelings of childhood. We all remember just how important sweets seemed back then, back when the world was simple and something like a sugar hit could be the highlight of your day. That simplicity is something many people want to recover in a world which is often confusing, crowded, and chaotic. Old sweets UK style do something to take us back to that time, and they're little pieces of magic that we might never really understand, no matter how many Liquorice Wands we wave.

Here at A Quarter Of, we want to breathe life back into your memories of UK retro sweets. We bring you everything you could wish for on your old fashioned sweets list - the names of sweets you know and love, to flavour your life with a bit of magic and the taste of childhood. Old sweets are the gems of life, and we aren't just talking about Midget Gems! So you can buy retro sweets online and get superfast retro sweets delivery!

Old Fashioned Sweets - Why Do We Love Them So Much?
What is it about old retro sweets that make us all love them so much?

Why do we go all misty eyed when we start listing the old British sweets from our childhood... and find that the list goes on and on as other favourites pop into our mind?

Well here's why we think that retro sweets UK style hold such a special place in our hearts...
You Find Other Traditional Sweets Online That You'd Completely Forgotten About.
These are the real old fashion sweets gems! There will be other sweets that you'll see as you browse around A Quarter Of... that you had forgotten all about. Whether it's Gold Nuggets (the gold pieces of bubblegum in a little cloth bag), kali or Spanish Gold - the old-fashioned sweets that bring the most nostalgic memories are often the ones that had slipped your mind completely!
The old-fashioned sweetshop where we used to buy our sweets.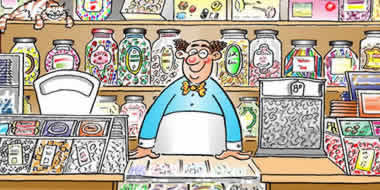 There seemed to be a little sweetshop on every street corner and in every parade of shops. Often they were very small and sold nothing apart from newspapers (and comics), cigarettes and tobacco, and lots and lots of sweets. Oh and they had one of those Walls (or Lions Made) ice lolly freezers for hot summer days too. Our local retro sweet shop had a stand in the corner with lots of jokes on... it was brilliant!
You used to be spoiled for choice; it was so difficult to choose what to spend your pocket money on.

But the lovely lady behind the counter (did every sweetshop have a little old lady, with her hair in a bun, serving in it?) never rushed you; I think that she knew that the choosing process was one of the joys of buying traditional sweets. I used to stand there looking in wonder at all of the options – deciding what would go into my little white paper bag. And then, just as I was about to commit, a different old-fashioned sweet would catch my eye and I'd change my mind again. It's great being a child in a retro sweetshop – but it makes deciding so very difficult! The iconic favourites list is just so long - old English sweets with different favourites in different regions, Scottish sweet delicacies like Soor Plooms and Lucky Tatties, Welsh and Irish confectionery names too - the UK sweets list of the best old sweets names of 50s, 60s, 70s and 80s sweets UK. Fancy some Haribos anyone? Or those handy candy canes - mmmm minty - that look so good on your Christmas tree and taste great too? With our speedy pick n mix delivery you could be enjoying a whole list of sweets very soon!
The memories they bring back.
Just hearing the name of an online pick and mix old favourite like Anglo Bubbly Bubblegum brings memories flooding back... whether it was the long hot summer of 1976 (ahh... the memories of all those 70s sweets melting into one huge, multi-flavoured, bits of white paper bag incorporated too, lump!), playing football in the park with jumpers for goalposts, the Bay City Rollers on the radio and all the most fashionable kids copying their Shangalang wearing tartan to look really groovy! (I didn't say it was ALL good!).

So if that's what just hearing the names of your nostalgic favourites does, just think what memories are brought back by seeing your favourite childhood sweets again.
Or, best of all, actually tasting them!
Prepare for a delicious trip down memory lane... and enjoy the best retro sweets ever!



Genuine Customer Comments
Adele Hedley
"Fabulous service, even during these difficult times our delivery arrived within a few days. My kids were so happy with the surprise sweets which gave them such a pick me up! Thank-you! We will order from you again! Take care, stay safe."
Ceata Rycroft
"Excellent service - loving the sweets Will definitely be ordering on a regular basis"
Anna Warrington
"Excellent service all round. Delivery was prompt & email updates very informative. The sweets are amazing. Would recommend."
See loads more reviews on our Wall of Love
Most Searched For Tuck Shop Sweets