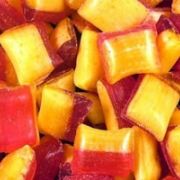 Gone are the days when sugar-free sweets were the poor relation to their non diabetic counterparts.
Look at the selection below to see how things have changed. Many of them (particularly the handmade sugar free sweets) are works of art. And they taste every bit as good as they look.
In fact, these days many people eat sugar free sweets by choice... not because they have to.
Showing 1 to 6 of 6 (1 Pages)
Genuine Customer Comments
Diana
"I love that you can still get the sweets we loved as a child , I have used this site quite a few times in the past,, and I just used it again a week ago and they are still as good as before and delivery was quite fast. I love this site."
Chrissie
"Anticipation before the arrival of the box of delights was almost unbearable. A solid box kept the contents safe and sound through transit, with a swift delivery time too. The Liquorice Selection Jar and Retro Sweets won't see Christmas!"
Denise
"Thank you so much for my lovely sweets. They arrive very quickly and take me back to being a little girl queuing in the local sweet shop"
See loads more reviews on our Wall of Love