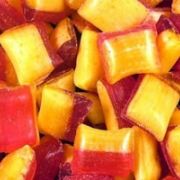 Gone are the days when sugar-free sweets were the poor relation to their non diabetic counterparts.
Look at the selection below to see how things have changed. Many of them (particularly the handmade sugar free sweets) are works of art. And they taste every bit as good as they look.
In fact, these days many people eat sugar free sweets by choice... not because they have to.
Showing 1 to 7 of 7 (1 Pages)
Genuine Customer Comments
Helen C
"Huge range of products available, difficult to limit myself & will definitely be back for more! Ordering was easy with quick delivery. A gift for a friend which was very well received!"
Berenice Moran

"It hasn't arrived yet (Ireland) so I can't really comment. Bought for a gift, sent direct. We had a bank holiday here on Monday so no deliveries. Have always had a good experience ordering from you before."
Vaun Earl Norman
"Always quick and easy the goods great quality we have used them four times I think for Christmas sweets."
See loads more reviews on our Wall of Love