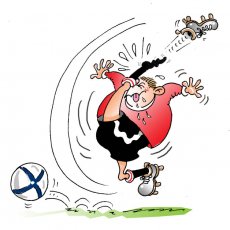 Hello

I went to Wembley last Saturday to watch the League 1 playoff final (football!) where my beloved Wycombe Wanderers were playing Sunderland.

We lost 2-0 sadly... on the day it was a fair result... but that's part and parcel of supporting Wycombe... and the defeats make the victories all the sweeter.

So much has changed football-wise since watching The Big Match on Sunday afternoons in the 70's. Much for the better but also, like with so many aspects of life these days, it was so much simpler back then.

... and where's the nostalgic fun in focusing on what's better now, eh?

For starters, back in the day Division 1 meant the one with the best teams in it. Who would have ever guessed that that would change so that League 1 now refers to the 3rd tier of football in England. It's just mental.

I even had to look up whether it's now referred top as "Division 1" or "League 1"... talk about overcomplicating things.

And back then footy shirts were made of cotton and didn't change every year. I'm sure when I was particularly young that shirts didn't even have the manufacturers logo on them... and definitely no advertising. I think it was probably Adidas and, iconically, Admiral - the first polyester shirts that I can remember - (plus Umbro too) that started that bandwagon rolling... with the accompanying eyewatering cost of football kits and the now annual "new kit"...

And fancy second kits...

And fancy third kits...

Cha-ching!

And goalkeepers wearing anything but green...

And referees wearing anything but black...

And there were just 3 designs of football... not the myriad, "special design for each and every event" articles that you get these days.

There was the standard white football for every single league, FA Cup and League Cup game...

Unless...

The pitch was covered with snow... in which case the white ball was swapped for the orange one...

Except...

For things like World Cups, the European Cup (for winners only... not anyone who scrambled into the top 4), the UEFA Cup (for the scramblers) and the Cup-Winners' Cup (self explanatory) when they'd play with that ultra-exotic, soooo continental, soooo desirable black and white hexagonal patchwork jobby (not to be confused with a Billy Connolly "jobby"... that would be a completely different game!).

And every footballer, after they retired, seemed to open a pub.

Don't get me wrong... an awful lot has improved.

But the common thread in so many of the things that have stripped the beautiful simplicity from the game (and so many other aspects of life these days) is the obsessive love of money... the tail is most definitely wagging the dog... and it's sad.

What have I missed?