wedding sweets - retro sweets are more fun!
Looking for something more original than sugared almonds for your Wedding Day? (of course, we have those sweets too!)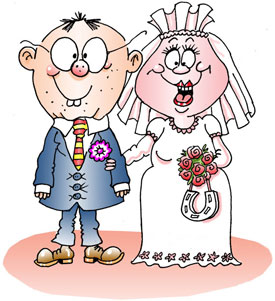 We've loads of ideas for Wedding sweets that are lots more fun... and memorable. And you can be certain they will get your guests talking!
What Wedding Sweets Can You Choose From?
We've a massive range of sweets (over 600... and counting) which you can choose from.
The most popular sweets for Wedding at the moment are the
Bespoke Mini Glass Jars of Sweets
that you can see in the picture - with a personalised mop top on the top and finished with a ribbon tied in a bow. Just tell us what you'd like on the mop top and we'll do the rest.
Alternatively you may prefer little bags of sweets of your choice - with a personalised label. We can even supply you with little white paper bags to put the bags into - if you want to go for the real Old Fashioned Sweetshop feel...
And we can fill the jars and the bags with pretty well any sweets you like. We're very flexible!
As you can see you're spoilt for choice!
We can even personalise seaside rock for you... YES... the bride's and groom's names preserved in sticks of rock for posterity!
Or we can make up Large Traditional Sweet Jars for you - maybe one per table?
| | |
| --- | --- |
| Minimum Quantities for Wedding Sweets | |
| Bags of sweets with customised labels - We pack everything in clear plastic bags and apply your personalised label. | 150 bags |
| Glass mop top jars (filled with any sweets you like!) - complete with ribbon tied in a neat bow | 50 mini jars |
| Personalised Rock | 600 sticks |
So How Does It Work?
It's ever so simple - just tell us what you are interested in using the easy form below:
Alternatively, if you'd prefer to phone us... just call 01254 262160.
Learn more about our range of
Personalised Wedding Favours