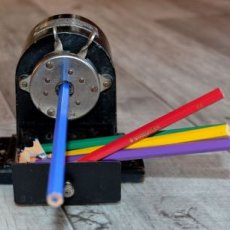 I mentioned the joy of pencils – and the relative merits of pop-a-point pencils vs freshly sharpened traditional pencils – in my last post (you can see it here if you missed it) and one of the most popular comments was about the pencil sharpener that every teacher seemed to have had on their desk back in the day…
I'd completely forgotten about them… and I certainly didn't realise that they were so iconic… did you?
Anyhow… the conversation led me to start searching online for an image of the said retro teachers pencil sharpener… and I found the image that you see above (which is pretty close to how I remember them to be except that I'm sure every one of my teachers had a two-tone brown one).
In my search for that image I came across what looks to be a much earlier version of the same sort of idea… the very grandly named "Planetary Pencil Pointer" from the 1890s and the 1900s…
How good is that? I bet it would make your pencil super-pointy!
But… and remember this is from about 120 years ago and fortunately times have changed… a lot…
…the advertising for the same "Planetary Pencil Pointer" is wincingly cringeworthy…
Shocking isn't it?
Did you spot the name of the company doing the advertising?
A Dick.
How appropriate…