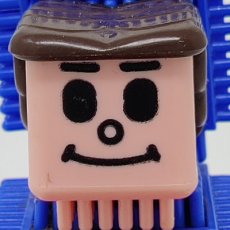 Here's another nostalgic toy memory from way back for you.

I bought a set not too long ago... and I've been trying it out, purely for research purposes... of course!

Here's my prototype for the new Tesla... what do you think?


Do you remember Stickle Bricks? Multi coloured plastic pieces with comb like teeth on each side which you could use to press into each other to fix the pieces together.

A sort of love-child of Velcro and Lego.


Here's what the box I bought recently looks like... I love the Woolies reduced price sticker... but with the actual price removed which makes me think it was probably a gift given by someone who couldn't be bothered to take off all of the sticker...

"They can't see the price so that'll do!"...classy!


It's a special edition box too... "with head"!

And the previous owner clearly felt the need to scribble all over it.

Oh, gratuitious scribbling brings back happy memories...

... and umpteen tellings off!

And after all that I then discovered that you can still buy Stickle Bricks on that website that's named after a big river... £34 for a box of Stickle Bricks...

THIRTY

FOUR

POUNDS

!

That's about the same as I earned per week in my first proper job...

Gosh I feel old!