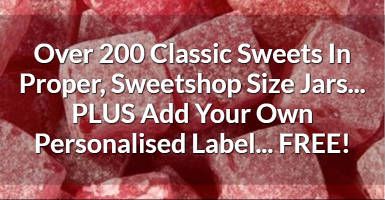 Hello! Welcome to our best ever Christmas Sweets Grotto.
As well as the usual categories of treats that you can see below, we've a mega-range of over 200 sweets which you can buy in proper, old-school, BIG sweetshop jars. And even better still, you can add your own personalised label to every single one of them.
It's incredibly easy and you can even upload a photo!
Click here to see all 200+ sweets...
Genuine Customer Comments
Rachel
"Really quick delivery, great value and quality products. Brilliant follow up emails that give a lovely insight into the company. I will definitely be using the site again soon!"
Margaret McAnelly
"Excellent service in difficult times, love the sweets, all the sweets I had as a kid👍👍"
Sam
"Totally awesome and worth every penny!! So many wonderful sweets, I have trouble deciding which ones to have! Website is very easy to use and very quick delivery. Best sweet seller I've ever used."
See loads more reviews on our Wall of Love