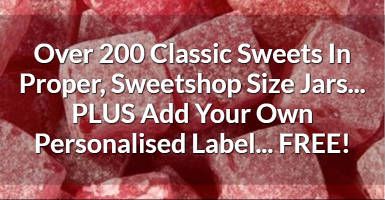 Hello! Welcome to our best ever Christmas Sweets Grotto.
As well as the usual categories of treats that you can see below, we've a mega-range of over 200 sweets which you can buy in proper, old-school, BIG sweetshop jars. And even better still, you can add your own personalised label to every single one of them.
It's incredibly easy and you can even upload a photo!
Click here to see all 200+ sweets...
Genuine Customer Comments
Julie
"Fantastic is the only thing I can say only sad it's taken me so long to find you 😢😢😢 . So many memories and favourites hard to choose for our first order. As Arnie would say "I'll be back!" Lol 😄😄"

Julie
"Very fast, efficient service. Very happy with products purchased. Will definitely use again 🙂"
Kelly
"Package arrived on time,all safe and secure. Have yet to try our sweets, we are saving them for later. Looking forward to them though."
See loads more reviews on our Wall of Love