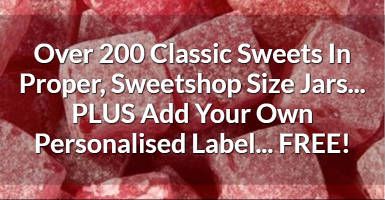 Hello! Welcome to our best ever Christmas Sweets Grotto.
As well as the usual categories of treats that you can see below, we've a mega-range of over 200 sweets which you can buy in proper, old-school, BIG sweetshop jars. And even better still, you can add your own personalised label to every single one of them.
It's incredibly easy and you can even upload a photo!
Click here to see all 200+ sweets...
Genuine Customer Comments
Liz
"Bought a selection of sweets for my dads 90th birthday, he was delighted. Thank you"
Donna
"Very quick turnaround. Sweets arrived in A1 condition. I couldn't be happier!"
Carol
"Excellent selection of sweets and great value for money."
See loads more reviews on our Wall of Love