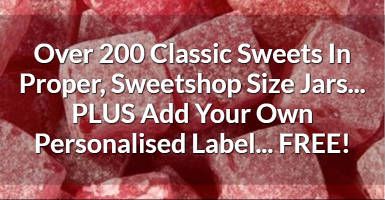 Hello! Welcome to our best ever Christmas Sweets Grotto.
As well as the usual categories of treats that you can see below, we've a mega-range of over 200 sweets which you can buy in proper, old-school, BIG sweetshop jars. And even better still, you can add your own personalised label to every single one of them.
It's incredibly easy and you can even upload a photo!
Click here to see all 200+ sweets...
Genuine Customer Comments
Heather Saunders
Guy Taylor
"I am pleased with the prompt updates on my order. I am also happy with the choice and quality of the sweets. I continue to recommend you to friends and family"
Mark
"Excellent .Sweets taste like they used to very pleased and love the stories.Delivery was quite quick for this particular time"
See loads more reviews on our Wall of Love