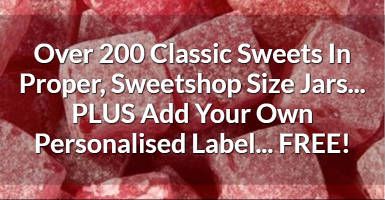 Hello! Welcome to our best ever Christmas Sweets Grotto.
As well as the usual categories of treats that you can see below, we've a mega-range of over 200 sweets which you can buy in proper, old-school, BIG sweetshop jars. And even better still, you can add your own personalised label to every single one of them.
It's incredibly easy and you can even upload a photo!
Click here to see all 200+ sweets...
Genuine Customer Comments
Kyle Stranaghan
"It was quick, efficient and pretty much the service you'd like to receive from any retailer. Can't fault them"
Paul
"I have ordered from A Quarter Of many times now and the service is always excellent. There is a good range of sweets available and the site is easy to use. Very happy!"
Lee Ingham

"Very good. You did exactly what you promised. tiny quibble: could you not just make delivery free over £35, rather than having to enter a code? I bought £34 worth then paid more than a bag in postage as I didn't realise."
See loads more reviews on our Wall of Love