Almost 50 years later this still sends shivers down my spine... and not in a good way.
It's in the same category as scraping fingers down the blackboard for many people (which strangely I don't mind that at all, do you?)...
Honestly... I feel unforfortable writing this and bringing back the memories...
The incredible power of triggers...
Anyway...
Back in the 70's we had a couple of regular holiday destinations... both of which involved tedious drives along A roads (motorways were a lot fewer and shorter back then)...
Mostly single carriageway roads...
Lots of the scourge of long journeys back then... caravans trundling along...
Hot cars...
Sticky vinyl seats...
Stress central.
But what stessed me out the most was what potentially awaited us at the hotel where we'd be staying. (One of them used to have a gong to call you to breakfast - which always featured grapefruit segments - how 70s is that? It was just like something out of Fawlty Towers!)
Would I have 7 nights of decent sleep?
Or would my worst fears be realised?
We'd arrive... go up to the room...
"Please... please... please" I'd be saying to myself (as if that would make any difference).
Fingers crossed (ditto).
Nooooooooooooooooooooooooooooooooooooooooooooooooo!
Horrible... bobbly... scratchy... hot... sweaty...
Nylon sheets.
I bet they bought them from his place too: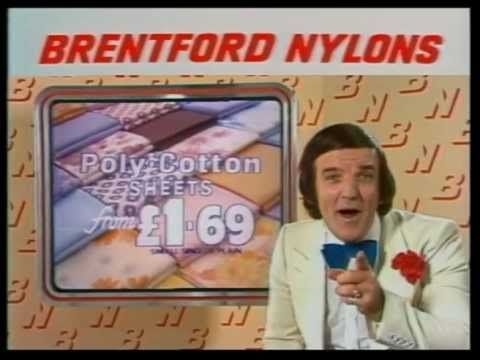 I despised Brentford Nylons and everything the name conjured up back then.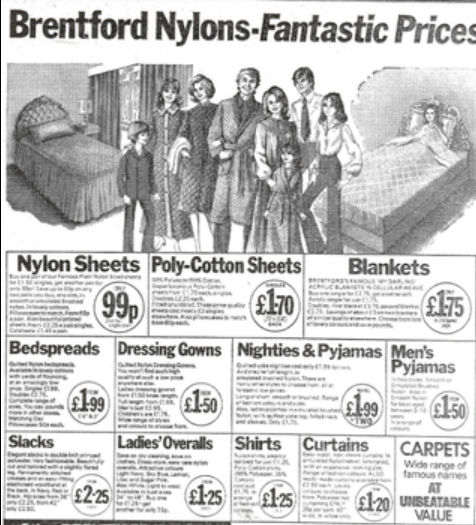 Was there anything as bad as nylon sheets?
Apart from nylon sheets AND nylon pyjamas... static central! And then you could put on your nylon dressing gown for the full ensemble... ugh!
And here's another word to conjure with from that advert... "Slacks"! Whatever happened to slacks?
Are there other toe-curlingly, teeth-clenchingly horrible things that you can remember from back in the day?