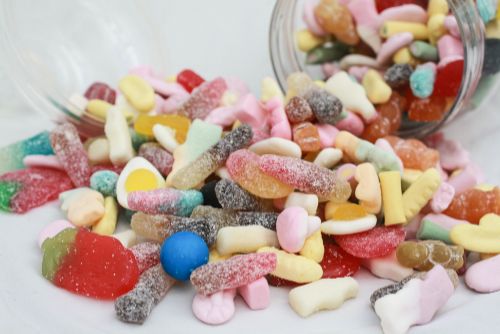 Pick n mix - our first taste of the mouthwatering joy our pocket money could bring! Who can forget standing in your local sweetshop... plastic scoop in hand... wondering which of the colourful confectionery to add to our paper bag?
Now they've been replaced by the fab, "around 500 retro sweets to choose from" pick and mix sweets at "A Quarter Of" our online sweet shop - it's really just one huge pick 'n mix counter! I wonder who coined the term pick n mix as it became known?

So take your pick from the best selection of pick n mix online you'll find... the retro confectionary delights include sherbet lemons, anglo bubbly bubblegum, black jacks, fruit salads, aniseed balls, gobstoppers, refresher chews, haribo fried eggs and giant strawbs, pink shrimps, lots of different cola bottles, milk gums, midget gems... and literally hundreds more!
Classic Pick n Mix Sweets (aka Pick and Mix, or Penny Chews)!
Probably the most exciting part of your childhood sweetshop (it certainly was in the sweet shop near me) was the penny sweets (that's what I think of whever someone mentions the term "pic n mix") section. I use that term loosely because back in the early 1970's it was more accurately the halfpenny or ha'penny sweeties section, because you could frequently buy 2 of your favourites (or even more) in return for your big shiny penny, Mind you that was back in the days of predecimilisation prior to 1971, so some of the treats were only a farthing each in old money.
So in many ways "penny sweets" has always been a relative term. There are so many to choose from: Fruit Salad, Barratts Shrimps, Pint Pots, Double Lollies, Fizzy Cherry Cola Bottles, Anglo Bubbly Bubble Gum, Drumsticks - Original (Raspberry and Milk), Space Dust - Strawberry, Vampire Teeth, Rainbow Drops, Love Hearts, Milk Teeth, the list goes on and on! It was always such a tough decision to work out which of multi-coloured, traditional confectionery favourites would find their way into your little white paper bag.

Feast your eyes on our range of old-fashioned penny mix sweets. If they still make them, we stock them... and you can enjoy them again. Can you feel your mouth watering? You can't resist trying a few again, can you?

Nostalgic Memories
Pick n mix UK style has a pretty proud history, and it's a major shot of nostalgia for most of us! The rustle of the paper bags, the smooth feel of the little plastic scoop, the box after box of pick a mix sweets. A whole myriad of colours and flavours just begging for our attention, ready to tantalise our taste buds. Which ones to pick & mix? How many of each type to go for? Whether to select the sour or the sweet? We all remember hovering before the plastic boxes or glass jars, wide-eyed and frozen with indecision.

The name of this wonderful phenomenon might have varied a bit depending on your location, and all sorts of terms for it have sprung up over the years. We've also seen picknmix, pic a mix and plenty of other variations – whatever it was called, it was certainly delicious.

If you were a child back in the early 1970s, you might remember the birth of pick a mix, or of the ha'penny sweets offer if it was an old sweet shop. If not, picture this: a small, vibrant room, filled with the scent of sugar and sour laces, of gobstoppers and gum, of toffee pennies and toffee twists. Going inside is a treat on its own, perhaps one you can enjoy as you run back from school, or on a cold afternoon when there are errands to be done in town.

The olde sweet shop bell tinkles overhead, and it's very quiet inside. You can almost hear the rustle of the packets. At only a few feet high, you're dwarfed by the counter, but you're tall enough to peer into the boxes and jars, to see the rainbow temptations in their cellophane wrappers. They look so juicy - the freshest sweets, so tempting up on those shelves.

You have an entire section of the shop to choose from - a world of imagination and creativity from all the best sweet-makers is at your fingertips, and all you have to do is stretch up on tiptoe, offer out the penny, and pick two, sometimes even more if it was a cheap yet traditional sweet shop! If your retro sweet shop (or your local Woolworths) offered pic and mix, you might get given a little scoop and you could hurry off to the bliss of selecting your a quarter of sweets.

We all had our favourites ... there were so many to choose from! Fizzy Cherry Cola Bottles, Space Dust, Strawberry Vampire Teeth, Barratt Shrimps, Fruit Salad, Double Lollies, drumsticks in two different flavours, Pint Pots, Rainbow Drops, Milk Teeth, Love Hearts, Violets. Which one should you lift the flap for and dip your little scoop into? We all changed our minds a hundred times, regretted and delighted in what we had chosen, and left the shop sticky, excited, and brimming with the magic of childhood. Pic a mix was a truly wonderful thing, and even today, kids get to experience it!

The Joys of Pick and Mix Online!
Now, it's even easier, and you no longer have to limit yourself to two sweets, or the small selection your tiny corner shop can fit in - there are no space restrictions in the world of online sweets - we sell in 1/4 of 1kg bags so you get a lot more (over double!) than the old fashioned "quarter of a pound"! If you haven't come across this before, you're in for a treat – or maybe a whole variety of treats, because one of the wonders of online pick and mix is that you can choose from such a massive selection thanks to the advent of our old fashioned sweet shop online! Forget ten, twenty, even thirty different boxes; pick n mix online has hundreds. The whole internet lies at your feet. No matter which obscure traditional sweet your walk down memory lane demands, if it's still in production, we have it!

Experience the wonders of pic and mix online, and enjoy the delicious, mouth-watering flavours of a totally customisable sweet order. If you just want a handful of liquorice laces but fancy a hundred fudge squares – no problem. That's the beauty of pick and mix sweets online!
Genuine Customer Comments
J. Ward
"I'm very impressed with your service and have been for a long time (I've been using your site for a few years), I don't see how you could improve it as I like it just as it is. Thanks Michael."
Mark
"Excellent .Sweets taste like they used to very pleased and love the stories.Delivery was quite quick for this particular time"
Jackie
"Excellent - a real trip down memory lane"
See loads more reviews on our Wall of Love