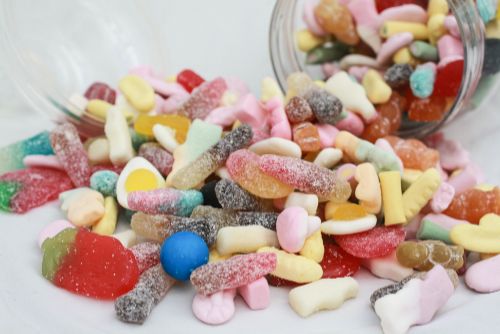 Welcome to A Quarter Of, your one-stop online sweet shop for pick n mix sweets. We bring back the nostalgia of your local sweet shop, offering a wide range of retro sweets that you can pick and mix to your heart's content. From Sherbet Lemons to Anglo Bubbly Bubblegum, Black Jacks to Fruit Salads, we have something for everyone.
Our pick n mix sweets are not just about the taste, but also about the experience. The joy of choosing your own sweets, the anticipation of tasting them, and the memories they bring back - it's all part of the A Quarter Of experience. So why not take a trip down memory lane and explore our range of pick n mix sweets?
THE NOSTALGIA OF PICK AND MIX SWEETS
Contents:
Do you remember the good old days when a trip to the local sweet shop was the highlight of the week? As an old-fashioned sweets enthusiast, I can't help but reminisce about the days of pick and mix sweets. The joy of filling a paper bag with your favorite treats was unrivaled. In this article, we'll take a trip down memory lane and explore the magic of pick and mix sweets.
Growing up in the UK, I have fond memories of visiting the local sweet shop and filling up a paper bag with all my favorite confections. I remember the excitement of picking out different flavours and textures, and the joy of sharing my sweets with my friends.
Pick and mix sweets were a staple of the British high street during the 50s, 60s, 70s and 80s. These sweets were displayed in large jars, and you could pick and choose your favorite sweets, putting them into your little white paper bag. The concept was simple, but the excitement it generated was unmatchable.
The History of Pick and Mix Sweets
Pick and mix sweets have been around for over a century, with the first pick and mix sweet shops appearing in the UK in the early 1900s. Back then, pick and mix sweets were sold loose from large jars, and customers would use a scoop to fill a paper bag with their chosen treats. Over the years, pick and mix sweets became a popular treat for children, and many sweet shops and candy stores began to offer a wider variety of flavors and types of sweets. The 1970s and 80s saw a boom in pick and mix sweets, with many UK high streets boasting several sweet shops where customers could choose from hundreds of different varieties.
Why Are Pick and Mix Sweets So Popular?
There's something uniquely appealing about being able to pick and choose your own sweets. Whether you're a fan of fruity flavors or sour candies, pick and mix sweets allow you to create your own custom mix of treats. Plus, there's the fun of browsing through a wide range of sweets and discovering new flavors and varieties that you might not have tried otherwise.
The Range of Choices
One of the appeals of pick and mix sweets was the sheer range of choices available. From gummy bears and jellybeans to flying saucers and liquorice allsorts, there was something for every type of sweet tooth. The best part was that you could mix and match, creating a unique and personalized candy bag that was all your own.
The Art of Weighing
Having a sixth sense for knowing exactly how many sweets would fit into the paper bag was an essential skill for any pick and mix sweet enthusiast. The meticulous scooping and weighing of each sweet meant that every bag was perfectly portioned. It was almost like a game, trying to fill the bag to the brim without going over the limit.
Sweet Memories
For those who grew up in the 70s and 80s, pick and mix sweets bring back so many sweet memories. The excitement of going to the local sweet shop with your pocket money, the tough decisions that had to be made regarding which sweets to choose, and the elation of enjoying your self-selected treats are moments that will never be forgotten.
The End of an Era
Sadly, the heyday of pick and mix sweets came to an end. With the rise of convenience stores and supermarkets, the traditional sweet shop became a rarity. The large jars of candies were replaced with pre-packaged bags, and the magic of weighing and selecting your own sweets has faded.
The Resurgence of Pick and Mix Sweets
Fortunately, the nostalgia of pick and mix sweets has seen a resurgence in recent years. Many sweet shops now offer pick and mix options again, and some supermarkets have even introduced self-service sweet trolleys where customers can fill a cup with their favorite treats. The creativity of pick and mix sweets has even spilled over into weddings and special events, where candy carts and self-serve sweet tables have become a popular way to add a touch of whimsy and nostalgia to the festivities.
The Joy of Sharing
Pick and mix sweets have always been a communal experience. Whether it was swapping sweets with friends or sharing a bag with siblings, pick and mix sweets were meant to be enjoyed in the company of others. Even now, as adults, we can't help but smile at the memory of those sweet moments with loved ones.
The Bottom Line: Pick and Mix Sweets Are Here To Stay!
Pick and mix sweets may have had their heyday in the past, but the memories and nostalgia associated with them will never fade. The excitement of choosing your own treats, the art of weighing and portioning, and the joy of sharing with others will always be a part of our sweetest memories. So go ahead, treat yourself to a bag of pick and mix sweets, make sure your supplier offers fast sweets delivery and wide range of traditional pick and mix sweets, but we also cater to different dietary needs. Check out our selection of vegetarian, vegan, and gluten-free pick n mix options. We believe that everyone should be able to enjoy the joy of pick and mix sweets, regardless of dietary restrictions.
If you're planning a large event, consider our wedding pick n mix options or take a look at our bulk pick n mix offerings. We can help make your event even more special with a custom selection of pick and mix sweets that your guests will love.
Experience the Joy of Pick and Mix Sweets Today
Ready to experience the joy of pick and mix sweets? Browse our selection today and start building your custom bag of sweets. With our fast and reliable sweets delivery, you can have your pick and mix sweets delivered right to your doorstep. Experience the nostalgia of pick and mix sweets with A Quarter Of today!
Ultra-Special Christmas Chocolate Offers