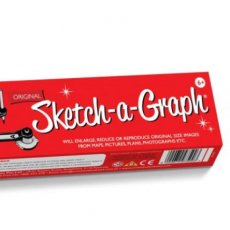 As I look out of the window here the sky is grey and it's raining.

Back in the day, before there was 24 hour a day entertainment for children (on-demand television so you can watch whatever you like whenever you like, tablets etc etc), it was the sort of day that we'd mope around, bored.

At the time being bored seemed to be the worst thing in the world... apart from going to the dentist... and school dinners... and blancmange... and (I'll stop now!).

Cue the 1970s parents' regular refrain...

"Find something to do!"

Time to explore shelves and cupboards to rediscover things that we'd been given for Christmas but had never got round to using...

...or stuff where the adverts had convinced us that this plastic contraption was the thing that we needed to have "hours of fun" (more of that later - I have a real treat for you!) only to find that it wasn't. Or the box didn't look 1% as convincing as the adverts and remained firmly sealed.

Here's a prime example...

Do you remember Sketch-a-graph?

I'm not sure that name would have convinced many of today's young'uns to part with their cash. And in the cold light of day the product wasn't much better either...

It was a plastic contraption which allowed you to copy pictures (by hand). They could be either the same size, or smaller, or (wait for the big selling-point!), larger (oooh!).

Is that it?

Yep.

It was like a glorified version of tracing paper!

Speaking of tracing paper... did you used to do the thing where you rubbed with a soft pencil (HB too hard... 2B better... 4B groovy!) on the back of the tracing and then went over your line on the front of the paper again to get the image faithfully reproduced on your new sheet of paper?

Or where you used to use a wax crayon - not v tasty and went all bitty on your teeth... apparently : ) - to do bark rubbings and, once you'd learned the joy of those, you went round taking rubbings of anything that didn't move... coins (v good), flowers (not so good), brother (got told off!).

Anyway, I digress... back to Sketch-a-thingy...

Whereas in the tv advert the resulting images were always a faithful representation of the original, I could never control the bloody thing and everything I drew looked liked a seismograph of an earthquake measuring 7 on the Richter scale... and that's shakier than gyrating, quiffy, denim-clad Mr Stevens from Wales!

I've just searched on Youtube to see if I could find one of the Sketch-a-graph adverts and I have! Hurrah! And it's for the mark 2 no less - the new and improved version allegedly but it looks the same as the original to me.

In the advert you get to see how to draw a map of Australia, a Homepride flour man (graded grains make finer flour... oh the drip-drip power of advertising repeating phrases over and over and over again) and two examples of cringeworthy sexism (guess what special treats the "laydees" have in store... ugh).
It sounds like an advert for the Ronco Buttoneer (remember that?).

No way would it have convinced me I wanted one... so mine must have come from an aunt or uncle as a gift.

Or was I really that sad???

Anyhow... final treat... I was looking on Amazon to see if Sketch-a-graphs are still around. And it seems not.

Technically it's a pantograph (pants-o-graph more like... chortle!) and you can still buy those (and it looks like some people do, amazingly) but not the plastic jobbie!
Did you get your Sketch-a-graph to work?
Am I being unfair due to my ineptitude and unfeasibly (I love that word... and can't use it without thinking of a certain Viz character who is far too rude to be named in this blog post... know who I mean?) shaky hands?
Do tell...