A bumper selection of hard boiled sweets and boiled confectionery!
There's nothing quite as nostalgic as boiled sweets. We all remember them so well from our childhood... whether it was Aniseed Balls, Kola Kubes with sugary outside and a chewy centre, or Sherbet Lemons - you know, the ones that used to stick to your paper bag and which had a real fizz in the centre
We have loads of old fashioned hard boiled confectionery here at AQuarterOf... for you to enjoy. Feast your eyes on these...
Do You Love Boiled Sweets?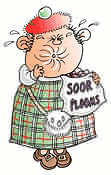 If so, you're in luck... we have a fantastic range of the best boiled sweets around.
Whether you're a fan of Rhubarb and Custard, Aniseed Balls, Yorkshire Mixture or pretty well any other boiled sweets that you can think of, you'll find them here... and lots more besides.
We even have some boiled sweets made especially for us. For example, if you like your acid drops with a bit of extra 'zing' then just try our Mouth Puckering
Acid Drops
... they're brilliant!
And don't forget, we're adding more and more boiled sweets all the time so keep checking back to buy your favourite classic sweet or discover a new treat
Genuine Customer Comments
Alan Trewhitt
"The service was so good. Everything will packaged and delivered on time"
DANI
"Always quick on delivery, great price and perfect products, use often and will continue to do so"
Simon Grace
"Delivery was prompt and exceeded expectations. Sweets were well packaged and labelled. Definitely purchasing again."
See loads more reviews on our Wall of Love