90s Memories
When you think
retro sweets
, what springs to mind first? Is it whacky clothes, great music, school days, a certain quirky toy – or the sweets? The 90s were a golden age for sweets, and so many of them have stayed with us since then, all the way into the 2020s. Most are still going strong and we'll probably have them in another 50, perhaps even 100 years! Some old sweets from the 90s are the best sweets there are. We can't believe it was a whole 30 years ago! Which do you remember most clearly?
90s sweets – or 90's retro sweets, as it's popularly written nowadays – had some great variety to offer. If you're someone who also remembers 90s TV fondly, you might have a particular soft spot for Taz bars. Simple milk chocolate with a smooth caramel centre, these were named after the Looney Tunes Tasmanian Devil who whizzed around in a frenzy and gobbled up anything he could lay his hands on. At only 10p per bar, we think he'd probably have guzzled entire warehouses of his namesake chocolate!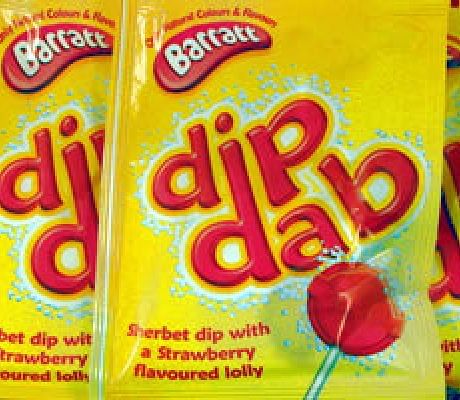 If you wanted a bit more of a tingle to your sweet snack,
flying saucers
were another one of the immensely popular 90's retro sweets that has stuck around until today. They have a funny papery texture, and yet so many of us enjoy them despite the weird experience eating one offers! The satisfyingly bright colours and the rewarding fizz of sherbet inside is a sure way to win kids over, and to be honest, the adults who remember these won't be far behind! Alternatively, if the rice paper outside gave you problems, you might remember
Dip Dabs
, with a succulent strawberry lolly you could use to scoop up sherbet and stuff it in your mouth. It was a generous packet and a lot of us probably remember feeling sick before we could get to the end of the bag, but isn't that true of most of the best old sweets from the 90s?
For those who liked their sherbet plain and simple without all the frills, sherbet straws in their four bright colours were the bread-and-butter of childhood. Orange, pink, green, and light green, they were sometimes referred to as rainbow dust, and they were the perfect snack for slipping in your pocket – and they still are! Rip the end off, tip, and you've got a shot of sweet and sour fizziness to make your mouth water. Just make sure you don't inhale it instead; that's not a comfy experience!
As a further offer of the 90s sweets UK, who remembers
Flumps
? These amazing marshmallow twists were quirky and delicious in spite of being a strange colour. Everyone loves marshmallows and the soft, pillowy comfort they offer. There are no other sweets – or other foods, for that matter – quite like these! The name is great, too; how better could you describe a marshmallow than as a flump? That is exactly what it is, exactly what it does, and it couldn't fit them better, even if it sounds rather funny.
The Bubbaloo is another weird-sounding invention of the 90's retro sweets. Bubblegum but gooier, with a sweet, strawberry centre waiting to burst out at you when you chewed it, this was every bubble-blower's dream. Even the packet looks juicy, bright red with the strawberry splatter already escaping, and a tempting pink disc of gum wrapped around it. They look like they belong in a cartoon, they're such a perfect pack of gum, and they'll offer a wonderful nostalgia hit to anyone who likes blowing a few bubbles. It reminds us of the Looney Tunes episode where one of the cats used bubblegum to float up the side of a building!
If you want a flashback to your playground days, how about the
candy necklaces
and bracelets? Stacking those up on your arm was a great way to ensure you had enough sweets to last you through the whole day, and I'm sure we all remember how they doubled up as a weapon – pinging them off their elastic at some hapless schoolmate was the highlight of the day for many of us. Okay, it occasionally backfired and we'd find ourselves the target, but it was all in the fun of it, and they looked great. You might have been at risk of sticky wrists if it rained and you wore them for too long, but everyone had fun with this great treat, and they tasted good too!
Another snack for looking cool in the playground, candy sticks were very loved in their day, and they still are! If you didn't pretend these were cigarettes, you might have been doing it wrong, because they were absolutely perfect for it, and we all wanted to be the school rebel, grown up like the adults. We'd still say they're a better option than the real thing! That satisfying, not-quite-soft, not-quite-hard texture was weird and unusual, and they looked so cute in their little blue box. Thank you, Barratt – another wonderful classic we all loved.
Boxed 90s sweets had a lot to offer, and
Poppets
are another one we look back on fondly, and still enjoy on a regular basis! There were plenty of flavours to pick from here, which might be why they've survived so well; we could all find something we loved, and with such a cute name, what more could we want? These were particularly popular in cinemas because they were a quiet snack, and the box let you easily 'pop' one out, making them ideal for munching in the dark. You can buy them in bags too now, but unlike most other retro sweets, they've kept up the cardboard box option, which makes them better for the environment. They are also satisfyingly chewy, so you get to enjoy the sweet for longer. With mint, toffee, orange, fruit creams, peanut, raisin, and other newer flavours, these definitely wanted to appeal to everyone, and we think they did pretty well. They might also have been one of the first sweets dispensed by vending machines!
Anyone who wanted something sourer from their 90s UK sweets probably remembers the mouth-watering temptation of
WHAM bars
. These left nothing to the imagination, and lived up to the promise of their energetic name with a blast of tangy flavour. The bars had a lot of fizz to them, with sour crystals embedded in their classic raspberry flavour, and they really looked the part of the cool kid, with a firework style pattern, bright colours, and an all-caps name. Yum!
Finally on our list of the best 90s sweets, do you remember
Rainbow Drops
? Wow, these looked magical, and they lived up to their promise with a sweet sugar coating for a maize and rice snack. The bright colours would lure any child in, and at least there was something vaguely like food in there – you could almost kid yourself these were healthy! Okay, perhaps now you wouldn't be fooled, but as a child, you could feel like these were the lower sugar option that still had plenty of flavour and fun. The crackle of the packet and the satisfying taste of the rainbow – no, not quite like Skittles – made for a great and memorable snack which sends most of us down memory lane. For many of us, that's even better than the proverbial pot of gold. The past is something we all treasure, and it comes alive in these retro sweets.
Genuine Customer Comments
Krissy
"Great choice on the website and awesome service. My order was picked and shipped super quickly!"
linda
"Excellent service and delivery as always.....And the sweets are top notch.....Thank you......"
Rebecca
"An amazing selection of old fashioned sweets. I bought these to send to my dad and found his favourites. Really quick delivery in the current circumstances as well. Brilliant"
See loads more reviews on our Wall of Love