Chewy sweets come in so many shapes and sizes. Which is your favourite chew? Jelly sweet lover? Or do you prefer a good old-fashioned gummy sweet to give your jaw some exercise? Or softer foam sweets that you can chew on and which also melt in your mouth?

If you love sweets with a bit (or a lot) of a chew to them, you've come to the right place. Chomp on your favourites here... You'll find jelly cola bottles (both fizzy and smooth, normal size and giant), bubblegum bottles, shrimps, fruit gums, midget gems, Haribo fried eggs, foam mushroooms, gummy bears, chewy foam mushrooms, sweet bananas, toffees, chewing nuts... and loads more!
Chewy Sweets Agogo!
Remember your childhood sweetshop? The old sweet shop with shelves of colourful boiled sweets... and they were great.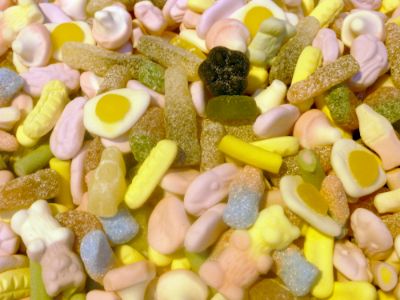 And then there were all those old school sweets to chew - in our childhood retro sweet shop they used to be in boxes and tubs on the counter... and under the counter too, all crammed with corner shop sweets. Some were wrapped (like Black Jacks and Fruit Salads), some were bars (Wham Bars and Highland Toffee), tubes (like Opal Fruits and Chewits) and others were unwrapped (shrimps and milk teeth). And then of course there were bubblegums aplenty... destined to end up stuck to your face as you attempted your biggest bubble ever... only for it to puncture and deflate from your nose to your chin.
And then there were the other types of quirky chews... like strawberry bootlaces, chewy fruity tongues and pencils in a range of fruit flavours.
There were traditional gums and jellies too in a myriad colours and flavours. And the manufacturers were always adding more sticky creations to tempt us - they always seemed to develop a lot more chewy sweets than their boiled counterparts.
On the more traditional side you had the slabs of jaw-ache inducing toffees - creamy, treacle and liquorice flavours, chocolate coated toffees (both plain and milk), eclair toffees with chocolate inside the creamy toffee... and also toffee with nuts and/or raisins.
Many of the true traditional confectionery classics fit into the chewy category too. No childhood sweetshop, nor any self respecting confectionery store even today, would be complete without such classics as Jelly Babies and Liquorice Allsorts. And that leads us neatly into the whole range of liquorice sweets that you can still get today... from hard Bassetti and liquorice pipes to Lions Poor Bens and Liquorice Gums - old fashioned sweets uk are still alive and kicking when it comes to licorice!
For pure variety the confectionery you could chew was surely the king of the old sweets and is still a firm favourite in the world of sweets online.
And you can still enjoy many of the traditional favourites and vintage sweets today at AQuarterOf - the online sweetshop specialising in all sweets UK. Along with more than a few new creations as well of course.
If it's chewy or boiled, if they still make it you can get it here... Mouth watering yet?
Genuine Customer Comments
Tom
"You are what you say you are - and having discovered a source of traditional sweets I am placing regular orders so that I always have some in the house. Thank you."
Penelope Mitra
"Fantastic! Order quickly deivered to France. Lovely packaging and great value for money. Thank you for spreading the happiness to us Brits abroad!"
C Broadbent
"Brilliant order delivered swiftly and very good sweets"
See loads more reviews on our Wall of Love