Fun, Unique, Unusual - The Best Gifts For Men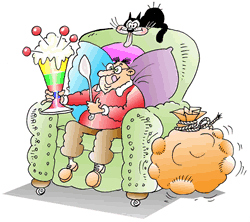 Looking for a gift for an important 'him'?
Buying presents for men, whether that's your boyfriend, your dad, an uncle or a friend... can be a real task... especially if you want to give them something he will really love.
Take a look at the great present ideas below... they are all classics that every man will love, regardless of their age, and they all make fun and unusual offerings that the lucky recipient is sure to love... and hopefully they might share their tasty treat with you too!
Showing 1 to 25 of 25 (1 Pages)
Why not make up your own gift with our classic retro sweets (we have every Dads favourite childhood sweets here... stacks of novelty and silly sweets as well as traditional tuckshop classics!). We can gift box it for you, no problem (just choose that option at the checkout)

Or even easier, choose one of our fab selection jars or boxes...

Or for an extra special finishing touch, choose on of our fabulous new personalised jars - there are lots of different designs so you can choose the perfect one for him.

And you can always add a gift message in with your order FREE... regardless of whether you've chosen one of our unique personalised gifts.

Voila... you've created a unique present, with your own personalised message, that every man, young and old) is sure to love.

Who said buying the best presents for men was hard? Not anymore it isn't!
Genuine Customer Comments
Peter Straker
"Excellent selection with a prompt delivery."
Carole Watts
"My daughter's friend in Finland was thrilled to get English sweets for her birthday, and has already sampled at least one of everything!"
Sam
"Fabulous service with very quick delivery even under these trying times. Thank you"
See loads more reviews on our Wall of Love