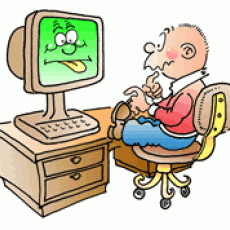 Back in the day... I think it must have been the 80s... there was possibly one of the strangest things to be broadcast on the radio... and it used to happen every Sunday. Anyone tuning in mid-stream must have been proper confused.

It was on a London independent radio station... LBC. They had a programme devoted to home computing (dominated by the Commodore 64 and ZX Spectrum from memory) and it was presented by Tommy Boyd...

Remember him off Magpie? He used to present that with that bloke called Mick who had wild hair... in my mind he's the identical twin of Brian May from Queen...

I'm going to have to do a Google search now to see quite how wrong I am...

You'd never have got a hep cat with hair like that presenting arch-rival Blue Peter back then...

Anyway... Tommy Boyd... Sunday afternoon... and I'd be poised with my cassette recorder... microphone next to the radio's speaker... set to "pause" mode so I could get the timing just right...

As so many would be doing in about 3 hours time when the Top 40 countdown was on Radio 1...

"Pause" button released and it would start... and continue for the next 3 or 4 minutes... the same sort of sounds as you used to get when connecting to a dial-up modem...

They were broadcasting a computer programme... on air.

Generally a very low level game... but oh the excitement of not knowing exactly how it would turn out...

Maybe this was going to be a really good one...

And with about 10 seconds to go I'd suffer one of those static crackles that you used to get occasionally on FM back then...

Please let the recording have worked regardless...

I'd plug the tape player into my Speccy... load... and hope...

After 3 minutes and 27 seconds... the dreaded Spectrum error message...




More like "AAAAAAAAAARRRRRRRRRGGGGGGGGHHHHHHHHH Tape Loading Error" if you ask me!