When I was young my cereal of choice was the rather functionally named Sainsbury's Whole Wheat Bisk.

It couldn't be Weetabix… Ooooooh no… it had to be Whole Wheat Bisk. And only Sainsbury's.

2 of them… with a sprinkling of sugar (a bit more than a sprinkling if no-one was watching!) and with milk to just below the top.

Too much milk and the sugar was swept away… and that's no good.

Too little milk and the top of the bisks stayed dry… and I didn't enjoy a dry top.

I followed the Goldilocks rule for the perfect breakfast.

But why not Weetabix?

Because after extensive testing I had determined that only the Sainsbury's version retained an element of crunch, even when eating the second of the bisks. And I liked that.

Weetabix just seemed to surrender to the milk and become a mush. Almost as soon as it saw the milk it became soggy from the bottom… and there's nothing worse than a soggy bottom!

But I was torn. Because while I loved the Wheat Bisk experience it was lacking one of the major perks of breakfast cereals back then.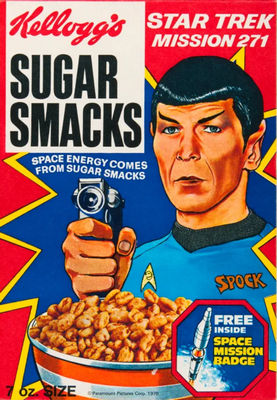 When you looked at the packs of the big-brand cereals on the shelves of the supermarket there'd be a load of temptations especially crafted to appeal to children of a certain age… a free toy!

Frequently the whole of the front of the box would have been redesigned to make the toy the major attraction… you just HAD to have it.


And the softening up process would have started even earlier. They'd have been adverts in the comics back then – including my reading matter of choice, Whizzer and Chips – which made the toys look soooo exciting.

It was so tempting and, on occasions, I just couldn't resist and we'd buy a pack of cereal which, secretly, I wasn't really keen on because I just had to have that Thunderbirds toy etc.

I'd get home and immediately open the box, take out the bag inside and try to locate the treasure. I'd end up opening the bag, tipping the contents out (that didn't go down well… ever) and I'll give a little squeal of glee when I found my bounty in its little plastic bag.

I'd open it immediately… make it if that was required… and then, invariably, be utterly underwhelmed. All too often the toys were just moulded lumps of plastic with minimal play value. They looked like the sort of things you seem to be able to make in those 3d printer jobbies these days.



See what I mean?

It was a bit like the feeling children seem to get every time they open a Kinder egg. How are those things still around?

And then I had to pay the price… 10 days of eating Corn Flakes… ugh.

And to add insult to injury they went soggy at the first sight of milk too!

PS if you were a sucker for the toys too I bet this'll make you smile...