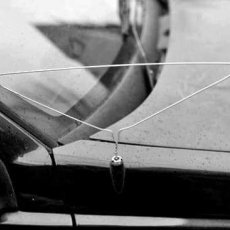 Ah, the good old days of the '70s and '80s, when British ingenuity was at its peak, and we could solve almost any car-related problem with a bit of elbow grease and a coat hanger. I can still remember the times when the car aerial would mysteriously go missing or simply snap off from one too many encounters with low-hanging branches. A trip to the store to buy a new one? No, that was far too simple a solution for us back then. Instead, we would rummage through the cluttered chaos of the garage, in search of the humble coat hanger, a staple of every British household.

With some deft handiwork, a pair of pliers, and a few choice words, that wire coat hanger would be transformed into a makeshift car aerial. It was a sight to behold - a gleaming metal hanger, swaying majestically on the roof of the car, catching the sun's rays as we drove down the M1. You'd think it was a poor substitute for a proper car aerial, but you'd be wrong. As one driver found out, they got a better signal with their coat hanger aerial than they did with a modern "little nubby one"​

And oh, the adventures we would have with these makeshift aerials. I remember one particular trip through the rolling hills of South Oxfordshire. The coat hanger aerial would sway with the wind, picking up and dropping radio signals like a game of musical chairs. One minute we'd be singing along to the latest hit from ABBA, the next it would cut out, replaced by a fuzz of static, making it sound like a "mouse hiccupping with a spatula"​.

Some people got very creative... well according to my internet search anway...

How about a shark?
Source: Ninety Years of In-Car Radio (davidlloydradio.com)

Or an outline of Australia (that's some coathanger bending!)
Source: seabreeze.com.au

My personal favourite is from Pigeon Watch Forums - I did not imagine I'd ever refer to Pigeon Watch Forums when I started writing this post!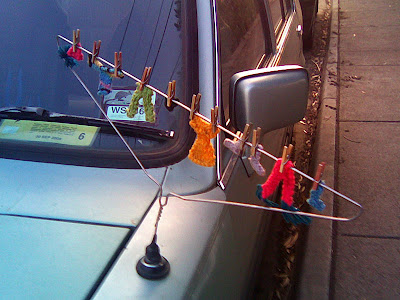 Looking back, it's funny to think about how we used everyday items to solve our problems, it was a time of improvisation and creativity were essentials. But more than that, it's a reminder of a time when life was simpler, and the solutions to our problems could often be found in our own homes, rather than in a store.

Back then more often than not we didn't have any choice!