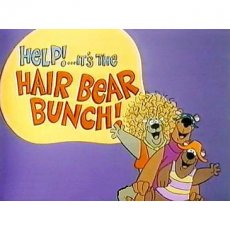 image source: The Big Cartoon Database: Hair Bear Bunch
A few evenings ago, I found myself rummaging through some old VHS tapes that had been tucked away in the depths of my attic. I stumbled upon some cartoons from the 1970s and 1980s, and it brought back a flood of memories of Saturday mornings spent in front of the telly, devouring bowls of sugary cereal... hunting manically for the plastic submarine today that Tony The Tiger proclaimed was included in the packet. Picture the Frosties poured on the table in the frenxy of excitement.

One such memory was of a particular cartoon that had me grinning from ear to ear - Help! It's The Hair Bear Bunch.

For those of you not familiar with this Hanna-Barbera classic, The Hair Bear Bunch was a group of three fun-loving bears with a penchant for mischief. The Bunch consisted of Hair Bear, the cool and cunning leader; Square Bear, the slightly clueless but lovable sidekick; and Bubi Bear, the gentle and sweet-natured dreamer.

Together, they resided in an outlandish, invisible motorcycle-riding Wonderland Zoo, constantly plotting their ingenious escape plans, much to the chagrin of the zoo's superintendent, Mr. Peevly, and his bumbling assistant, Botch. Botch had a catchphrase I can remember to this day... not at the Muttley level in the catchphrase Hall of Fame (I should create one of those, don't you think? Who would you vote for?) but good nevertheless:

Rats... I can't find "ooh ooh Mr Peevly" on Youtube... but to make up for it here's the theme song... that's bound to bring back memories!

Each episode would follow a similar formula - the bears would hatch a zany scheme to escape the confines of the zoo, roping in some of the other eccentric zoo inhabitants along the way. Predictably, their plans would always be foiled by Mr. Peevly or some unforeseen circumstance, and the bears would end up back where they started, much to our amusement.
Looking back, the antics of The Hair Bear Bunch were delightfully absurd and wonderfully innocent. There was something incredibly endearing about the trio's unwavering optimism and their ability to find joy in even the most mundane of situations. We couldn't help but root for them in their never-ending quest for freedom, even though we knew that success would likely mean the end of the show.
As I sat there, watching the grainy VHS footage of The Hair Bear Bunch, I couldn't help but feel a pang of nostalgia for the simpler times.
Back when our biggest concerns were whether we had enough pocket money for a bag of pick 'n' mix or if our favourite cartoon characters would finally outsmart their captors. It was a time when we could genuinely enjoy the silliness of it all, without worrying about political correctness or the hidden agendas that seem to pervade today's media.
But perhaps the most poignant aspect of The Hair Bear Bunch was the underlying message of camaraderie and resilience. In each episode, the bears would face setbacks and challenges, but they never faltered in their determination to pursue their dreams. And, through it all, they always had each other's backs. In many ways, The Hair Bear Bunch was a testament to the power of friendship and the importance of never giving up, no matter how many times life knocked us down.
As the tape whirred to a stop, and the screen went fuzzy, I couldn't help but feel a sense of gratitude for having grown up in an era where cartoons like The Hair Bear Bunch reigned supreme. These simple, yet heartwarming shows taught us valuable life lessons while providing us with endless entertainment. And, while today's generation may have an endless array of high-tech gadgets and flashy cartoons to keep them occupied, I can't help but think that they're missing out on the magic of The Hair Bear Bunch and the countless other gems that defined our childhoods.
So, here's to The Hair Bear Bunch - a beautifully bizarre piece of our past that will forever hold a special place in our hearts. May we always remember the joy and laughter they brought us and never lose sight of the lessons they taught us. And, as Hair Bear would undoubtedly say, "Keep on truckin'!"
PS how cool was that invisible motorbike? I want one!