Iconic 1980s Sweets
Lots of us look back on the 80s through glasses which are just a touch on the rosy side – but one thing we can be sure we don't romanticise excessively is the sweets. 80s
retro sweets
were among the best in history, and those that have survived until today have really earned their 40 years of continuation! We may have seen a few changes, but these 80s sweets still live up to their name, and we're so happy that they're still around for us to enjoy. Let's see how many you remember!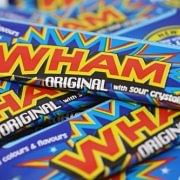 Anglo Bubbly
might be a top UK 80s sweet for anyone who loved bubblegum. It was actually invented in the 1970s, but it's definitely one a lot of people also associated with the fun of the 80s! It stands on its own in the world of
bubblegum sweets
, and what you may not have realised about it is that it's actually pear flavoured! Now that's something we feel they'd be pretty unlikely to come up with today – pear just doesn't seem to be a common flavour anymore, despite how absolutely delicious it is. With its bright blue and pink wrapping, this has some major curb appeal, but it definitely lives up to the promises it makes! Yum!
For another one of the truly iconic 1980s sweets, how about
sugared almonds
? These even sound special, the sort of sweet that might be tucked under pillows in old fairy tales, or endowed with magic from the fae. They were also often used in wedding celebrations because of their beautiful pastel colours – and some nowadays can even be given a gold or silver coating. The bitterness of the almond, contrasting with that thick sugar exterior, makes these a wonderful treat for anyone, and after all, nuts are healthy, right? Right?
On the nuts train, how about
Sweet Peanuts
? These were great for pick and mix, and look surprisingly realistic! They have a great peanut flavour, and being one of the boiled sweets, they last a satisfying amount of time. They also reward you with a delicious soft centre once you work your way to the middle – yum! They're free from gelatine and gluten, making them one of the ideal 80s sweets.
80s Sweets UK - Foam Style!
Clinging to the 'health train' and the food-shaped theme, perhaps you remember
Foam Bananas
. If not, it might sound like a funny name, but these 1980s sweets couldn't really be called anything more suitable. They're soft and juicy chews with a mild banana flavour, perfect for people who want a bit of a change from plain chocolate, or the ultra-sweet hit of a boiled sweet. These might not look quite as real as the Sweet Peanuts, but the bright yellow with a gentle green tinge is convincing enough for everyone to enjoy them!
Last up on the food-theme, one of the classic 1980 sweets was
foam shrimps
. These probably sound even weirder if you're not lucky enough to be getting a wave of nostalgia right now, but they were a peculiar and very popular shrimp-shaped mallow. They were great for pick and mix, and their texture is oddly satisfying to munch on. You might be relieved to hear that they aren't shrimp-flavoured, however! They're a lovely soft raspberry, which is probably more appropriate for a sweet shop than seafood would be!
Another amazing
80s sweet
was
milk teeth
. Now, these weren't going to do anything to stop you getting fillings, but they were great fun nonetheless. You might well remember trying to tuck them down between your lip and your gum so you could pretend they were your real chompers – and they were a delicious combination of strawberry and vanilla, matching the colouring nicely. They were even dusted with sugar for an extra dash of sweetness. They look surprisingly realistic for the time period and whether the idea would be as popular today – especially with dentists – we're not sure, but we do know that anyone who remembers these is likely to find their mouth watering at the thought of them.
Romantic 80s Sweets
For you, 1980 sweets might have meant those lovely rustling packets of
Love Hearts
. These are still immensely popular today, and they have some updated messages on them to include text speak and emojis – but call us old-fashioned sweet purveyors, we still prefer the traditional 'my hero' and 'be my baby.' That's not to say we can't all have fun with switching up the messages once in a while, and it's great to see the creators constantly updating this sweet. Weren't they just the most romantic thing to pass out to your playground crush? We're sure a few people will have saved the 'I love you' ones especially for that purpose, and then tried to make it look like a coincidence. How many marriages were orchestrated by early-day passing of these sweets? Who can say, but our love affair with them is still ongoing, and lots of people use them as wedding favours, so they've definitely earned their place in any review of UK 80s sweets!
How about
Liquorice Torpedoes
? These are a fabulous example of UK 80s sweets in action – bright colours, crispy sugar coating, and a mouth-wateringly chewy liquorice centre. They definitely had a lot to appeal to children, and they look so pretty, you almost don't want to eat them. Almost, anyway, because honestly, who can resist a good stick of liquorice to munch on? If the Torpedoes didn't do it for you, another one of the best 1980 sweets has to be Liquorice Pipes. It's surprising these still exist, given the censure smoking receives, but we think it's nice that they're still around – and the chances of them actually encouraging kids to smoke seem pretty slim to us. That fabulous aniseed decoration at the end of the pipe really makes these, and I'm sure anyone who enjoyed them will remember hoping they would be thought 'grown up' by the people around them. The fun you can have with good sweets!
We can't finish a list about 80s confectionery icons without including a lolly or two, so how about Drumstick Lollies, in their distinctive wrappers. These delicious raspberry and milk flavoured lollies were a great alternative to some of the whackier flavours out there!
1980S sweets left little to the imagination – because people had already imagined so much for them! They are weird, fun, and occasionally very 'out there,' but that's perhaps why so many of us remember them so fondly!
Ultra-Special Christmas Chocolate Offers