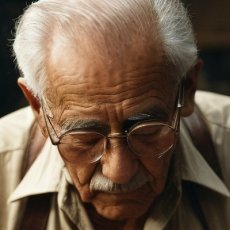 The 1970s and 80s in the UK weren't just about the flamboyant flares and shimmering disco balls. It was an era defined by a certain ethos – one of making things last. Back then, the essence of life was different – simpler in ways we often reminisce about today.
The emphasis wasn't so much in buying new things, but in renewing the old. It was a necessity back in the 70s, in our house at least.
Today's word is a wonderfully tripe-meaning word, where all meanings have faded from common modern use.
Cobblers!
As a child, hearing the word "cobbler" first evoked images of diligent craftsmen, mending soles in dimly lit shops. Our local one was a curious set-up where a man had transformed his large garden shed into a shoe repair emporium. His hands, meticulously threading needles through worn-out leather, brought shoes back to life. For many of us, our first pair of 'proper shoes' was handed over the counter by a friendly, or grumpy, cobbler.
Shoes were not mere accessories back then; they were trusty companions, carrying tales of adventures, misadventures, dances, and sometimes, a stumble or two. Or in my case a gazillion scuffs from playing tennis-ball football in the playground. When these trusted comrades showed signs of wear, they weren't discarded – they were mended. Re-soled. A stitching repair to fix a split. Re-heeled. Or those metal thingies that they used to hammer into the heel to stop them wearing down in the first place... the ones that made you sound like a tap-dancing Lionel Blair as you walked down the school corridor. (Bang goes your chance of tiptoeing in silently if you were late...)
I don't know about you but most of my shoes these days seem to be unrepairable. They seem very good value when I buy them but, once they start to wear I discover that one of their core construction materials is frequently cardboard... and if I took that to a proper modern cobbler they would no doubt treat them and me, with contempt. Plus these days they'd probably be too busy cutting keys which, for some reason, seems to have come synonymous with shoe repairers...
Probably because so many of us have such rubbish, flimsy shoes! And new seems to be the obsession these days... disposable everything.
Cobblers were the unsung heroes, ensuring shoes saw many more days of adventures. They were a testament to an era where the solution to wear and tear wasn't disposal, but repair.


But, as I hinted at before, there was more to "cobblers" than just expert shoe repair, noble as that was.
As I grew and engaged more with the colourful tapestry of British language, 'cobblers' took on a slightly cheekier connotation. Among friends, saying something was 'cobblers' meant it was complete nonsense. "You reckon you could eat 10 burgers in one go? That's cobblers!".
It was fascinating, really, how a word that once held such a wholesome meaning could also incite laughter. Was it the transformation from leather and soles to playful teasing that made 'cobblers' so endearing? Or was it simply the magic of the era – where words had the power to transport us to different worlds?
Like "Gordon Bennett" it was a wonderful term - one full of meaning and that wouldn't offend anyone. The modern equivalent would a represented by this sort of affair b#!***#! if I were to share it here.
And cobblers had a third, anatomical meaning too... We had a boy at school who was fielding very close to the bat in a game of cricket. He got hit right in the cobblers and had to go to hospital as a result...
It was eyewatering for the rest of us... heaven only know what it was like for him...
What a shame that language has, in so many ways and like so many other things, dumbed down.
I'm on a one-person campaign to bring back "cobblers!".

Care to join me?