Back in the 70's there was a British toy company called Palitoy.
Ring any bells?
They made my sister's favourite doll at the time… Penny Puppy walker…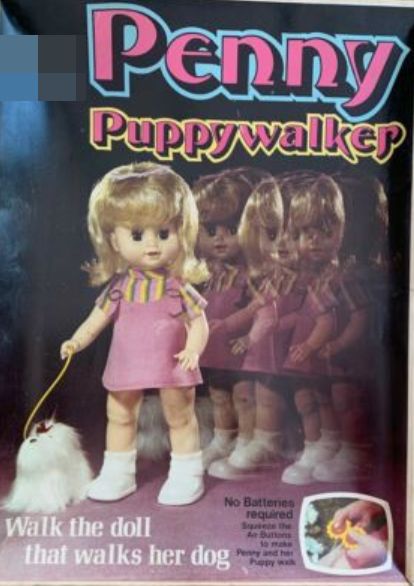 Sadly, and I have no idea why, I can still remember the flipping advert… and now I can't get it out of my head…
"Penny Puppywalker…
Take Penny Puppywalker for a walk
She walks her dog just like you
Squeeze one little air button and she walks with you
Squeeze the other button and her dog walks too…
Penny Puppywalker… "
I'm so sad…
I didn't look any of that up…
I just remember it (and the tune too)…
and it's going round and round in my head…
Aaaarrrggghhh
Anyhow…
Enough about Penny and her pesky, plastic, pneumatic, perambulating pooch.
Palitoy also made a particular range of games that were everywhere…
For while anyway…
I bet you had one.
Do you remember Pocketeers?
No?
I bet you will once you see a few of them…
They were pocket sized games that, from what I can find, were launched around 1975.
Disclaimer
Now I owe a lot of the content in this post to a stunning resource I found online called "World of Stuart".
It hasn't been updated since 2010… and the "contact" page doesn't work so I haven't been able to contact the aforementioned Stuart (Stuart Campbell) to ask his permission to borrow his content… so I hope that explaining all that and giving a link to the appropriate pages of "World of Stuart" in what follows, will prevent me from getting into too much hot water!
Pocketeers
Pocketeers were pretty simple games, generally for one person. They were all the rage… for a while.
Many a long coach journey was made slightly more bearable by our little pocket entertainment systems.
I owned the "done what it says on the tin" game… Rock 'n Roll.
All of the ball bearings started in the top section, you released them one by one and, using the red balances (which you tipped from left to right), you navigated the ball down to the bottom, trying to score as many points as possible.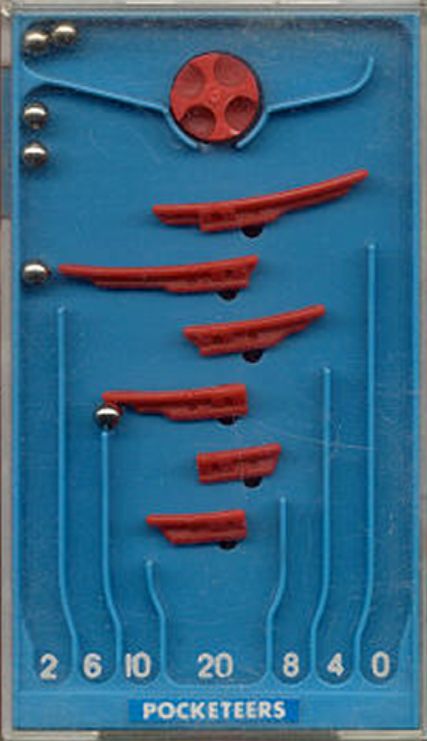 It was essential toilet entertainment for many a "sitting" (if you know what I mean)… but, like so many games, there was a trick to it.
The critical factor was the slope on which you put the game (so that gravity progressed the ballbearing downwards).
Too steep and it was impossible to score more than about 20.
But nice and shallow and 20 from each ball was a doddle…
I think that's probably why I soon reverted to Whizzer and Chips for my sitting down entertainment.
With the gravity secret the challenge had gone.
Pesky Isaac Newton!
Other children at school had different, some more exciting-looking games than my balancing one.
I remember the driving game, Rally…
The "kept my attention for about 15 seconds, the name sounded good but what's the point" Grand Prix
A poker game that I don't think that I ever really understood…
I could have sworn that there was a 2 player basketball game where you placed the game upright on it's long side and each person had to flick a button to try to get a ball into the basket at the opposite end. But I can't find on the Pocketeer page…
Does anyone remember that… or am I just going doolally?
I think though, that the most iconic of all the Pocketeers games has to be this one: Fruit Machine.
I seem to remember it was the most sought after in the playground, with my Rock 'n Roll lagging at the back of that particular hit parade.
Does this image bring back any memories for you?
As I say, thank you to Stuart for all of these images.
There are loads more Pocketeers (many of which I don't remember) here: http://worldofstuart.excellentcontent.com/pocketeers/new/list.htm. And there's also a picture of the original boxes that each Pocketeer came in… and those boxes bring back a load of memories too I can tell you. Take a look and enjoy.
Do you have any memories of Pocketeers?
Even better, do you still own one of them?
If you do (to either of the above… or if you know any more about that basketball game that I may have fabricated in my head) please share your memories in the comments section below.
I think we all need cheering up at the moment…
Stay safe…
Michael