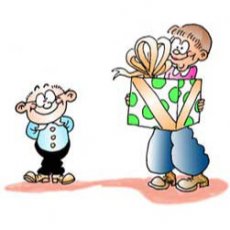 Who doesn't love receiving an extra special personalised gift?
Personalised gifts go down a treat with everyone, especially those with unique names or special milestone occasions such as anniversaries or baby showers. Here at AQuarterOf.co.uk we sell a range of delightful personalised
pick and mix
gift boxes, perfect for any occasion, big or small!
Do you have a significant milestone coming up? Well, we have you covered with our great range of personalised pick and mix gifts. Our
personalised Decade Gift Boxes
contain a range of your favourites including classic pick and mix sweets from
1950s sweets
right through to sweets from the
1980s
! From
Taveners Pontefract Cakes
to
Traffic Light Lollipops
; each box is jam-packed full of nostalgia! Each box weighs approx. 3kg - If you are looking for a
personalised pick and mix jar
, this is the gift for you. Make sure you don't miss out!
If you are unsure what jar to pick - play it safe with our exclusive
Pick and Mix Penny Jar
. Full of sweetshop classics, this gift will unleash many childhood memories and is suited to any age range as it is filled to the brim with pick and mix classics from across the decades! Our is a fantastic gift for any occasion and - at 2.7kg - packs a punch with a pile of fabulous pick and mix treats.
If you're looking for a personalised pick and mix jar crammed full of your favourite pick and mix treat then look no further! Our
Personalised Sweet Shop Gift Jars
are perfect for that
Barratts Shrimp
addict or
Flying Saucer
fanatics !
Have you ever seen a foot of sweets? Yes, you read that correctly. Well, you've heard of a "yard of ale"...well this is our "foot of sweets". Our
Personalised Jumbo Penny Mix Jar
full of simple but delicious tuck shop treats that can be personalised in over 20 fun designs! We have several other giant foot-long selection jars to choose from. Whatever personalised pick and mix you are looking for, you can find them here from Flying Saucers and Swizzels sweetshop classics, through to our
Liquorice gift jar
and Swizzels chew bars! You're bound to find the right treat for that special someone!
Perhaps you're hosting a children's birthday party and want to impress the little guests - check out our pick and mix
Personalised Party Bag
range! Allow every child to feel included and special with their very own personalised bag full of pick and mix goodies to enjoy after the party!
If you are after something a bit smaller than a huge 3kg jar, we do offer
Personalised Penny Mix Bucket
too. These 600g buckets are bursting at the seams with old school tuck shop pick and mix sweets, and you can personalise them! A brilliant present for a Teacher, Colleague or a Secret Santa, we're sure they would love.
So you've chosen your personalised
pick and mix
, what's next? We have a selection of 20 designs for you to customise with the name of your lucky recipient. Simply select customise your design before you add it to the cart. Not only that, but you also have the option to personalise your pick and mix with an image or photo of your choice to create that extra special gift!
Don't forget to check-out our favourite
vegan pick and mix
or, if you have a big sweet tooth, our
bulk pick and mix
.