pick and mix
sweets in bulk. Well of course we do! Whether it is a children's party, a wedding, or another large event - everyone likes pick and mix sweets!
Our products are available in a variety of sizes; from 250g individual bags to large bags of up to 3kg - now that's pick and mix in bulk. with our bulk pick and mix options, it's easy to make sure there is enough for everyone!
Here are our most popular pick and mix sweets to buy in bulk:
FIZZY BUBBLEGUM BOTTLES
(Available in 3kg bags)
One of the nation's favourite pick and mix sweets, the Fizzy Bubblegum Bottle! Small blue and pink jelly bottle shaped sweets with a tart bubble-gum taste and coated in a fizzy sugar coating. These are quickly becoming a retro confectionary staple.
HARIBO RHUBARB AND CUSTARD CHEWS
(Available in 3kg bags)
Haribo Rhubarb and Custard Chews are a hidden gem in the retro sweet world - full of early 2000s nostalgia. These can often be difficult to find in your local supermarket, so stock up at AQuarterOf.co.uk. The classic combo of Rhubarb and Custard in a compact sweet is always a winner.
FIZZY CHERRY COLA BOTTLES
(Available in 3kg bags)
Filled with 80's retro charm - the Fizzy Cherry Cola Bottles are a must-have at any party or event. A super sweet fruity twist coated in fizzy sugar is guaranteed to go down a treat!
FIZZ WIZ STRAWBERRY POPPING CANDY
(Available in boxes of x50)
The most iconic of all retro sweets - space dust! This Fizz Wiz Strawberry popping candy is one of the best flavours we have to offer. There's also Cola and Cherry available to buy in bulk too!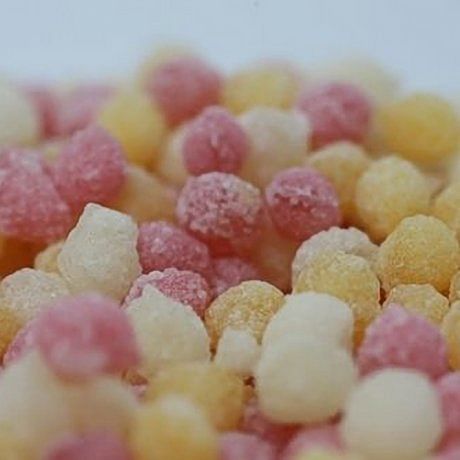 SHERBET PIPS

(Available in 3kg bags)

A classic in most sweet shops - tiny, coloured pips with a sherbet surprise inside! Make sure to stock up on these as they are super handy to top up wedding favours or children's party bags.

BASSETTS LIQOURICE WANDS

(Available in boxes of x75)

Scrumptious Liquorice Wands dipped into crunchy candy pieces that resemble hundreds and thousands. Closely resembling the proper old-school Liquorice Pipes that you used to get when you were in school! If you love liquorice, grab a box of 75 here!

Not only do we sell plenty of bulk pick and mix sweets, but there are also hundreds of other sweets, chocolates, and candies that we have available to

purchase in bulk

.. Everything from

Apple Pencils

to

Toxic Waste

- you name it, we have it (probably in a big bag or box)! See our full

wholesale range

here.

We're often asked if we sell