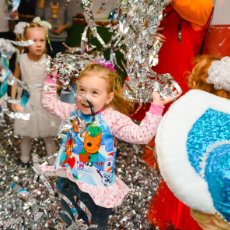 What sweets should I put in a party bag? A question that can plague party planning parents who don't know where to start…well we're here to help. Traditionally, the best party bags include a slice of cake and even some small toys. But in our opinion, if you want your party bags to be the gift that keeps on giving then you HAVE to include
sweets
!
We think that the best party bag sweets are the ones that are the most fun to eat! Think bright colours, exciting textures and delicious taste to make your party bags pop! If we remember the sweets that made our childhood, we can't help but think of fizzy sherbet, super sour flavours or shiny chocolate coins - these are perfect for a party bag!
BUY PARTY BAGS ONLINE
If you are looking for some amazing party bags filled with fun treats for children's parties then look no further than our ready-made party bags! Our party bags come in four fantastic options for girls or boys. Whether you would prefer stripes or spots then we have the perfect party bag for you. Best of all, our party bags can be completely personalised! This means you can give each child a personalised party bag, full of the best sweets with their name on, what's not to love.
Each of our party bags contains a slightly different selection of sweet treats so you can choose the right one for your party, or even order a selection to give everyone a surprise!
Whilst each party bag contains a different selection of sweets, we've tried to include the best cheap sweets for party bags we can think of. This means our party bags contain Marshmallow Cables,
Drumstick lollies
,
Space Dust
,
Rainbow Drops
or
Fizzers
!
Something for everyone and we even throw in a super-bouncy jet ball! Not only do we give you the best cheap sweets for party bags in a personalised bag but we also include a retro, childhood favourite toy!
However, if you're determined to do the heavy lifting or simply want to create a unique party bag selection then we've got some wise words on the best sweets to include in a party bag.
BEST PARTY BAG SWEETS
One thing to consider when it comes to the party bag question is the TYPE of sweet you want to include. Personally, when it comes to small hands you can't be too careful and so pre-wrapped sweets would be our go-to approach as anything that is individually wrapped is a safe bet
Popping Candy
One top party hit would have to be our selection of popping candy (or space dust as we oldies know it). We have the ultimate retro flashback Fizz Wizz, or we have the newer
Tango Popping Candy
. Either way, it's fun, it's exciting, it's fizzy and let's face it, who doesn't want to pretend they're a spaceman? These are perfect for party bags as the individual sachets can easily be shared amongst different party bags.
Cadbury Fudge
As the famous advertising campaign said, a finger of fudge is just enough to give your kids a treat. You can confidently include this top choice in your party bag knowing you're not overindulging children which makes it perfect for the ultimate party bag.
Sherbet Double Dip
When it comes to party bags, remember that variety is key and it doesn't come more varied than the Sherbet Double Dip. These fantastic sweets are always as hit as technically they could count as three sweets in one with two different flavoured sherbets that can be combined in different flavours and a swizzle stick dipping lolly! For the perfect party bag sweet look no further and of course, you can buy them in bulk from us!
Lollipops
Always a hit in a party bag – the humble lollipop! We have a wide selection so that you can even try and match your sweet treats to a theme if you so wish! Our range of lollipops varies from the epic
Swirly Lollipop
to the satisfyingly layered (and retro classic)
Traffic Light Lolly
. Adding a lollypop in a party bag will give your party-goers more time to enjoy this longer-lasting treat to keep the party going longer!
Fizzers and Mini Love Hearts
The most popular sweet in any variety pack. Fizzers and Love Hearts are always the first to go. This just goes to show what a great choice for any party bag no matter what the theme! We also sell Mini Love Hearts and
Love Hearts Lipstick
, perfect for children's party bags. We sell Fizzers and Love Hearts in bulk so you can even leave some out for the adults!
Candy Necklaces
If there's one thing we don't believe when it comes to party bags it's 'don't play with your food!' we believe quite the opposite! We think it's important to include as much fun as possible in your party bag so why not include some sweets your can wear! We also sell candy watches so why not mix them up or combine them for the ultimate wearable sweet treat!
Edible Paper Money
If edible jewellery isn't the right fit for your party bag, why not try paper money. Whilst we sell
Chocolate Coins
and
Chocolate Money
, these can easily melt in small hands and the last thing parents want is melted chocolate everywhere. So why not make your guest feel rich with our edible paper money, perfect and practical for party bags!
Flumps
Fluffy and light your guests will be on cloud nine with these in their party bags – delicious and chewy these will delight at any party. The ultimate in cheap sweets for party bags and a real crowd-pleaser.
Rainbow Drops
The perfect way to brighten any party bag, Rainbow Drops are a great addition to keep your party guests happy and remembering the magic of your special day! Plus they are suitable for a wide range of dietary requirements which make them a perfect party bag treat for anyone.
Sugar Free Selection
If you're conscious of your guest's sugar consumption then you should try our sugar-free sweet range for your party bag! Obviously, at a children's party, there's often lots of sugar being eaten and drunk already. That's why our sugar-free sweets can make a healthier but equally tasty choice for party guests which will make your party bags a hit with both children and parents!
Party bags are the perfect way to finish a party and send your guests home happy, so if you're searching for the perfect accompaniment to your party bags then look no further than our selection of sweets.
Of course, what you put in a party bag is up to you. Have some fun and take yourself back to your favourite childhood parties by choosing from our amazing selection of sweets.
Remember to be considerate of dietary requirements and don't forget you can buy all of these and more in bulk
bulk
here at AQuarterOf.co.uk. We have something for everyone to guarantee your guests leave with a huge smile on their faces!