Do you have dietary requirements or are just cutting down on gluten whilst still enjoying your favourite sweets? Fear not - we have you covered for all your gluten-free
pick and mix
needs! Most classic
retro sweets
are fabulously free in the gluten department so you can enjoy a sugar boost too!
We love gluten-free pick and mix, we have a huge selection at AQuarterOf.co.uk. We love them so much that we've listed our top ten
gluten-free
pick and mix sweets:
BLACKBERRY AND RASPBERRY DOMES
The perfect combination of Blackberry and Raspberry - it tastes like an English summer afternoon! These delicious small jelly chews are bursting with fruity flavours. And if that wasn't enough, they're covered in tiny red and black sugar-coated balls for extra texture! Incredibly moreish and completely gluten-free, a pick and mix favourite!
COLA CUBES
You'd be a fool to not try our 'best you've ever tasted' Cola Cubes! Rich in flavour, a super chewy centre, and no artificial flavourings - what's not to like? Better yet, they completely gluten-free so make sure you add them to your gluten-free pick and mix.
DOLLY MIXTURES
First introduced in the 1920s, Dolly Mixtures are a pick and mix staple. Who remembers the little assortment of coloured fondant blocks and sugar-coated jellies? Take a trip down memory lane and treat yourself to some now! Not only are they gluten-free, but they're also free from artificial colours and flavourings.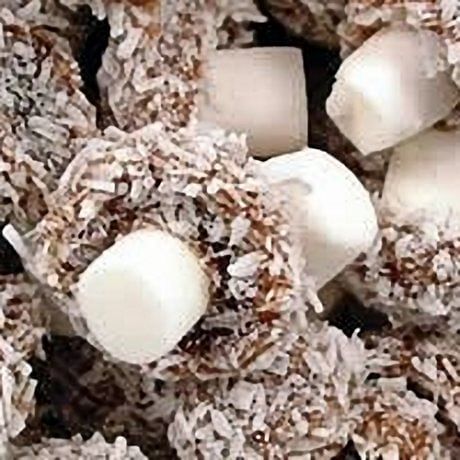 COCONUT MUSHROOMS
Taveners Coconut Mushrooms - what a blast from the past! Unique gluten-free chewy fondant sweets in the shape of little toadstools, coated in desiccated coconut. They're probably one of the best moreish sweets to fill your gluten-free pick and mix bag with, for a proper nostalgia trip!
HARIBO GIANT SOUR STRAWBERRIES
Not to be confused with the classic Giant Strawbs (as they're sadly not gluten-free) but these are suitable for those looking for a pick and mix treat without gluten. These are just like the classic Haribo Giant Strawb except coated in sugar for an extra juicy kick! Perfect for sharing as each Strawberry measures around 2 inches in height - that's a lot of sour berry-flavoured goodness to give a fruity flavour boost to your gluten-free pick and mix.
FRUITY PASTILLES
Originally available in tubes, we now have whole bags available of the gluten-free jelly fruity chew. Not only can you purchase in 250g bags, but you can also treat yourself to big 3kg bags for the bulk pick and mix experience! Fruit pastilles typically come in 5 flavours: lime, lemon, orange, blackcurrant, and strawberry. Which is your favourite? Mine is blackcurrant!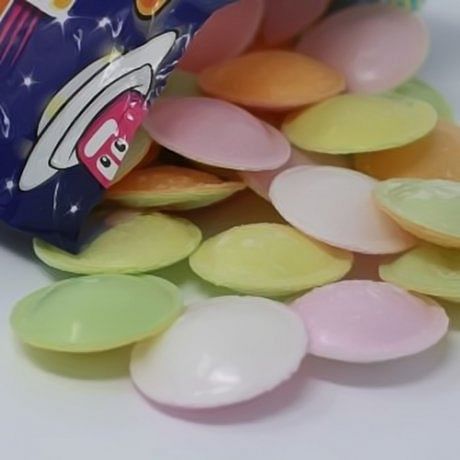 FLYING SAUCERS
Our best-selling Flying Saucers are vegan, gluten-free and free from artificial colours and flavours - what's not to like? Originally invented in Belgium, Flying Saucers have been adopted by the English pick and mix for decades and are still going strong nowadays! Relive your childhood and order some for your gluten-free pick and mix today!
FIZZY PEACHES
A great addition to a picnic or a cinema trip, our Fizzy Peaches are a must-try if you haven't already! Orange and yellow round fizzy gummies - they're mouth-wateringly good! As they are free from gluten, those with dietary requirements can join in on the delicious peach flavoured fun too!
FIZZY COLA BOTTLES
We have searched high and low, and we believe that these Fizzy Cola Bottles are the best in flavour, texture, and quality. I'm sure you have fond memories scooping a few of these into the little paper pick and mix bag back in the good old days. Our Fizzy Cola Bottles are free from artificial colouring, flavours and gluten-free so anybody can enjoy!
PINK SHRIMP
Travel back in the time with these raspberry-flavoured foam shrimps. Don't worry, there is no fishy taste about them! Iconic Bassetts Shrimps are free from artificial colouring, flavours and gluten-free - what a delight! The melt-in-the-mouth texture and the rich fruity flavours are one not to miss. Bassetts produce
foam Bananas
too, which are also suitable for your gluten-free pick and mix!
There you have it - the top ten gluten-free
pick and mix sweets
we have available. Be sure to check out what other
gluten-free sweets
we have available, or if you are looking for a big treat, our
bulk pick and mix sweets
!