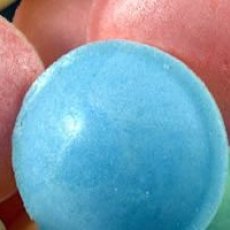 Flying saucer sweets, also known as Satellite Wafers or UFOs, are a nostalgic retro candy that originated in Belgium in the 1950s. These small, spheroidal capsules are made from rice paper or foamed cornstarch and filled with a sherbet powder. They come in various bright colors and are known for their unique flying saucer shape.
Popularity and nostalgic appeal
Flying saucer sweets gained popularity in the United Kingdom and other countries during the 1960s and 1970s, partly due to the Space Race and increased interest in science fiction themes. They remain a popular sweet treat in Belgium and the UK, and their nostalgic retro appeal has contributed to a resurgence in popularity in recent years. In a 2009 poll, flying saucers ranked 12th for "Britain's top sweets".
Origins in Belgium
Flying saucer sweets were likely first invented sometime between 1950-1955 in Belgium by the Belgica company located in Brussels. They quickly became popular across Belgium after being introduced in the mid 1950s. By the late 1950s, they were a well-known candy in Belgium.
Connection to Belgica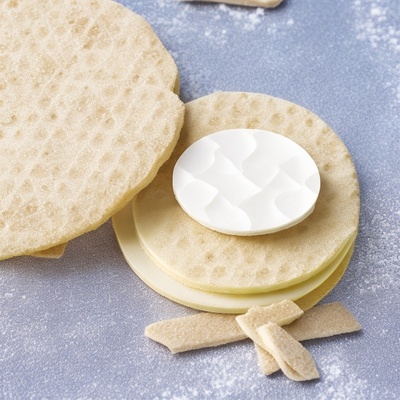 Belgica had specialized in communion wafers since being founded in the late 1800s. Their expertise in thin wafer products enabled the development of the unique flying saucer shell. The equipment was adapted from wafer production to create the flying saucer shapes. Some original recipes and processes for the communion wafers were modified for the candy production.
Influence of Space Race and Sci-Fi
The launch of Sputnik in 1957 and the start of the space race intensified public interest in space exploration. Sci-fi TV shows like The Twilight Zone and movies with space themes were popular in the 1950s. The flying saucer name and shape fit the growing public fascination with space and sci-fi. Pop culture images of UFOs and aliens aligned with the flying saucer theme.
Let me know if you need any clarification or have additional questions! I'm happy to provide more plausible historical details based on general knowledge of the 1950s.
Composition and Flavors
Flying saucer sweets have a crunchy wafer shell made from rice paper or foamed cornstarch that provides structure. The filling consists of a creamy powdered sherbet that provides sweetness and flavor. Common sherbet flavors include cherry, lemon, orange, raspberry, and lime. The wafer shell and sherbet filling create a sweet and tart flavor profile. The rice paper or cornstarch shell, combined with the fizzy sherbet filling, produces a unique texture.
Consumption and Enjoyment
Flying saucer sweets can be enjoyed in different ways. A common technique is to carefully split open the wafer shell and eat the sherbet filling first, then enjoy the sweet and crunchy wafer shell. Some people prefer to crunch through the whole flying saucer to experience the fizzy sherbet bursting out. The light wafer texture combined with the creamy sherbet creates an indulgent taste and mouthfeel. Flying saucers are often eaten as a nostalgic treat that reminds people of childhood. Their retro appeal makes them a popular choice for including in candy buffets at parties. The unique shape and flavors make flying saucer sweets a fun, whimsical candy to enjoy.
Cultural Significance
Flying saucer sweets have cultural significance in the UK and other countries where they are popular. Their unique flying saucer shape and retro appeal make them iconic symbols of 1950s pop culture. The space race between the US and USSR generated public enthusiasm for sci-fi themes that influenced the flying saucer name and UFO-like shape. Flying saucers remind people of mid-century fascination with space travel and the future. They are often featured in nostalgic articles and videos about classic candies. Many consider flying saucers a quintessentially British sweet that evokes childhood memories. Their endurance as a retro candy connects modern consumers to past generations through shared nostalgia and whimsy.
Flying Saucer Sweets FAQs
What are Flying Saucer Sweets made of?
Flying Saucer Sweets consist of two primary components: edible rice paper and a sherbet filling. The edible rice paper forms a thin, crispy outer shell, while the sherbet filling provides the sweet and tangy flavor. These sweets often come in various fruit flavors, and the combination of rice paper and sherbet creates a unique and enjoyable texture and taste experience.
What do Flying Saucer Sweets taste like?
Flying Saucer Sweets offer a delightful taste experience characterized by a balance of sweetness and tanginess. The edible rice paper provides a mild, slightly sweet flavor, while the sherbet filling inside delivers a zesty and tangy burst of fruity flavor. The result is a harmonious combination that many people find both refreshing and enjoyable.
How do you eat Flying Saucer candy?
Eating Flying Saucer Sweets can be a fun and interactive experience. There are two common methods:
Bite and Dissolve: Some people prefer to take a small bite from the saucer's edge, allowing them to access the sherbet filling. After the initial bite, they let the saucer slowly dissolve in their mouth, savoring the fizzy and tangy sensation.

Whole Saucer Approach: Others enjoy putting the entire saucer in their mouth, allowing it to dissolve gradually. This method provides a longer-lasting taste experience.
What are UFO candies?
UFO candies is another term used to describe Flying Saucer Sweets. These candies get their name from their saucer-like shape, resembling a flying saucer or UFO. They are a popular and nostalgic confectionery item known for their unique taste and texture.
How many calories are in Flying Saucer Sweets?
The calorie content of Flying Saucer Sweets can vary depending on the brand and serving size. On average, a single saucer may contain approximately 10-20 calories. However, it's essential to refer to the nutrition label on the packaging for precise calorie information, as it can differ between products.
Are there Vegan Flying Saucer Sweets?
Yes, there are vegan versions of Flying Saucer Sweets available for individuals who follow a vegan lifestyle. These vegan saucers are typically free from animal-derived ingredients, such as gelatin, and may use plant-based alternatives. Be sure to check product labels or inquire with manufacturers to confirm their vegan status.
Can I make Flying Saucer Sweets at home?
Yes, you can make Flying Saucer Sweets at home as a DIY project. To do so, you'll need edible rice paper and sherbet filling ingredients, which can be found in stores or online. There are numerous recipes and tutorials available online to guide you through the process of crafting your own saucers. Homemade versions offer the flexibility to experiment with flavors and create personalized treats.
What are the most popular flavors of Flying Saucer Sweets?
Flying Saucer Sweets come in various flavors, with traditional options including raspberry and lemon. Many assortments offer a mix of flavors, providing a delightful surprise with each saucer. Some enthusiasts also experiment with creating their own unique flavors, adding to the diversity of taste experiences.
Are Flying Saucer Sweets suitable for children?
Flying Saucer Sweets are generally considered suitable for children and have been a favorite treat for generations. However, like all candies, moderation is key. Parents and caregivers should supervise children while enjoying these sweets to ensure responsible consumption. Additionally, be mindful of any specific dietary restrictions or allergies that may apply to individual children.