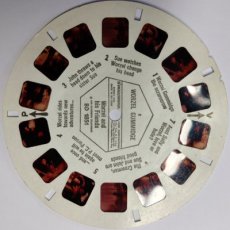 Do you remember View-Master? It was the sort of 1970s version of Youtube...

Sort of...

Yes I know that's an incredibly stretched comparison... but there's an element of truth to it.

We didn't have a View-Master. But loads of our friends did.

And when we went round to their houses to play after school I remember frequently having a go with it... and then seeing what other discs they had to view.

I seem to remember that they were also quite regular features in the jumble sales which seemed to be so common back then.

And if the name View-Master doesn't bring back any memories I bet seeing a picture of one does...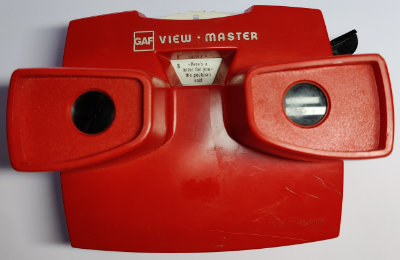 Ohhhhhhhh.... that's a View-Master!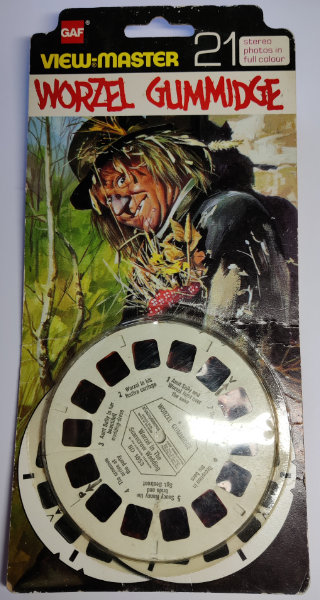 The disc was a collection of mini photographic slides which rotated when you operated the lever, moving on to the next picture. You saw the images in stereo (according to the blurb) which made View-Master, to quote the packet, "an exclusive collection of marvellous 3D pictures in full colour. Truly unbelievable!"
I think that children these days would be underwhelmed to put it mildly... and their descriptions would be somewhat less charitable. But back in the day it was pretty cutting edge!

Now usually I have to search online to try to find suitable images to use.

But not this time... because I recently became the proud owner of a ViewMaster complete with 4 discs! So these images are of my very own ViewMaster.

1 of the discs is a story of Noddy and Big Ears (my favourite - ok... my only - Big Ears joke to follow at the end of this)...

And the other 3 discs are Worzel Gummidge - from the television programme with Jon Pertwee (still for me the scariest Doctor Who ever... gave me the willies when I was little... we had to turn off the telly at the end of Grandstand or I'd have nightmares) and Una Stubbs (not scary at all... well actually a bit freaky as Aunt Sally if truth be told).

Bring back any memories?


As promised: Joke Time...
Q: Why do elephants have big ears?
A: 'Cos Noddy wouldn't pay the ransom!
Boom Boom! (Basil Brush style)