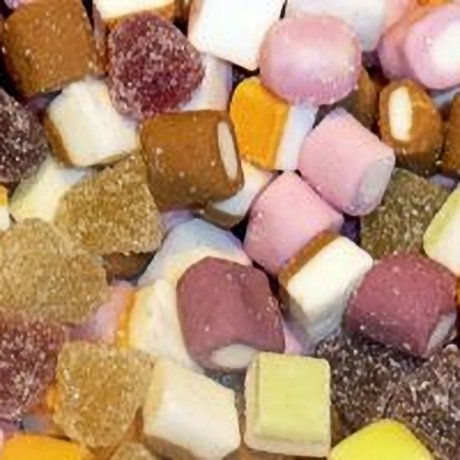 Dolly Mixtures
No artificial flavours
No artificial colours
Description
Dolly Mixtures - If you want to jump into a great big bag of nostalgia, then get yourself a quarter of Dolly Mixtures! They're so delicious, and so pretty, and did you know that they've been around since at least the 1920s...
Anorak time - according to the Oxford English Dictionary, a dolly mixture is a 'mixture of tiny coloured sweets of various shapes'. There are stacks of myths around relating to the origins of the iconic sweet, and nobody can agree on the exact date of origin. The story we love the best is this:
Many believe that they originated around the time of the British Raj in India. Dal or Dahl in India are pulses (beans, peas, legumes) which are often made up of different sizes and colours.... so could Dally Mixture have led to Dolly Mixture? A long shot I know, but we love a bit of intrigue here!
Customer Reviews

Nutritional Information
INGREDIENTS
Sugar, Glucose Syrup, Beef Gelatine, Palm Oil, Maize Starch, Citric Acid, Cocoa Powder.. Colours: Anthocyanins, Caramel, Paprika Extract, Chlorophyll, Lutein, Beetroot, Flavours: Safflower, Spirulina

This item contains the following per 100g:

Energy (kj): 1604
Energy (kcal): 378
Fat (g): 1.5
Saturated Fat (g): 0.7
Carbohydrate (g): 89.6
of which Sugars (g): 81.2
Protein (g): 1.5
Salt (g): 0.12
Dolly Mixtures are also available as part of these fantastic gift sets