Promotional, Personalised and Customised Sweets!
Perfect for a big Shindig, a Wedding, a Staff Knees-Up, a Christmas Party, your Granny's 80th, your Boss' Retirement... we could go on and on....
People love sweets! They're a totally fabulous way to bring a smile to someone's face and make them remember you. They're also a really fantastic way to make a colourful and vibrant visual statement - and lucky for us, we can offer you practically every colour under the rainbow.
So... What Exactly Can A Quarter Of... Offer?
Stacks and stacks! We have a massive range of sweets just waiting to be personalised -we can make customised sweetie bags or jars to your specification - just what you need to make your party or wedding the most memorable and original knees-up in the whole glaxy.
Retro is seriously IN, so how about a 70s nostalgia party where everyone gets a little white paper bag full of Shrimps, Gobstoppers, Kola Kubes and Anglo Bubbly?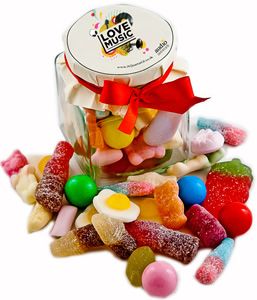 Just look at all these stunning ideas
► Personalised wrapped lettered rock pieces.
► Sweets in printed wrappers
► Logo lollipops.
► Lollipops in printed wrappers
► Personalised jars, any size, any colour.
► Personalised gift boxes.
► Little promo giveaway bags.
► Wedding Favours - we can supply you with stacks of ideas for fillings, from Mini Love Hearts, to Heart Throbs, to Jelly Bean Hearts, to pretty pink marshmallows - we have loads of ideas. Read more here.
► Sweets to your colour specification - if you need something very specific, we can even offer boiled sweets made especially for you! (minimum quantity on this one is 50kg)
Ultra-Special Christmas Chocolate Offers
Most Searched For Tuck Shop Sweets