On The Hunt For Yellow Sweets?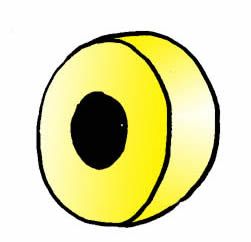 Perhaps you're matching a colour scheme for a party. Maybe for a wedding. Or maybe you remember that your childhood favourite sweet was yellow and you can't quite remember the name. Or you're creating something for a football (or another sport's) team, where they have yellow in their colours.
As you will see there are lots to choose from not least because 2 of the most popular flavours of sweets are both yellow... lemon and banana. Plus pineapple. Plus custard. So you are spoilt for choice.
Here is a selection of the sweets that we have which are either yellow, or they have yellow in them. Or in some cases the wrapping is either completely or partially yellow. Enjoy!
Genuine Customer Comments
Sue Theobald
"Excellent service, my husband is very pleased that he can have his daily fix of aniseed balls ! Easy to order and kept in touch all the way through from ordering to accepting delivery. Thank you"
DANI
"Always quick on delivery, great price and perfect products, use often and will continue to do so"
Kyle Stranaghan
"It was quick, efficient and pretty much the service you'd like to receive from any retailer. Can't fault them"
See loads more reviews on our Wall of Love