On The Hunt For Yellow Sweets?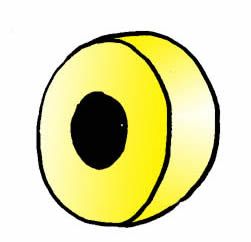 Perhaps you're matching a colour scheme for a party. Maybe for a wedding. Or maybe you remember that your childhood favourite sweet was yellow and you can't quite remember the name. Or you're creating something for a football (or another sport's) team, where they have yellow in their colours.
As you will see there are lots to choose from not least because 2 of the most popular flavours of sweets are both yellow... lemon and banana. Plus pineapple. Plus custard. So you are spoilt for choice.
Here is a selection of the sweets that we have which are either yellow, or they have yellow in them. Or in some cases the wrapping is either completely or partially yellow. Enjoy!
Genuine Customer Comments
Sarah
"Excellent products! Brings back awesome childhood memories! 👍Good prices! And outstanding delivery times & customer service! 👍😎"
Annonny
"Easy online ordering. Great selection and prices. Fast quick, delivery. Will definitely use again."
Andy W
"Super quick service as always. The website is so user friendly and has an amazing choice of products"
See loads more reviews on our Wall of Love