Are You Getting Married?
We can fill our mini glass jars with retro penny sweets (or any sweet of your choice!) and make your guests smile… they go down a treat with personalised labels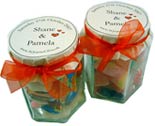 Fabulous Staff Incentives
Are you really proud of team results this year? Do you want to say thank you and incentivise them for even better results next year? Well our fab wooden boxes are a great way of doing that… they'll definitely get everyone smiling!
Great Giveaway Ideas
Whether you're planning an event, a mailshot to customers, or an exhibition, we can put together little personalised giveaway bags with personalised labels… they always go down a treat!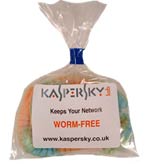 Christmas Corporate Gifts
Forget boring, run of the mill gifts like wine and chocolates… make your customers smile by sending them an original gift – Large Wooden Boxes of Nostalgia with a personalised label. We can even take care of the shipping direct to the customer!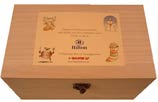 Fabulous Ideas For Hotel Mini Bars!
Why not offer your guests something a bit different? We can put together fab little glass gift jars full of
retro sweets
… and personalised labels. That'll really make your hotel stand out from the crowd!
perfect presents and gorgeous gifts galore
Ideal for Mothers Day and as a fun alternative to hollow Easter Eggs
More and more, people are using A Quarter Of to find unusual and quirky gifts for their friends, mums, girlfriends, husbands, spaniels and grannies. "But WHY???" We hear you ask! Well, it's simple:
The giftboxes are totally FABULOUS. We have handmade wooden boxes, designed especially for us to look as nostalgic and uncommercial as possible, just like the good old days! We also have groovy printed boxes, uplifting enough to lighten anybody's day, and lovely old-fashioned jars, big and small. A Quarter Of Gifts & More
And then there's the FILLINGS (mmmmm… yum!). People LOVE to be reminded of the sweets they used to buy as children, and our delicious sweets make people SMILE and reminisce. Oh, and did we mention just how lip-smackingly scrumptious our sweets are?
It's all about DETAIL. It's the little things, like the ribbon, the tissue paper, the little gift message, that makes a gift special. We are obsessive about the little extra touches, and each gift box is carefully assembled and packed to ensure it arrives in tip-top condition.
EASY, hassle-free ordering process. Once you've chosen the gift box, add it to your basket, go to the checkout and input the delivery address and payment details, and hey presto!
You can send it direct to the lucky recipient with a gift message.
We're QUICK! So if it's a last-minute purchase (shame on you!), we can turn it around within the same day (if requested), and get it delivered superfast.
We're totally passionate about CUSTOMER SERVICE. If you have any questions, problems, or if you need gift inspiration, you can email us or call us and we'll be delighted to help!
VARIETY We have a wide range of gift options, and it's growing all the time. Here are some examples of our fantastic Assortment Boxes and Jars:
See the whole range of Gift Jars here... and the whole range of Gift Boxes here. And don't forget our Gift Vouchers here too!
Really Unusual and Colourful Corporate Gifts
Be remembered with a smile!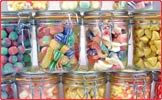 Planning a Big Birthday Bash?
Well why don't you mark the occasion by giving out a mini gift jar full of retro sweets to every guest? It always goes down a treat, and the personalised label is a stunning finishing touch!
Sweetie giveaways In Your Company Colours
Sweets are stunningly colourful (and tasty!). Make your company really stand out from the crowd by doing product giveaways in your company colours. We've got every colour under the rainbow!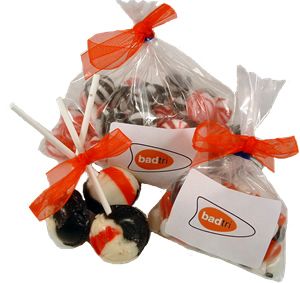 Say Thankyou To Your Customers
Our boxes and jars are a great way of making you stand out! They're crammed full of retro sweets, and we can personalise the label so they'll never forget you!
Looking for Wedding Favour Ideas?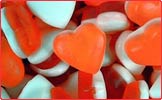 Most Searched For Tuck Shop Sweets