Fab Gifts for the Women (shouldn't that be 'Woman'?) In Your Life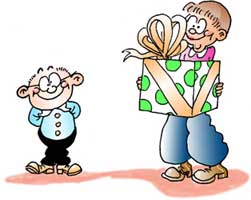 Women love well-thought-out, researched, unexpected gifts: and that, lads, is a fact.
So just imagine the brownie points you'll get when they receive a gift from A Quarter Of! These brownie points will keep you going until at least Valentine's, no problem.
We have loads of gift ideas for the beautiful girls in your life: from Chocolate Fest Assortments (because we all know how much women love chocolate) to Whopping Penny Mix Jars, from 80s Decade Boxes filled with retro sweets to little dinky jars filled with Gourmet Jelly Beans.

Showing 1 to 14 of 14 (1 Pages)
Genuine Customer Comments
Heather Saunders
Stephen
"Hi Ordered a few times with a quarter of & very very impressed from the minute the goods get picked to delivery outstanding & thank you. Stephen."
Carey
"This was my first time ordering. The sweets really took me back to my childhood and they taste exactly the same as they did then. I will definitely be ordering again. Even my hubby wants to order next time. I highly recommend this store!"

See loads more reviews on our Wall of Love
Most Searched For Tuck Shop Sweets