Our Story
A Quarter Of is one of the oldest online sweetshops in the UK, having sent out over 800,000 orders all around the World. We are passionate about nostalgia and retro sweets with unique expertise - one of our team's great uncle started up one of the most iconic boiled sweet makers in the UK. Our passion and expertise results in our providing our customers with the best possible experience.

Our products cover a wide range of styles, tastes and genres for every customer, male, female, kids and senior. Plus we have a unique gift range, where customers can add an extra special finishing touch by uploading a sepcial photograph and message.
How We Began
We came up with the idea for a fun, old fashioned sweetshop after a conversation in a pub in November 2001!
We trundled off down memory lane, remembering all the sweets that we used to buy from the little sweetshop at the end of our road (on the way to school - most convenient!!) in Buckinghamshire. The sweetshop was called "The Chocolate Box".
We were certain that the idea would not get any further because they couldn't possibly still make the sweets that we remembered with such fond memories... I mean if the did still make then surely we would have seen them around... and we hadn't... But in most cases they did (and do) still make them!!
And so the idea was born. And the reactions of friends and family when we told them of the idea and their eyes glazed over as they started listing all the sweets that we just had to have in the shop (the list often went on and on - we struggled to keep up as we wrote the names down!) made us think that it would be a web site that people would like...
And that's how AQuarterOf.co.uk was born... accepting its first orders in June 2002.
Then we needed a look for the site... and that's where the comic that we used to read when we were young came in - Whizzer and Chips (now sadly defunct) - we wanted an online sweetshop that looked like the comic.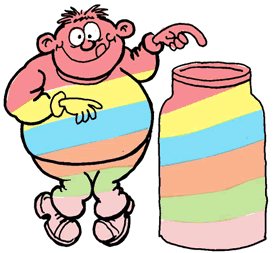 And that's where we struck gold because we found a superstar cartoonist to draw the cartoons for A Quarter Of - to give it the perfect feel. His name is Colin Whittock and he is an absolute marvel. One of the best bits of working at A Quarter Of, apart from the sweet tasting of course (which we do over and over!!), is when Colin sends us new drawings - they are just fab and always bring a smile... You can see more of Colin's gems at his web site www.colinwhittock.co.uk .
The final element that inspired A Quarter Of was a book I loved when I was young - it was (and is) fab! - Charlie and the Chocolate Factory.
Our Business
For everyone
We are experts in retro sweets and aim to help all of our customers by providing them with the sweets that they remember buying from their childhood sweetshop - giving a sweet treat and providing the best possible service.
Sweets from the decades
Many of the sweets at AQuarterOf.co.uk date back from the 1950s, 60s, 70s and 80s. Those are the sweets that gave us the idea to start the sweetshop in the first place because we hadn't seen, or had the chance to enjoy them., since when we were nippers. Some of the sweets are even older than that. But sweet tastes change over time - sour sweets have become increasingly popular (and increasingly sour!) and so we have evolved the range to include those too. It's clear that children of the 1990's and 2000s look back on their childhood favourites just as nostalgically.
And so the joy and nostalgia of retro sweets lives on, whatever the person's age.
How we work
Our ethos is simple... we treat customers as we'd want to be treated ourselves. Our business has changed beyond all recognition over the years but that ethos is one thing that has remained unchanged since way back in 2002 when we shipped our first order. We have developed a culture of actively engaged, dedicated and passionate team members who are dedicated to improving the way we do things to give you the best possible experience. And we believe that sweets should be fun, don't you agree?
Direct to your door
Before starting A Quarter Of we scored the local Yellow Pages for our nearest sweetshops and were crestfallen to find that the majority had closed down. By being online it means we can and ship the best sweets that the UK has to offer far and wide... We've dispatched from Singapore to Soith Africa, Japan to Magagascar (where the customer ran a Lemur sanctuary) and pretty well every other country int he World.
We are passionate about...
Providing top quality retro sweets - the ones that you remember fondly fron your childhood. We don't stock cheap copies where, although it might sometimes be more expensive, the original is the only one that will take you back to when you loved it as a child
Developing the best versions of the classics by making them ourselves. We've gone the extra mile with our "Best You've Ever Tasted" boiled sweet range which includes cola cubes, pineapple chunks, strawberries and cream and rhubarb & custard. Working with a master confectioner and with much taste testing we've created a range of sweets so good that we confidently offer a "best you've ever tasted or your money back" guarantee. Whether its the flavour combinations, the textures or the attention to detail (expemplified byt he fact that we even flavour the sugar granules which coat the sweets... so you get the full flavour the instant you pop the sweet into your mouth).
Our sweets
Our sweets comprise a whole variety of different types from classic hard boiled sweets, classic chews, jelly sweets like cola bottles, chocolate, sherbets... and all of the ones that don't fit easily into any of the confectionery pidgeon-holes. We stock a whole range of makers incl;uding Swizzels Matlow, Haribo, Bassetts, Barratts, Stockleys and many more. And iconic sweet brands like Curly Wurly, Wham Bars, Highland Toffee, Sherbet Fountains, Sherbet Dip Dabs to name just a few.
Press Coverage - Where We've Been Mentioned
We've been incredibly lucky to have been fearuted in a load of places over the year, including numerous TV (This Morning, Alan Titchmarsh, Sky News, BBC Working Lunch) and radio appearances (studio guest on Radio 5) and press articles. Here's just a tiny sample:
BBC NEWS | Programmes | Working Lunch | A taste of the old days
Sugar candy kisses | | The Guardian
Food detective: toffee (thetimes.co.uk)
BBC - Chris Evans: Hey Hey - Help Here Come The Good News Bears
Customers in a fizz over sweet-shop favourite | The Independent | The Independent
April Fool's day: Corporate hoaxes (telegraph.co.uk)
Team GB sprinter Jeanette Kwakye starts her Olympic blog - Mirror Online
Most Searched For Tuck Shop Sweets