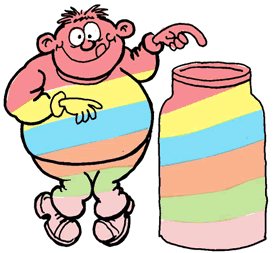 We came up with the idea for a fun, old fashioned sweetshop after a conversation in a pub!
We trundled off down memory lane, remembering all the sweets that we used to buy from the little sweetshop at the end of our road (on the way to school - most convenient!!). It was called "The Chocolate Box".
We were certain that the idea would not get any further because they couldn't possibly still make the sweets that we remembered with such fond memories... I mean if the did still make then surely we would have seen them around... and we hadn't... But in most cases they did (and do) still make them!!
And so the idea was born. And the reactions of friends and family when we told them of the idea and their eyes glazed over as they started listing all the sweets that we just had to have in the shop (the list often went on and on - we struggled to keep up as we wrote the names down!) made us think that it would be a web site that people would like...
Then we needed a look for the site... and that's where the comic that we used to read when we were young came in - Whizzer and Chips (now sadly defunct) - we wanted an online sweetshop that looked like the comic.
And that's where we struck gold because we found a superstar cartoonist to draw the cartoons for A Quarter Of - to give it the perfect feel. His name is Colin Whittock and he is an absolute marvel. One of the best bits of working at A Quarter Of, apart from the sweet tasting of course (which we do over and over!!), is when Colin sends us new drawings - they are just fab and always bring a smile... You can see more of Colin's gems at his web site www.colinwhittock.co.uk .
The final element that inspired A Quarter Of was a book I loved when I was young - it was (and is) fab! - Charlie and the Chocolate Factory.
Genuine Customer Comments
jackie
"Arrived in good condition as usual . Quick delivery in spite of the shambolic state of the country"
Pam
"I ordered a selection of sweets and chocolates for my sister who lives in France. They arrived within four days in perfect condition. Sweets of my sisters childhood that she will share with her grandchildren. A perfect gift . Thank you!"
Ian
"Very pleased with the prompt delivery and quality of the goods"
See loads more reviews on our Wall of Love
Most Searched For Tuck Shop Sweets