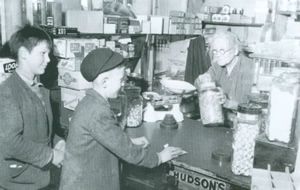 'Rationing was a great excuse for mothers. Whenever you wanted sweeties – just about every shopping trip – back would come the dreaded words, 'We haven't enough coupons left.' Nothing you could do about that, no matter what sneaking suspicions of perfidy lurked in your mind.'
'I remember the sweetie ration book, which was very real, and the day rationing was removed and I was able to go and buy a Mars bar. I got tuppence a week to spend on sweeties. All the sweeties in the sweetie shops were in jars, and you could get an awful lot of combinations for your money. You could get four blackjacks or four fruit salads or a Barratt's Sherbet Fountain with a stick of liquorice in it, or Pontefract cakes. Liquorice allsorts. Raspberry drops. Dolly mixture. Gobstoppers. Sherbet lemons. Toffee. All four for a penny – a farthing each.'
'I'd get sixpence a week pocket money, and I'd go up to the local shop on my trike and I'd get a penny sherbet, some fruit drops, then for tuppence I'd get Barratt's sweet cigarettes, so I could pretend to be smoking on my way home. They were made of sickly white stuff with red ends. Then I'd get a penny Spanish, or liquorice, or a penny pipe. The pipe was a bit of Spanish with a thick bowl on the end with red stuff in it, like those bobbly liquorice allsorts.'
'I remember how a Mars Bar, which cost fourpence, was a fantastic treat, and we had to share it between the four of us. The knife used to slice through the bar with such precision, in four equal parts. You got about an inch of Mars Bar each.'
'When the advertisement for Rowntree's fruitgums came out, with the little boy shouting "Don't forget the fruit gums, Mum!" after his departing mother, we were shocked and amazed that any child would be pushy enough to demand sweets every time his mother went shopping.'
Extracted, with permission, from The 50s & 60s: The Best of Times – Growing up and being young in Britain by Alison Pressley, published by Michael O'Mara Books Limited.
Copyright © Alison Pressley 1999, 200, 2002, 2003; compilation copyright © Michael O'Mara Books Limited 1999, 200, 2002, 2003. All rights reserved.

1950s Games
1950s Schooldays
Genuine Customer Comments
Pam
"I ordered a selection of sweets and chocolates for my sister who lives in France. They arrived within four days in perfect condition. Sweets of my sisters childhood that she will share with her grandchildren. A perfect gift . Thank you!"
Sam
"Totally awesome and worth every penny!! So many wonderful sweets, I have trouble deciding which ones to have! Website is very easy to use and very quick delivery. Best sweet seller I've ever used."
Gill
"Excellent choice and dealt with very quickly"
See loads more reviews on our Wall of Love
Most Searched For Tuck Shop Sweets