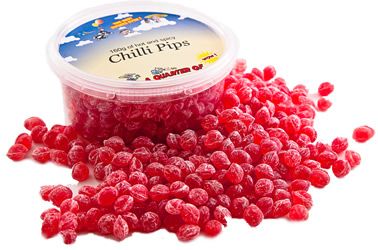 Our Pips are mini taste sensations. They're like teeny weeny boiled sweets.
Apparently they are quite hard to make, which is why you don't see them around very often. But our sherbet pips have been one of our best-selling boiled sweets since the very early days of our online sweetshop.
And we added our spicy chilli pips because we thought they'd be popular... and we have been proven right. If you like a bit of spice, give them a try... you won't regret it!
Showing 1 to 2 of 2 (1 Pages)
Genuine Customer Comments
Amy
"Excellent service. Easy to order, quick delivery and yummy sweets."
Sarah
"Great shop easy to buy from quick posting will go back"
Mark
"Excellent .Sweets taste like they used to very pleased and love the stories.Delivery was quite quick for this particular time"
See loads more reviews on our Wall of Love