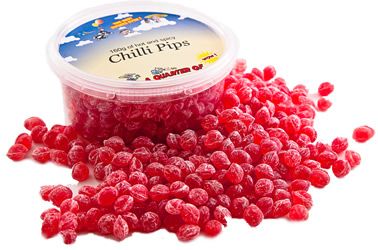 Our Pips are mini taste sensations. They're like teeny weeny boiled sweets.
Apparently they are quite hard to make, which is why you don't see them around very often. But our sherbet pips have been one of our best-selling boiled sweets since the very early days of our online sweetshop.
And we added our spicy chilli pips because we thought they'd be popular... and we have been proven right. If you like a bit of spice, give them a try... you won't regret it!
Showing 1 to 2 of 2 (1 Pages)
Genuine Customer Comments
Mark Gladwyn
"Excellent choice of sweets and efficient delivery, I will be ordering again with a different choice selection to expand my sweet tooth"
Tracy
"I ordered late on Monday night and my 50's gift box arrived on Wednesday! Great service in the current situation. There's a huge selection of lovely sweets and it'll make a great birthday present. Every order I've done has been fabulous!"
Lesley Jensen
"Wow what a service was told I would get them around 4-5th May all arrived on 1st well done my grandson loves them. He came to collect them on 2nd on his birthday social distancing of course."
See loads more reviews on our Wall of Love