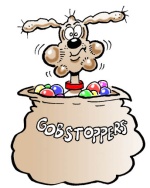 Gobstoppers - they're one of the classic staples from any childhood sweetshop.
Our 'normal' sized version will last you for ages... they are the ones that you will remember.
And the jumbo gobstoppers are absolutely massive! They make a great joke for soemone who is particularly chatty (if you know what I mean!)
Showing 1 to 2 of 2 (1 Pages)
Genuine Customer Comments
Rachel
"Really quick delivery, great value and quality products. Brilliant follow up emails that give a lovely insight into the company. I will definitely be using the site again soon!"
Anna Warrington
"Excellent service all round. Delivery was prompt & email updates very informative. The sweets are amazing. Would recommend."
Tina
"Fantastic selection of sweets spoilt for choice. Great customer service, fast delivery, perfectly packaged. Returning customer, highly recommend."
See loads more reviews on our Wall of Love