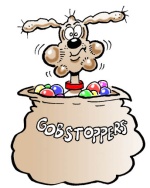 Gobstoppers - they're one of the classic staples from any childhood sweetshop.
Our 'normal' sized version will last you for ages... they are the ones that you will remember.
And the jumbo gobstoppers are absolutely massive! They make a great joke for soemone who is particularly chatty (if you know what I mean!)
Showing 1 to 2 of 2 (1 Pages)
---
What Do Your Fellow Retro Sweet Lovers Say?
Most Searched For Sweetshop Sweets