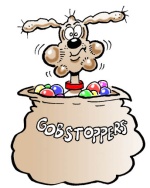 Gobstoppers - they're one of the classic staples from any childhood sweetshop.
Our 'normal' sized version will last you for ages... they are the ones that you will remember.
And the jumbo gobstoppers are absolutely massive! They make a great joke for soemone who is particularly chatty (if you know what I mean!)
Showing 1 to 2 of 2 (1 Pages)
Genuine Customer Comments
John
"Very quick delivery and amazing quality Yummy"
Kelly
"So after having a munch, if you can that with boiled sweets? Im pleased to say that the kola cubes and strawberry and creams tasted just as other half remembered. Liquorice sticks aren't bad,not quite as I remembered but still tasty."
Lisa Hawkins
"Brilliant place to order from for all your chilhood memories of sweets, easy to use website and great delivery service"
See loads more reviews on our Wall of Love