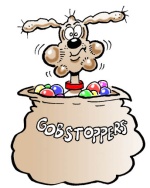 Gobstoppers - they're one of the classic staples from any childhood sweetshop.
Our 'normal' sized version will last you for ages... they are the ones that you will remember.
And the jumbo gobstoppers are absolutely massive! They make a great joke for soemone who is particularly chatty (if you know what I mean!)
Showing 1 to 1 of 1 (1 Pages)
Genuine Customer Comments
Alexa
"It came very quickly, quicker than I expected and it was all very nicely packaged. As for the sweets themselves, my husband and children enjoyed them very much, some didn't even last a day."
Alison
"Brilliant Service. Delivered within 48 hrs."
Bev
"Love the variety of sweets. The acid drops brought back great memories. Quick delivery and the website is easy to use."
See loads more reviews on our Wall of Love