Showing 1 to 14 of 14 (1 Pages)
Mothers Day Gifts - Give Her Something She'll Love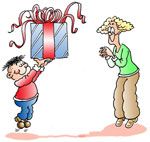 We have our best ever selection of Mothers Day Gifts for you to choose from.
If your Mum longs for the sweets from her childhood, then you (and she) are in luck! If she loves liquorice, or if she can't get enough chocolate... or if she'd go bonkers for a jar of a selection of her favourites... then we have the perfect gift for you (and her!)
Could we make it any easier?