Add an extra special touch to your wedding tables with our stunning personalised wedding favours.


Are you looking to match a colour scheme? Maybe you want each favour to complement your flowers, your cake or your other table decorations. Not a problem, we can do that with a matching sweet for all themes whether your colour scheme is traditional (white, cream, rose pink or ivory), bright (red, blue, green, yellow, purple, lilac etc)... you can even choose black edible favours if you like... we'll create a unique solution however unusual your requirements. And you can choose a matching ribbon colour to top everything off perfectly.

Of course we offer traditional sugared almonds... but we also have the best range around of vintage UK retro sweets, which always make very popular favors as centrepieces for bridal tables.

Looking for chocolate hearts? Not a problem. Love hearts? We have those too. Plus loads more including personalised rock, organza bags, jars of old-fashioned and fun confectionery, and sweet buffets (or a candy buffet or bar if you prefer) to make your reception party even more fun!

How about different favours for your men and women guests? Or different sweet gifts for children (maybe something quirky for the kids...) and parents? It's so important to get weddings spot on... that's why we help you customise each favor so that it will be perfect for every single guest at your party.
Personalised Wedding Favours - Make Every Single One Of Your Favours A Special Memento Of Your Big Day
And to top it all off you can personalise your favours to make them even more special. Depending on the format of your favours (eg. organza bags, jars or boxes) we have a range of tags and gorgeously glossy labels that we customise for your wedding guests.

Whatever your budget, whether you're looking for cheap, inexpensive wedding favours or top notch luxury presents for your guests, we'll help you to create an amazing personalised gift for your family and friends on your big day.

Whatever your requirement, we have a fabulous range of ideas... and a wealth of experience so we can help you to make the whole process as simple as possible. Plus, we're incredibly helpful!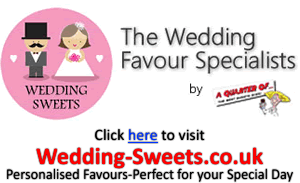 Just fill in the form below and give us as much information as you can (the more you can tell us, the easier it will be to create your perfect favours...):


Alternatively, if you'd prefer to phone us... just call 01254 262160.. and we'll help you to find the perfect wedding favours for your big day.