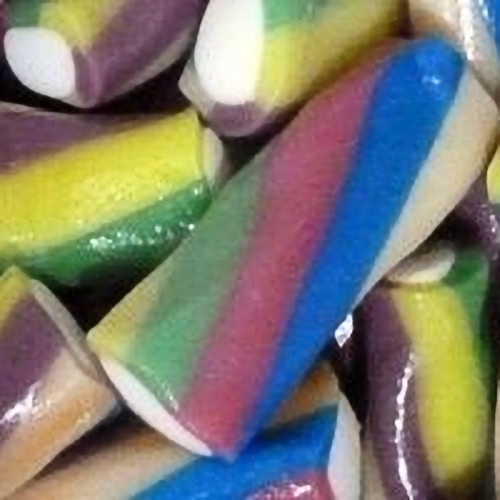 Rainbow Mini Cables
(Fruit flavoured candy)
Description
Rainbow Mini Cables - bright, bold candy cables with a fruity taste.
We know that strictly speaking they are not all the colours of the rainbow - there is no indigo in them among other things. But if we called them "Not Quite Rainbow Mini Cables" it wouldn't really work would it???

Most important of all though, they do taste jolly good!
Customer Reviews

Nutritional Information
INGREDIENTS
Sugar, Glucose-Frutose Syrup, Wheat Flour, Starch, Gelatine, Vegetable Fat, Vegetable Oil, Lactic Acid, Malic Acid, Citric Acid, Acidity Regulator; Sodium Lactate, Sodium Citrate: Salt, Emulsifier (E471), Humectant; Glycerol. Colours: Carmine extract, Curcumin, Brilliant Blue FCF, Paprika Extract, Titanium Dioxide, Allergens: Wheat , Gluten, May Contain Traces Of Milk