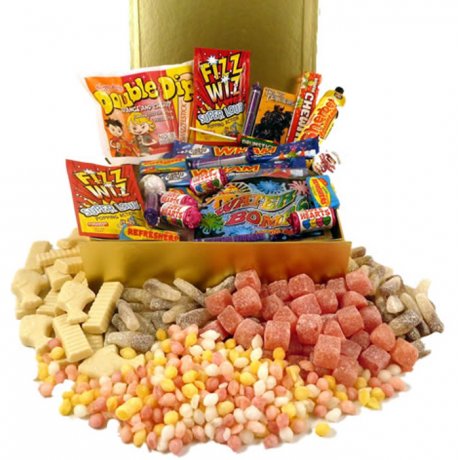 A Personalised Medium Luxury Box of Nostalgia
Description
A Personalised Medium Luxury Box of Nostalgia - A stunning foiled gold box (which is held closed by magnetically to keep everything neat and tidy... clever eh?) packed full our most popular goodies - - what a cracking present to give to someone who really deserves a good old treat!!! You'll be their most favourite person EVER!
Plus... now you can personalise yours with your very own message... and we have over 20 different label designs from which you can choose.

Just to give you an idea, the box (full of sweets) weighs a whopping 1.75kg and measures 25cm x 15cm x 15cm (9.8in x 5.9in x 5.9in) - a really meaty box!

The box contains all these lovely goodies:

White Choc Fish & Chips, 250g
Sherbet Pips, 250g
The Best Kola Kubes You've Ever Tasted!, 250g
Fizzy Cola Bottles, 250g
Water Bombs, 1 Pack
Space Dust, 2 Packs
Wham Bars, 2 Bars
Mini Love Hearts, 4 packs
Refreshers Chews, 4 Singles
Double Lollies, 2 Lollies
Mini Parma Violets, 4 Packs
Drumstick Lollies, 2 Lollies
Candy Sticks, 1 box
Sherbet Fountain, 1 Tube
Double Dip, 1 Pack
Cola Chewits, 1 Pack

Gazillions of goodies!!!!
(Please note: Very occasionally, we may be out of stock of an item. It's rare, but if it does happen, rather than hold up your order we will replace the item with a similar, equally nostalgic item - so you won't ever be disappointed!)
Customer Reviews

Nutritional Information
INGREDIENTS

Candy Sticks:
Sugar, Cornflour, Glucose Syrup, Palm Oil, Modified Tapioca Starch, Beef Gelatine. Allergens: May Contain Traces Of Milk

This item contains the following per 100g:

Energy (kj): 1693
Energy (kcal): 399
Fat (g): 3.8
Saturated Fat (g): 1.9
Carbohydrate (g): 90
of which Sugars (g): 0
Protein (g): 1
Salt (g): 0

Cola Chewits:
Glucose Syrup, Sugar, Vegetable Oil, Lactic Acid, Egg Albumen, Citric Acid, Hydrolysed Pea Protein. Flavours: Blackcurrant Flavour, Carrot, Apple Flavour, Hibiscus, Allergens: Egg, Soya

This item contains the following per 100g:

Energy (kj): 1625
Energy (kcal): 383
Fat (g): 3
Saturated Fat (g): 2
Carbohydrate (g): 88
of which Sugars (g): 50
Protein (g): 0
Salt (g): 0.24

Double Dip Cherry & Orange:
Sugar, Dextrose, Acidity Regulator( Citric Acid, Malic Acid) Cornflour, Bicarbonate of Soda, Modified Starch, Stearic Acid, Anti Caking Agent( Magnesium Carbonate, Magnesium Stearate). Colours: Beetroot, Curcumin, Lutein

This item contains the following per 100g:

Energy (kj): 1651
Energy (kcal): 388
Fat (g): 0.5
Saturated Fat (g): 0.5
Carbohydrate (g): 93.8
of which Sugars (g): 91.6
Protein (g): 0.2
Salt (g): 1.1

Double Lollies:
Sugar, Stearic Acid, Modified Starch, Acidity Regulator: Malic Acid; Cornflour, Magnesium Stearate, Anti Caking Agent: Magnesium Carbonate;. Colours: Anthocyanins, Copper Chlorophyll, Curcumin, Lutein, Paprika Extract, Beetroot

This item contains the following per 100g:

Energy (kj): 1745
Energy (kcal): 411
Fat (g): 3.5
Saturated Fat (g): 3.5
Carbohydrate (g): 93.4
of which Sugars (g): 90.5
Protein (g): 0
Salt (g): 0

Drumstick Lolly Sweets - Original Raspberry and Milk Flavour:
Glucose Syrup, Sugar, Vegetable Oil, Acidity Regulator: Citric Acid; Gelatine, Emulsifier: Glycerol Mono Stearate;. Colours: Anthocyanins

This item contains the following per 100g:

Energy (kj): 1753
Energy (kcal): 414
Fat (g): 6.3
Saturated Fat (g): 4.2
Carbohydrate (g): 87.9
of which Sugars (g): 87.9
Protein (g): 0.5
Salt (g): 0.1

Fizz Wiz Strawberry Popping Candy:
Sugar, Lactose, Glucose Syrup. Flavours: Carbon Dioxide, Allergens: Milk

This item contains the following per 100g:

Energy (kj): 1700
Energy (kcal): 400
Fat (g): 0
Saturated Fat (g): 0
Carbohydrate (g): 100
of which Sugars (g): 100
Protein (g): 0
Salt (g): 0

Fizzy Cola Bottles:
Glucose Syrup, Sugar, Cornstarch, Gelatine, Humectant; Glycerol , Citric Acid, Malic Acid, Gelling Agent ; Pectin. Colours: apple Concentrate, Hibiscus, Carrot

Kola Kubes: The Best Cola Cubes You've Ever Tasted:
Sugar, Glucose Syrup, Egg Albumen, Vegetable Oil, Citric Acid. Colours: Beetroot, Allergens: Sulphites, Egg, May Contain Traces Of Nuts

Mini Love Hearts:
Sugar, Acidity Regulator: Malic Acid; Stearic Acid, Bicarbonate of Soda, Modified Starch, Magnesium Stearate, Anti Caking Agent: Magnesium Carbonate. Colours: Anthocyanins, Copper Chlorophyll, Curcumin, Lutein, Paprika Extract, Beetroot, Flavours: Flavourings

This item contains the following per 100g:

Energy (kj): 1664
Energy (kcal): 392
Fat (g): 3.1
Saturated Fat (g): 3.1
Carbohydrate (g): 87.6
of which Sugars (g): 85.5
Protein (g): 0.1
Salt (g): 2.1

Mini Parma Violets:
Sugar, Stearic Acid, Modified Starch, Glucose Syrup, Magnesium Carbonate. Colours: Anthocyanins

This item contains the following per 100g:

Energy (kj): 1742
Energy (kcal): 410
Fat (g): 3.4
Saturated Fat (g): 3.4
Carbohydrate (g): 94.7
of which Sugars (g): 93.5
Protein (g): 0.1
Salt (g): 0

Refreshers Chew:
Glucose Syrup, Sugar, Vegetable Oil, Citric Acid, Gelatine, Stearic Acid, Modified Starch, Emulsifier: Glycerol Mono Stearate, Magnesium Carbonate, Magnesium Stearate. Colours: Lutein

This item contains the following per 100g:

Energy (kj): 1744
Energy (kcal): 413
Fat (g): 5.8
Saturated Fat (g): 3.9
Carbohydrate (g): 88.1
of which Sugars (g): 87.6
Protein (g): 0.4
Salt (g): 0.1

Sherbet Fountains:
Sugar, Treacle, Wheat Flour, Cornflour, Bicarbonate of Soda, Citric Acid, Tartaric Acid, Liquorice Granules, Anti Caking Agent( Tricalcium Phosphate). Colours: Caramel, Flavours: Aniseed Oil, Allergens: Sulphites, Wheat

This item contains the following per 100g:

Energy (kj): 1584
Energy (kcal): 373
Fat (g): 0.4
Saturated Fat (g): 0.2
Carbohydrate (g): 91
of which Sugars (g): 82.6
Protein (g): 1
Salt (g): 3.25

Sherbet Pips:
Sugar, Glucose Syrup, Citric Acid, Bicarbonate of Soda. Colours: E100, E163, Allergens: Sulphites, May Contain Traces Of Milk

Wham Bars:
Glucose Syrup, Sugar, Palm Oil, Citric Acid, Milk Protein, Sodium Citrate, Safflower Extract, Spirulina. Colours: Curcumin, Anthocyanins, Flavours: Apple Juice Concentrate, Allergens: Milk, Soya

This item contains the following per 100g:

Energy (kj): 1577
Energy (kcal): 372
Fat (g): 3.5
Saturated Fat (g): 1.8
Carbohydrate (g): 84.7
of which Sugars (g): 49.2
Protein (g): 0
Salt (g): 0.18

White Chocolate Fish and Chips:
Sugar, Palm Oil, Whey Powder, Wheat Flour; Emulsifier: Soya Lecithin. Allergens: Gluten, Milk, Soya, Wheat

This item contains the following per 100g:

Energy (kj): 2186
Energy (kcal): 522
Fat (g): 26.9
Saturated Fat (g): 23.2
Carbohydrate (g): 66.4
of which Sugars (g): 52.7
Protein (g): 3.8
Salt (g): 0.25