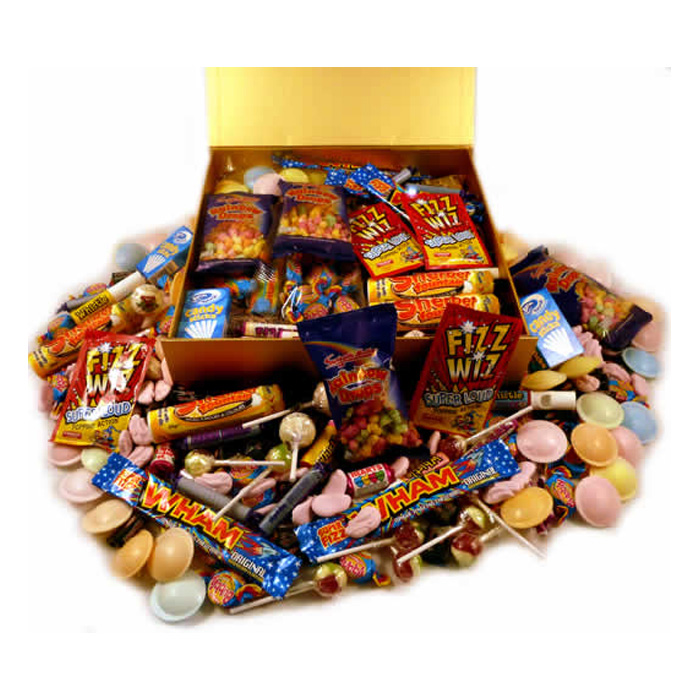 A Personalised Large Luxury Box of Retro Sweets
Description
A Personalised Large Luxury Box of Retro Sweets - This one is maHOOOOOsive! A beautiful gold gift-box of nostalgia, finished with a bow and jam packed full of all the old favourites and we are proud to say that it is utterly FABULOUS!!!
Plus... now you can personalise yours with your very own message... and we have over 20 different label designs from which you can choose.

It is the ultimate gift for someone who loves a bit of nostalgia - .and has a serious sweet tooth - and you will become their favourite person EVER! What a treat!
It weighs a WHOPPING 3 kg (that's 6.6lb!) and it measures 30cm x 30cm x 9cm (that's a foot square and 3 1/2 inches deep!). It contains all these lovely goodies that will make you go all misty-eyed:

Flying Saucers, 50
Anglo Bubbly, 15 Pieces
Haribo Fried Eggs, 250g
Sherbet Pips, 250g
Black Jacks, 250g
The Best Kola Kubes You've Ever Tasted!, 250g
The Best Rhubarb and Custard You've Ever Tasted!, 250g
Barratts Shrimps, 250g
Liquorice Comfits, 250g
Water Bombs, 1 Pack
Sherbet Fountains, 2 Tubes
Rainbow Drops, 2 Packs
Double Lollies, 3 Lollies
Super Candy Whistles, 2 Pieces
Wham Bars, 3 Bars
Space Dust, 2 Packs
Mini Love Hearts, 4 Packs
Refreshers Chews, 4 Pieces
Mini Parma Violets, 4 Packs
Fizzers, 4 Packs
Drumsticks Lollies, 4 Lollies
Traffic Light Lollies, 5 Lollies
Candy Sticks, 1 Box

GAZILLIONS of yummy sweets - it'll last for ages!!!!
(Please note: Very occasionally, we may be out of stock of something. If this happens, rather than hold up your order, we will replace the item with a similar, equally nostalgic item)
Customer Reviews

Nutritional Information
INGREDIENTS

Anglo Bubbly Bubble Gum:
Sugar, Glucose Syrup, Gum Base, Invert Sugar Syrup, Humectant, Sorbitol. Colours: Beetroot, Allergens: Soya

This item contains the following per 100g:

Energy (kj): 1619
Energy (kcal): 383
Fat (g): 5.5
Saturated Fat (g): 1.1
Carbohydrate (g): 80.7
of which Sugars (g): 76.3
Protein (g): 0.1
Salt (g): 0.03

Barratts Shrimps:
Sugar, Glucose Syrup, Dextrose, Beef Gelatine, Cornflour. Colours: Beetroot

This item contains the following per 100g:

Energy (kj): 1599
Energy (kcal): 376
Fat (g): 0.3
Saturated Fat (g): 0.1
Carbohydrate (g): 90.5
of which Sugars (g): 81.1
Protein (g): 2.9
Salt (g): 0.02

Black Jacks:
Glucose Syrup, Sugar, Palm Oil, Citric Acid, Beef Gelatine, Emulsifier: Soya Lecithin : E322. Colours: Vegetable Carbon, Flavours: Aniseed Oil, Allergens: Soya, May Contain Traces Of Milk

This item contains the following per 100g:

Energy (kj): 1387
Energy (kcal): 327
Fat (g): 3.2
Saturated Fat (g): 1.6
Carbohydrate (g): 74.2
of which Sugars (g): 41
Protein (g): 0.4
Salt (g): 0.79

Candy Sticks:
Sugar, Cornflour, Glucose Syrup, Palm Oil, Modified Tapioca Starch, Beef Gelatine. Allergens: May Contain Traces Of Milk

This item contains the following per 100g:

Energy (kj): 1693
Energy (kcal): 399
Fat (g): 3.8
Saturated Fat (g): 1.9
Carbohydrate (g): 90
of which Sugars (g): 0
Protein (g): 1
Salt (g): 0

Double Lollies:
Sugar, Stearic Acid, Modified Starch, Acidity Regulator: Malic Acid; Cornflour, Magnesium Stearate, Anti Caking Agent: Magnesium Carbonate;. Colours: Anthocyanins, Copper Chlorophyll, Curcumin, Lutein, Paprika Extract, Beetroot

This item contains the following per 100g:

Energy (kj): 1745
Energy (kcal): 411
Fat (g): 3.5
Saturated Fat (g): 3.5
Carbohydrate (g): 93.4
of which Sugars (g): 90.5
Protein (g): 0
Salt (g): 0

Drumstick Lolly Sweets - Original Raspberry and Milk Flavour:
Glucose Syrup, Sugar, Vegetable Oil, Acidity Regulator: Citric Acid; Gelatine, Emulsifier: Glycerol Mono Stearate;. Colours: Anthocyanins

This item contains the following per 100g:

Energy (kj): 1753
Energy (kcal): 414
Fat (g): 6.3
Saturated Fat (g): 4.2
Carbohydrate (g): 87.9
of which Sugars (g): 87.9
Protein (g): 0.5
Salt (g): 0.1

Fizz Wiz Strawberry Popping Candy:
Sugar, Lactose, Glucose Syrup. Flavours: Carbon Dioxide, Allergens: Milk

This item contains the following per 100g:

Energy (kj): 1700
Energy (kcal): 400
Fat (g): 0
Saturated Fat (g): 0
Carbohydrate (g): 100
of which Sugars (g): 100
Protein (g): 0
Salt (g): 0

Fizzers:
Sugar, Acidity Regulator, Malic Acid, Stearic Acid, Bicarbonate of Soda, Modified Starch, Magnesium Stearate, Anti Caking Agent, Magnesium Carbonate. Colours: Anthocyanins, Copper Chlorophyll, Curcumin, Lutein, Paprika Extract

This item contains the following per 100g:

Energy (kj): 1665
Energy (kcal): 392
Fat (g): 3.1
Saturated Fat (g): 3.1
Carbohydrate (g): 87.6
of which Sugars (g): 85.6
Protein (g): 0.1
Salt (g): 2.1

Flying Saucer Sweets:
Sugar, Dextrose, Maize Starch, Tartaric Acid, Sodium hydrogen carbonate. Colours: E100, E132, E162, Allergens: Sulphites

This item contains the following per 100g:

Energy (kj): 1532
Energy (kcal): 361
Fat (g): 0.1
Saturated Fat (g): 0
Carbohydrate (g): 89.7
of which Sugars (g): 52.7
Protein (g): 0.1
Salt (g): 0.88

Haribo Fried Eggs:
Glucose Syrup, Sugar, Dextrose, Gelatine, Citric Acid, Glazing Agents: Vegetable Oil, Beeswax, Carnauba Wax, Fruit Extract. Colours: Carob, Flavours: Elderberry Concentrate, Lemon Concentrate, Mango Concentrate, Passion Fruit Concentrate, Orange, Safflower

This item contains the following per 100g:

Energy (kj): 1466
Energy (kcal): 345
Fat (g): 0.5
Saturated Fat (g): 0.1
Carbohydrate (g): 79
of which Sugars (g): 53
Protein (g): 5.8
Salt (g): 0.02

Kola Kubes: The Best Cola Cubes You've Ever Tasted:
Sugar, Glucose Syrup, Egg Albumen, Vegetable Oil, Citric Acid. Colours: Beetroot, Allergens: Sulphites, Egg, May Contain Traces Of Nuts

Mini Love Hearts:
Sugar, Acidity Regulator: Malic Acid; Stearic Acid, Bicarbonate of Soda, Modified Starch, Magnesium Stearate, Anti Caking Agent: Magnesium Carbonate. Colours: Anthocyanins, Copper Chlorophyll, Curcumin, Lutein, Paprika Extract, Beetroot, Flavours: Flavourings

This item contains the following per 100g:

Energy (kj): 1664
Energy (kcal): 392
Fat (g): 3.1
Saturated Fat (g): 3.1
Carbohydrate (g): 87.6
of which Sugars (g): 85.5
Protein (g): 0.1
Salt (g): 2.1

Mini Parma Violets:
Sugar, Stearic Acid, Modified Starch, Glucose Syrup, Magnesium Carbonate. Colours: Anthocyanins

This item contains the following per 100g:

Energy (kj): 1742
Energy (kcal): 410
Fat (g): 3.4
Saturated Fat (g): 3.4
Carbohydrate (g): 94.7
of which Sugars (g): 93.5
Protein (g): 0.1
Salt (g): 0

Rainbow Drops:
Sugar, Maize Starch, Rice, Glucose Syrup. Colours: Beetroot, Copper Chlorophyll, Lutein, Paprika Extract

This item contains the following per 100g:

Energy (kj): 1566
Energy (kcal): 370
Fat (g): 0.5
Saturated Fat (g): 0
Carbohydrate (g): 88.7
of which Sugars (g): 64
Protein (g): 2.8
Salt (g): 0

Refreshers Chew:
Glucose Syrup, Sugar, Vegetable Oil, Citric Acid, Gelatine, Stearic Acid, Modified Starch, Emulsifier: Glycerol Mono Stearate, Magnesium Carbonate, Magnesium Stearate. Colours: Lutein

This item contains the following per 100g:

Energy (kj): 1744
Energy (kcal): 413
Fat (g): 5.8
Saturated Fat (g): 3.9
Carbohydrate (g): 88.1
of which Sugars (g): 87.6
Protein (g): 0.4
Salt (g): 0.1

Rhubarb and Custards: The Best You've Ever Tasted!:
Sugar, Glucose Syrup, Citric Acid. Colours: Beetroot, Allergens: May Contain Traces Of Nuts, Sulphites

Sherbet Fountains:
Sugar, Treacle, Wheat Flour, Cornflour, Bicarbonate of Soda, Citric Acid, Tartaric Acid, Liquorice Granules, Anti Caking Agent( Tricalcium Phosphate). Colours: Caramel, Flavours: Aniseed Oil, Allergens: Sulphites, Wheat

This item contains the following per 100g:

Energy (kj): 1584
Energy (kcal): 373
Fat (g): 0.4
Saturated Fat (g): 0.2
Carbohydrate (g): 91
of which Sugars (g): 82.6
Protein (g): 1
Salt (g): 3.25

Sherbet Pips:
Sugar, Glucose Syrup, Citric Acid, Bicarbonate of Soda. Colours: E100, E163, Allergens: Sulphites, May Contain Traces Of Milk

Super Candy Whistles:
Sugar, Stearic Acid, Modified Starch, Acidity Regulator: Malic Acid, Cornflour, Magnesium Stearate. Colours: Anthocyanins

This item contains the following per 100g:

Energy (kj): 1749
Energy (kcal): 412
Fat (g): 3.4
Saturated Fat (g): 3.4
Carbohydrate (g): 93.7
of which Sugars (g): 90.6
Protein (g): 0
Salt (g): 0

Taveners Liquorice Comfits:
Wheat Flour, Sugar, Treacle, Dextrose, Glucose Syrup, Modified Tapioca Starch, Vegetable Oil, Liqourice Extract, Glazing Agents: Carnauba Wax, Shellac, Safflower Extract. Colours: Curcumin, Anthocyanins, Carotene, Calcium carbonate, Flavours: Spirulina, Allergens: Wheat

Traffic Light Lollipops:
Glucose Syrup, Sugar, Citric Acid. Colours: E100, E120, E133, E171, Flavours: Blackcurrant Flavour, Carrot

This item contains the following per 100g:

Energy (kj): 1673
Energy (kcal): 394
Fat (g): 0
Saturated Fat (g): 0
Carbohydrate (g): 97
of which Sugars (g): 84
Protein (g): 0
Salt (g): 0.05

Wham Bars:
Glucose Syrup, Sugar, Palm Oil, Citric Acid, Milk Protein, Sodium Citrate, Safflower Extract, Spirulina. Colours: Curcumin, Anthocyanins, Flavours: Apple Juice Concentrate, Allergens: Milk, Soya

This item contains the following per 100g:

Energy (kj): 1577
Energy (kcal): 372
Fat (g): 3.5
Saturated Fat (g): 1.8
Carbohydrate (g): 84.7
of which Sugars (g): 49.2
Protein (g): 0
Salt (g): 0.18