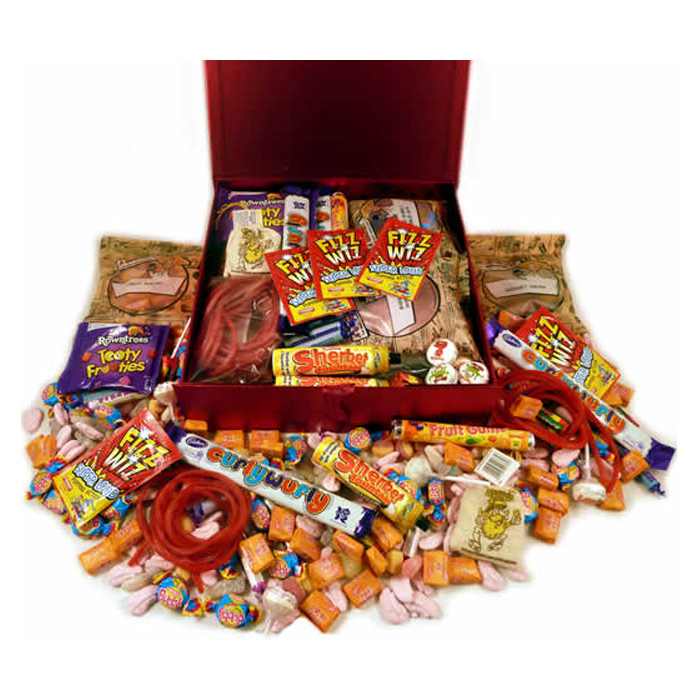 A Personalised 1970s Decade Box... Sweets from the Fabulous 70s!
Description
A Personalised 1970s Decade Box - Sweets from the Fabulous 70s! - Remember all those fabulously kitsch 1970s sweets that instantly transport you back to those heady days? Well we've put them all together in one fabulous 1970s Decade box of goodies, so if you're looking for an original present, look no more!
We've been getting our sweetie anoraks out, and done masses of research into all things sweetie related, and here's the result: a stonkingly massive gift box (with a fab 1970s style label - yeah maaan!) full to the brim with all the very best 70s retro sweets!
Plus... now you can personalise yours with your very own message... and we have over 20 different label designs from which you can choose.
It weighs a WHOPPING 3 kg (that's 6.6lb!) and it measures 30cm x 30cm x 9cm (that's a foot square and 3 1/2 inches deep!) It contains all these lovely goodies that will make the lucky recipent go all misty-eyed:

Fizzy Cola Bottles, 250g
Midget Gems, 250g
Double Cherries, 250g
The Best Kola Kubes You've Ever Tasted!, 250g
Curly Wurly, 2 Sticks
Space Dust, 3 Sachets
Anglo Bubbly, 250g
Strawberry Whips, 7 Whips
Barratts Shrimps, 250g
Pascalls Liquorice Comfits, 250g
Double Lollies, 4 Lollies
Fruit Salad, 250g
Fruit Gums, 1 Tube
Tooty Frooties, 1 Pack
Drumstick Lollies, 2 Lollies
Gold Nuggets Bubblegum, 1 Bag
Mini Parma Violets, 4 Packs
Sherbet Fountain, 1 Tube
Yeah baby!!!
(Please note: Very occasionally, we may be out of stock of an item. It's rare, but if it does happen, rather than hold up your order we will replace the item with a similar, equally nostalgic item - so you won't ever be disappointed!)
Customer Reviews

Nutritional Information
INGREDIENTS

Anglo Bubbly Bubble Gum:
Sugar, Glucose Syrup, Gum Base, Invert Sugar Syrup, Humectant, Sorbitol. Colours: Beetroot, Allergens: Soya

This item contains the following per 100g:

Energy (kj): 1619
Energy (kcal): 383
Fat (g): 5.5
Saturated Fat (g): 1.1
Carbohydrate (g): 80.7
of which Sugars (g): 76.3
Protein (g): 0.1
Salt (g): 0.03

Barratts Shrimps:
Sugar, Glucose Syrup, Dextrose, Beef Gelatine, Cornflour. Colours: Beetroot

This item contains the following per 100g:

Energy (kj): 1599
Energy (kcal): 376
Fat (g): 0.3
Saturated Fat (g): 0.1
Carbohydrate (g): 90.5
of which Sugars (g): 81.1
Protein (g): 2.9
Salt (g): 0.02

Curly Wurly:
Caramel( 69%: Glucose Syrup, Sugar, Palm Oil, Skimmed Milk Powder, Cocoa Butter: Cocoa Mass, Whey Powder) Milk Fat( Emulsifier (E471), E442, E476, Salt, Bicarbonate of Soda. Allergens: Milk, Soya

This item contains the following per 100g:

Energy (kj): 1905
Energy (kcal): 453
Fat (g): 4.6
Saturated Fat (g): 2.5
Carbohydrate (g): 13
of which Sugars (g): 13
Protein (g): 0
Salt (g): 0.15

Double Lollies:
Sugar, Stearic Acid, Modified Starch, Acidity Regulator: Malic Acid; Cornflour, Magnesium Stearate, Anti Caking Agent: Magnesium Carbonate;. Colours: Anthocyanins, Copper Chlorophyll, Curcumin, Lutein, Paprika Extract, Beetroot

This item contains the following per 100g:

Energy (kj): 1745
Energy (kcal): 411
Fat (g): 3.5
Saturated Fat (g): 3.5
Carbohydrate (g): 93.4
of which Sugars (g): 90.5
Protein (g): 0
Salt (g): 0

Drumstick Lolly Sweets - Original Raspberry and Milk Flavour:
Glucose Syrup, Sugar, Vegetable Oil, Acidity Regulator: Citric Acid; Gelatine, Emulsifier: Glycerol Mono Stearate;. Colours: Anthocyanins

This item contains the following per 100g:

Energy (kj): 1753
Energy (kcal): 414
Fat (g): 6.3
Saturated Fat (g): 4.2
Carbohydrate (g): 87.9
of which Sugars (g): 87.9
Protein (g): 0.5
Salt (g): 0.1

Fizz Wiz Strawberry Popping Candy:
Sugar, Lactose, Glucose Syrup. Flavours: Carbon Dioxide, Allergens: Milk

This item contains the following per 100g:

Energy (kj): 1700
Energy (kcal): 400
Fat (g): 0
Saturated Fat (g): 0
Carbohydrate (g): 100
of which Sugars (g): 100
Protein (g): 0
Salt (g): 0

Fizzy Cola Bottles:
Glucose Syrup, Sugar, Cornstarch, Gelatine, Humectant; Glycerol , Citric Acid, Malic Acid, Gelling Agent ; Pectin. Colours: apple Concentrate, Hibiscus, Carrot

Fruit Gums:
Glucose Syrup, Sugar, Starch, Gelatine, Malic Acid, Citric Acid( Lactic Acid, Acidity Regulator( Trisodium Citrate) Glazing Agents, Carnauba Wax. Colours: Anthocyanins, Carmine extract, Copper Chlorophyll, Curcumin, Carotene, Flavours: Grape Concentrate, Apple Flavour, Strawberry Flavour, Blackcurrant Flavour, Orange, Lime, lemon

This item contains the following per 100g:

Energy (kj): 1466
Energy (kcal): 345
Fat (g): 0.2
Carbohydrate (g): 79.3
of which Sugars (g): 44.6
Protein (g): 4.4
Salt (g): 0.50

Fruit Salad Chews:
Glucose Syrup, Sugar, Palm Oil, Citric Acid, Beef Gelatine, Emulsifier: Soya Lecithin : E322.. Colours: Paprika Extract, Anthocyanins, Flavours: Flavourings, Allergens: Soya, May Contain Traces Of Milk

This item contains the following per 100g:

Energy (kj): 1608
Energy (kcal): 380
Fat (g): 3.8
Saturated Fat (g): 1.8
Carbohydrate (g): 85.9
of which Sugars (g): 48.3
Protein (g): 0.04
Salt (g): 0.21

Gold Nuggets Bubblegum:
Sugar, Gum Base, Glucose Syrup, Humectant, Sorbitol( Glycerine) Citric Acid:. Colours: Titanium Dioxide, Curcumin, Carmine extract, Allergens: Not suitable for vegetarians

This item contains the following per 100g:

Energy (kj): 1280
Energy (kcal): 306
Fat (g): 0
Saturated Fat (g): 0
Carbohydrate (g): 74.9
of which Sugars (g): 67.6
Protein (g): 0
Salt (g): 0.07

Haribo Happy Cherries:
Glucose Syrup, Sugar, Gelatine, Dextrose, Citric Acid, Glazing Agents: Beeswax, Carnauba Wax. Flavours: Apple Juice Concentrate, Aronia, Blackcurrant Concentrate, Elderberry Concentrate, Grape Concentrate, Kiwi, Safflower, Spirulina

This item contains the following per 100g:

Energy (kj): 1459
Energy (kcal): 343
Fat (g): 0.5
Saturated Fat (g): 0.1
Carbohydrate (g): 77
of which Sugars (g): 46
Protein (g): 6.9
Salt (g): 0.07

Kola Kubes: The Best Cola Cubes You've Ever Tasted:
Sugar, Glucose Syrup, Egg Albumen, Vegetable Oil, Citric Acid. Colours: Beetroot, Allergens: Sulphites, Egg, May Contain Traces Of Nuts

Midget Gems:
Glucose Syrup, Sugar, Modified Potato Starch, Maize Starch, Lactic Acid, Beef Gelatine, Acetic Acid. Vegetable Oil: Glazing Agents, Beeswax. Colours: Anthocyanins, Paprika Extract, Curcumin, Chlorophyll, Flavours: Safflower, Spirulina

This item contains the following per 100g:

Energy (kj): 1475
Energy (kcal): 347
Fat (g): 1.1
Saturated Fat (g): 0.8
Carbohydrate (g): 83
of which Sugars (g): 56.6
Protein (g): 1.1
Salt (g): 0.13

Mini Parma Violets:
Sugar, Stearic Acid, Modified Starch, Glucose Syrup, Magnesium Carbonate. Colours: Anthocyanins

This item contains the following per 100g:

Energy (kj): 1742
Energy (kcal): 410
Fat (g): 3.4
Saturated Fat (g): 3.4
Carbohydrate (g): 94.7
of which Sugars (g): 93.5
Protein (g): 0.1
Salt (g): 0

Sherbet Fountains:
Sugar, Treacle, Wheat Flour, Cornflour, Bicarbonate of Soda, Citric Acid, Tartaric Acid, Liquorice Granules, Anti Caking Agent( Tricalcium Phosphate). Colours: Caramel, Flavours: Aniseed Oil, Allergens: Sulphites, Wheat

This item contains the following per 100g:

Energy (kj): 1584
Energy (kcal): 373
Fat (g): 0.4
Saturated Fat (g): 0.2
Carbohydrate (g): 91
of which Sugars (g): 82.6
Protein (g): 1
Salt (g): 3.25

Strawberry Whips:
Glucose Syrup, Wheat Flour, Sugar, Vegetable Fat, Acidity Regulator, Citric Acid(. Flavours: Blackcurrant Concentrate, Apple Juice Concentrate, Allergens: Wheat

Taveners Liquorice Comfits:
Wheat Flour, Sugar, Treacle, Dextrose, Glucose Syrup, Modified Tapioca Starch, Vegetable Oil, Liqourice Extract, Glazing Agents: Carnauba Wax, Shellac, Safflower Extract. Colours: Curcumin, Anthocyanins, Carotene, Calcium carbonate, Flavours: Spirulina, Allergens: Wheat

Tooty Frooties:
Sugar, Glucose Syrup, Vegetable Fat, Malic Acid, Citric Acid, Gum Arabic( Acidity Regulator) Trisodium Citrate, Invert Sugar Syrup( Carnauba Wax). Colours: Beta-carotene, Vegetable Carbon, Flavours: Grape Concentrate, Apple Juice Concentrate, Spirulina, Allergens: Gluten, Not suitable for children under 3 years old.

This item contains the following per 100g:

Energy (kj): 1674
Energy (kcal): 395
Fat (g): 2.8
Saturated Fat (g): 1.3
Carbohydrate (g): 91.3
of which Sugars (g): 74.4
Protein (g): 0
Salt (g): 0.2