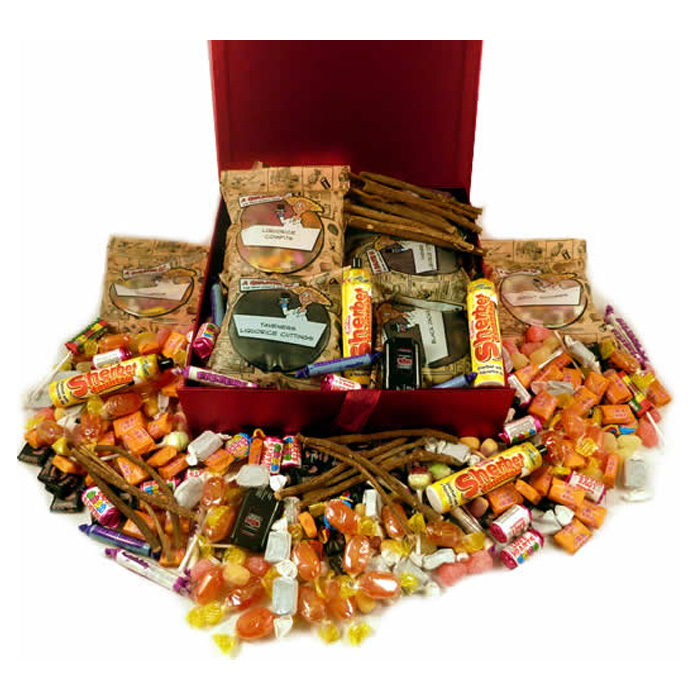 A Personalised 1950s Decade Box... Sweets from The 50s
Description
A Personalised 1950s Decade Box - Sweets from your 1950s Childhood - We are constantly asked for historical information: 'It's my auntie Marjorie's 60th, can you tell me what sweets were around when she was young?' Well fret no more, 'cos auntie Marjorie's in for a treat... hoorah!
We've carried out a whole load of research, and put together a large gift box full of all the classic sweets from the nostalgic 50s era, so it's bound to get them reminiscing about the good old days!
Plus... now you can personalise yours with your very own message... and we have over 20 different label designs from which you can choose.
Just to give you an idea, the sweets inside the box weigh in at a WHOPPING 3 kg (that's 6.6lb!) and it measures 30cm x 30cm x 9cm (that's a foot square and 3 1/2 inches deep!) - it's a really meaty box! It contains all these lovely goodies that will make the lucky recipient go all misty-eyed:
Taveners Pontefract Cakes, 250g
Taveners Liquorice Cuttings, 250g
Black Jacks, 250g
Fruit Salad, 250g
Liquorice Wood, 10 sticks
The Best Rhubarb and Custards You've Ever Tasted!, 250g
Barley Sugar, 250g
Dolly Mixtures, 250g
Treacle Toffee, 250g
Pear Drops, 250g
Victory V, 1 Pack
Pascalls Liquorice Comfits, 250g
Sherbet Fountains, 2 Tubes
Drumstick Lollies, 2 Lollies
Mini Parma Violets, 4 Packs
Mini Love Hearts, 4 Packs
Fizzers, 4 Packs
(Please note: Very occasionally, we may be out of stock of an item. It's rare, but if it does happen, rather than hold up your order we will replace the item with something equally tasty - so you/the recipient won't ever be disappointed!)
Customer Reviews

Nutritional Information
INGREDIENTS

Barley Sugar:
Sugar, Glucose Syrup. Colours: E110, E102, Flavours: Lemon Oil, Allergens: May have an adverse effect on activity and attention in children

This item contains the following per 100g:

Energy (kj): 1795
Energy (kcal): 422
Fat (g): 0.0
Saturated Fat (g): 0
Carbohydrate (g): 98
of which Sugars (g): 85
Protein (g): 0
Salt (g): 0

Black Jacks:
Glucose Syrup, Sugar, Palm Oil, Citric Acid, Beef Gelatine, Emulsifier: Soya Lecithin : E322. Colours: Vegetable Carbon, Flavours: Aniseed Oil, Allergens: Soya, May Contain Traces Of Milk

This item contains the following per 100g:

Energy (kj): 1387
Energy (kcal): 327
Fat (g): 3.2
Saturated Fat (g): 1.6
Carbohydrate (g): 74.2
of which Sugars (g): 41
Protein (g): 0.4
Salt (g): 0.79

Dolly Mixtures:
Sugar, Glucose Syrup, Beef Gelatine, Palm Oil, Maize Starch, Citric Acid, Cocoa Powder.. Colours: Anthocyanins, Caramel, Paprika Extract, Chlorophyll, Lutein, Beetroot, Flavours: Safflower, Spirulina

This item contains the following per 100g:

Energy (kj): 1604
Energy (kcal): 378
Fat (g): 1.5
Saturated Fat (g): 0.7
Carbohydrate (g): 89.6
of which Sugars (g): 81.2
Protein (g): 1.5
Salt (g): 0.12

Drumstick Lolly Sweets - Original Raspberry and Milk Flavour:
Glucose Syrup, Sugar, Vegetable Oil, Acidity Regulator: Citric Acid; Gelatine, Emulsifier: Glycerol Mono Stearate;. Colours: Anthocyanins

This item contains the following per 100g:

Energy (kj): 1753
Energy (kcal): 414
Fat (g): 6.3
Saturated Fat (g): 4.2
Carbohydrate (g): 87.9
of which Sugars (g): 87.9
Protein (g): 0.5
Salt (g): 0.1

Fizzers:
Sugar, Acidity Regulator, Malic Acid, Stearic Acid, Bicarbonate of Soda, Modified Starch, Magnesium Stearate, Anti Caking Agent, Magnesium Carbonate. Colours: Anthocyanins, Copper Chlorophyll, Curcumin, Lutein, Paprika Extract

This item contains the following per 100g:

Energy (kj): 1665
Energy (kcal): 392
Fat (g): 3.1
Saturated Fat (g): 3.1
Carbohydrate (g): 87.6
of which Sugars (g): 85.6
Protein (g): 0.1
Salt (g): 2.1

Fruit Salad Chews:
Glucose Syrup, Sugar, Palm Oil, Citric Acid, Beef Gelatine, Emulsifier: Soya Lecithin : E322.. Colours: Paprika Extract, Anthocyanins, Flavours: Flavourings, Allergens: Soya, May Contain Traces Of Milk

This item contains the following per 100g:

Energy (kj): 1608
Energy (kcal): 380
Fat (g): 3.8
Saturated Fat (g): 1.8
Carbohydrate (g): 85.9
of which Sugars (g): 48.3
Protein (g): 0.04
Salt (g): 0.21

Liquorice Wood (AKA Liquorice Root):
Liquorice wood.

Mini Love Hearts:
Sugar, Acidity Regulator: Malic Acid; Stearic Acid, Bicarbonate of Soda, Modified Starch, Magnesium Stearate, Anti Caking Agent: Magnesium Carbonate. Colours: Anthocyanins, Copper Chlorophyll, Curcumin, Lutein, Paprika Extract, Beetroot, Flavours: Flavourings

This item contains the following per 100g:

Energy (kj): 1664
Energy (kcal): 392
Fat (g): 3.1
Saturated Fat (g): 3.1
Carbohydrate (g): 87.6
of which Sugars (g): 85.5
Protein (g): 0.1
Salt (g): 2.1

Mini Parma Violets:
Sugar, Stearic Acid, Modified Starch, Glucose Syrup, Magnesium Carbonate. Colours: Anthocyanins

This item contains the following per 100g:

Energy (kj): 1742
Energy (kcal): 410
Fat (g): 3.4
Saturated Fat (g): 3.4
Carbohydrate (g): 94.7
of which Sugars (g): 93.5
Protein (g): 0.1
Salt (g): 0

Pear Drops:
Sugar, Glucose Syrup, Citric Acid. Colours: E102, E122, Allergens: May have an adverse effect on activity and attention in children

This item contains the following per 100g:

Energy (kj): 1682
Energy (kcal): 396
Fat (g): 0.0
Saturated Fat (g): 0.0
Carbohydrate (g): 98.0
of which Sugars (g): 80.0
Protein (g): 0.1
Salt (g): 0.23

Rhubarb and Custards: The Best You've Ever Tasted!:
Sugar, Glucose Syrup, Citric Acid. Colours: Beetroot, Allergens: May Contain Traces Of Nuts, Sulphites

Sherbet Fountains:
Sugar, Treacle, Wheat Flour, Cornflour, Bicarbonate of Soda, Citric Acid, Tartaric Acid, Liquorice Granules, Anti Caking Agent( Tricalcium Phosphate). Colours: Caramel, Flavours: Aniseed Oil, Allergens: Sulphites, Wheat

This item contains the following per 100g:

Energy (kj): 1584
Energy (kcal): 373
Fat (g): 0.4
Saturated Fat (g): 0.2
Carbohydrate (g): 91
of which Sugars (g): 82.6
Protein (g): 1
Salt (g): 3.25

Taveners Liquorice Comfits:
Wheat Flour, Sugar, Treacle, Dextrose, Glucose Syrup, Modified Tapioca Starch, Vegetable Oil, Liqourice Extract, Glazing Agents: Carnauba Wax, Shellac, Safflower Extract. Colours: Curcumin, Anthocyanins, Carotene, Calcium carbonate, Flavours: Spirulina, Allergens: Wheat

Taveners Liquorice Cuttings:
Treacle, Wheat Flour, Glucose Syrup, Liquorice Powder, Palm Oil, Glazing Agents, Carnauba Wax:. Allergens: Wheat , Gluten

This item contains the following per 100g:

Energy (kj): 1322
Energy (kcal): 311
Fat (g): 0.6
Saturated Fat (g): 0.2
Carbohydrate (g): 71.2
of which Sugars (g): 45.2
Protein (g): 4.8
Salt (g): .65

Taveners Pontefract Cakes:
Treacle, Glucose Syrup, Cornflour, Wheat Flour, Liqourice Extract, Potato Starch. Glazing Agents: Vegetable Oil, Carnauba Wax, Invert Sugar Syrup. Flavours: Aniseed Oil, Allergens: Gluten, Wheat , Sulphites

Treacle Toffee:
Glucose Syrup, Sugar, Treacle, Whey Powder, Vegetable Oil, Sweetened Condensed Milk, Salt: Soya Lecithin : E322.. Allergens: Milk, Soya, May Contain Traces Of Nuts, Sulphites, May Contain Traces Of Egg

Victory V:
Sugar, Acacia Gum, Glucose Syrup, linseed oil. Colours: Ammonia Caramel