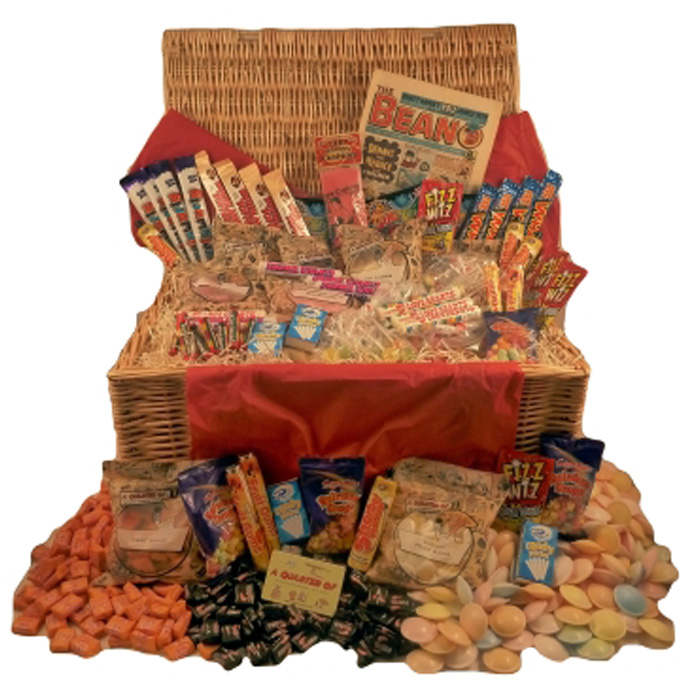 Jumbo Hamper of Retro Sweets
Description
Jumbo Hamper of Retro Sweets - When we say jumbo, we mean GARGANTUAN! (we've just found a new supplier... and they are now EVEN BIGGER than before, so we've crammed in more sweets too!). A gigantic picnic style hamper (wicker of course!) crammed full of all the finest, most iconic sweets from your childhood sweetshop.... we have oodles of different types of sweets, plus some other nostalgic (and a bit naughty) items like a whoppee cushion and lots of water bombs... we even complete the mega nostalgia trip by including a genuine old comic! (it may be a 1975 copy of the Dandy, or a 1980s issue of the Beano... it's a lucky dip!).
We thought we needed to offer a monster gift option - for everyone who wants to send the ultimate 'thank you' or 'happy birthday' or 'please let me be in your gang'. And voila... it's meaty!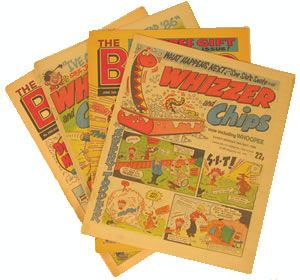 Your hamper's 56cm x 37cm x 26cm (it's huge!) and weighs 10.7Kg.
The full contents are:
Barratts Shrimps, 250g
Black Jacks, 250g
Brown Gems, 250g
Chewing Nuts, 250g
Kola Bottles (fizzy style), 250g
Haribo Fried Eggs, 250g
Chewy Fruit Salads Sweets, 250g
Cola Cubes, 250g
Liquorice Comfits, 250g
Twisty Marshmallows, 250g
Foam Mushrooms (Strawberry Flavour), 250g
Pear Drop Boiled Sweets, 250g
Pineapple Chunks, 250g
Pint Pots, 250g
Our Exclusive "Best You've Ever Tasted" Rhubarb & Custard, 250g
Sherbet Pips, 250g
Sour Apple Belts, 15 belts
Sour Apples, 250g
Toffee Crumble, 250g
White Choc Fish 'n Chips, 250g
Apple and Custard, 250g
Porky Pigs, 250g
Large Pink & White Mice, 250g
Friendship Rings, 250g
Strawberry Milkshakes, 250g
Spearmint Chews, 250g
15 x Vimto Lollies
15 x Fruity Lollies
15 x Traffic Light Lollies
50 x Flying Saucers
10 x Strawberry Flavour Pencils
4 x Candy Sticks
4 x Curly Wurly
8 x Drumsticks (Original)
4 x Highland Toffee
4 x Love Hearts
4 x Parma Violets
4 x Rainbow Drops
4 x Sherbet Fountains
4 x Space Dust - Strawberry
4 x Fruit Gums
4 x Wham Chew Bars
10 x Strawberry Flyers
3 x Water Bomb Packs
1 x Whoopee Joke Cushion
1 x Classic 70s or 80s Comic
Phew! I'm off for a lie-down now...
(Please note: Very rarely we may run out of stock of an item. If that does happen we'll substitute the item with another wihich is every bit as good and nostalgic)
Customer Reviews

Nutritional Information
INGREDIENTS

Apple and Custard:
Sugar, Glucose Syrup, Citric Acid. Allergens: May Contain Traces Of NUTS

Barratts Shrimps:
Sugar, Glucose Syrup, Dextrose, Beef Gelatine, Cornflour. Colours: Beetroot

This item contains the following per 100g:

Energy (kj): 1599
Energy (kcal): 376
Fat (g): 0.3
Saturated Fat (g): 0.1
Carbohydrate (g): 90.5
of which Sugars (g): 81.1
Protein (g): 2.9
Salt (g): 0.02

Black Jacks:
Glucose Syrup, Sugar, Palm Oil, Citric Acid, Beef Gelatine, Emulsifier: SOYA Lecithin : E322. Colours: Vegetable Carbon, Flavours: Aniseed Oil, Allergens: SOYA, May Contain Traces Of MILK

This item contains the following per 100g:

Energy (kj): 1387
Energy (kcal): 327
Fat (g): 3.2
Saturated Fat (g): 1.6
Carbohydrate (g): 74.2
of which Sugars (g): 41
Protein (g): 0.4
Salt (g): 0.79

Brown Gems (aka Jazzies or Jazzles):
Sugar, Palm Oil, Whey Powder, WHEAT Flour, WHEAT Starch, Cocoa Powder, Glucose Syrup; Emulsifier: SOYA Lecithin : E322; Glazing Agents: Beeswax. Colours: Chlorophyll, Carotene, Betanin, Anthocyanins, Allergens: GLUTEN, MILK, SOYA, WHEAT

This item contains the following per 100g:

Energy (kj): 2074
Energy (kcal): 495
Fat (g): 22
Saturated Fat (g): 18.9
Carbohydrate (g): 71
of which Sugars (g): 53.6
Protein (g): 2.9
Salt (g): 0.2

Candy Sticks:
Sugar, Cornflour, Glucose Syrup, Palm Oil, Modified Tapioca Starch, Beef Gelatine. Allergens: May Contain Traces Of MILK

This item contains the following per 100g:

Energy (kj): 1693
Energy (kcal): 399
Fat (g): 3.8
Saturated Fat (g): 1.9
Carbohydrate (g): 90
of which Sugars (g): 0
Protein (g): 1
Salt (g): 0

Chewing Nuts:
Glucose Syrup, Sugar, Chocolate Flavoured Coating( 22%) Sugar, Vegetable Oil, Whey Powder, Maize Starch, Cocoa Powder, Emulsifier; SOYA Lecithin, Polyglycerol Polyrincinoleate) Vegetable Fat, Whey Powder. Allergens: MILK, SOYA, May Contain Traces Of NUTS

Curly Wurly:
Caramel( 69%: Glucose Syrup, Sugar, Palm Oil, Skimmed MILK Powder, Cocoa Butter: Cocoa Mass, Whey Powder) MILK Fat( Emulsifier (E471), E442, E476, Salt, Bicarbonate of Soda. Allergens: MILK, SOYA

This item contains the following per 100g:

Energy (kj): 1905
Energy (kcal): 453
Fat (g): 4.6
Saturated Fat (g): 2.5
Carbohydrate (g): 13
of which Sugars (g): 13
Protein (g): 0
Salt (g): 0.15

Drumstick Lolly Sweets - Original Raspberry and Milk Flavour:
Glucose Syrup, Sugar, Vegetable Oil, Acidity Regulator: Citric Acid; Gelatine, Emulsifier: Glycerol Mono Stearate;. Colours: Anthocyanins

This item contains the following per 100g:

Energy (kj): 1753
Energy (kcal): 414
Fat (g): 6.3
Saturated Fat (g): 4.2
Carbohydrate (g): 87.9
of which Sugars (g): 87.9
Protein (g): 0.5
Salt (g): 0.1

Fizz Wiz Strawberry Popping Candy:
Sugar, Lactose, Glucose Syrup. Flavours: Carbon Dioxide, Allergens: MILK

This item contains the following per 100g:

Energy (kj): 1700
Energy (kcal): 400
Fat (g): 0
Saturated Fat (g): 0
Carbohydrate (g): 100
of which Sugars (g): 100
Protein (g): 0
Salt (g): 0

Fizzy Cola Bottles:
Glucose Syrup, Sugar, Cornstarch, Gelatine, Humectant; Glycerol , Citric Acid, Malic Acid, Gelling Agent ; Pectin. Colours: apple Concentrate, Hibiscus, Carrot

Flying Saucer Sweets:
Sugar, Dextrose, Maize Starch, Tartaric Acid, Sodium hydrogen carbonate. Colours: E100, E132, E162, Allergens: SULPHITES

This item contains the following per 100g:

Energy (kj): 1532
Energy (kcal): 361
Fat (g): 0.1
Saturated Fat (g): 0
Carbohydrate (g): 89.7
of which Sugars (g): 52.7
Protein (g): 0.1
Salt (g): 0.88

Fruit Gums:
Glucose Syrup, Sugar, Starch, Gelatine, Malic Acid, Citric Acid( Lactic Acid, Acidity Regulator( Trisodium Citrate) Glazing Agents, Carnauba Wax. Colours: Anthocyanins, Carmine extract, Copper Chlorophyll, Curcumin, Carotene, Flavours: Grape Concentrate, Apple Flavour, Strawberry Flavour, Blackcurrant Flavour, Orange, Lime, lemon

This item contains the following per 100g:

Energy (kj): 1466
Energy (kcal): 345
Fat (g): 0.2
Carbohydrate (g): 79.3
of which Sugars (g): 44.6
Protein (g): 4.4
Salt (g): 0.50

Fruit Salad Chews:
Glucose Syrup, Sugar, Palm Oil, Citric Acid, Beef Gelatine, Emulsifier: SOYA Lecithin : E322.. Colours: Paprika Extract, Anthocyanins, Flavours: Flavourings, Allergens: SOYA, May Contain Traces Of MILK

This item contains the following per 100g:

Energy (kj): 1608
Energy (kcal): 380
Fat (g): 3.8
Saturated Fat (g): 1.8
Carbohydrate (g): 85.9
of which Sugars (g): 48.3
Protein (g): 0.04
Salt (g): 0.21

Fruity Lollies:
Glucose Syrup, Sugar, Citric Acid. Colours: E100, E120, E133, Flavours: Carrot

Haribo Fried Eggs:
Glucose Syrup, Sugar, Dextrose, Gelatine, Citric Acid, Glazing Agents: Vegetable Oil, Beeswax, Carnauba Wax, Fruit Extract. Colours: Carob, Flavours: Elderberry Concentrate, Lemon Concentrate, Mango Concentrate, Passion Fruit Concentrate, Orange, Safflower

This item contains the following per 100g:

Energy (kj): 1466
Energy (kcal): 345
Fat (g): 0.5
Saturated Fat (g): 0.1
Carbohydrate (g): 79
of which Sugars (g): 53
Protein (g): 5.8
Salt (g): 0.02

Haribo Friendship Rings:
Glucose Syrup, Sugar, Gelatine, Dextrose, Citric Acid, Glazing Agents( Vegetable Oil, Beeswax, Carnauba Wax) Caramelised Sugar Syrup, Invert Sugar Syrup. Flavours: Apple Juice Concentrate, Aronia, Blackcurrant Concentrate, Elderberry Concentrate, Grape Concentrate, Kiwi, Lemon Concentrate, Mango Concentrate, Orange, passion fruit, Safflower, Spirulina

This item contains the following per 100g:

Energy (kj): 1459
Energy (kcal): 343
Fat (g): 0.5
Saturated Fat (g): 0.1
Carbohydrate (g): 77
of which Sugars (g): 46
Protein (g): 6.9
Salt (g): 0.07

Highland Toffee:
Glucose Syrup, Sugar, Palm Oil, Sweetened Condensed MILK, Skimmed MILK Powder, Butteroil, Salt, Emulsifier, SOYA Lecithin. Allergens: MILK, SOYA

Kola Kubes: The Best Cola Cubes You've Ever Tasted:
Sugar, Glucose Syrup, EGG Albumen, Vegetable Oil, Citric Acid. Colours: Beetroot, Allergens: SULPHITES, EGG, May Contain Traces Of NUTS

Large Pink and White Mice:
Sugar, Vegetable Fat, Whey Powder, WHEAT Flour, Emulsifier: SOYA Lecithin : E322. Colours: E120, Allergens: MILK, SOYA, WHEAT, GLUTEN

Love Hearts:
Sugar, Acidity Regulator: Malic Acid, Stearic Acid, Bicarbonate of Soda, Modified Starch, Magnesium Stearate, Anti Caking Agent, Magnesium Carbonate:. Colours: Anthocyanins, Beetroot, Copper Chlorophyll, Curcumin, Lutein, Paprika Extract, Flavours: Flavourings

This item contains the following per 100g:

Energy (kj): 1651
Energy (kcal): 389
Fat (g): 3
Saturated Fat (g): 3
Carbohydrate (g): 89.9
of which Sugars (g): 85.4
Protein (g): 0
Salt (g): 2.1

Parma Violets:
Sugar, Stearic Acid, Modified Starch, Glucose Syrup, Anti Caking Agent: Magnesium Carbonate. Colours: Anthocyanins

This item contains the following per 100g:

Energy (kj): 1741
Energy (kcal): 410
Fat (g): 3.4
Saturated Fat (g): 3.3
Carbohydrate (g): 94.7
of which Sugars (g): 93.5
Protein (g): 0.1
Salt (g): 0.1

Pear Drops:
Sugar, Glucose Syrup, Citric Acid. Colours: E102, E122, Allergens: May have an adverse effect on activity and attention in children

This item contains the following per 100g:

Energy (kj): 1682
Energy (kcal): 396
Fat (g): 0.0
Saturated Fat (g): 0.0
Carbohydrate (g): 98.0
of which Sugars (g): 80.0
Protein (g): 0.1
Salt (g): 0.23

Pineapple Chunks: The Best You've Ever Tasted:
Sugar, Glucose Syrup, EGG Albumen, Citric Acid. Colours: Carotene, Allergens: SULPHITES, EGG, May Contain Traces Of NUTS

Pint Pots:
Glucose Syrup, Sugar, Pork Gelatine, WHEAT Starch, E330, Gelling Agent : Pectin, Glazing Agents: Vegetable Oil, Beeswax, Carnauba Wax, Malt Extract, BARLEY Malt. Colours: E171, Allergens: BARLEY

This item contains the following per 100g:

Energy (kj): 1374
Energy (kcal): 323
Fat (g): 0.2
Saturated Fat (g): 0.2
Carbohydrate (g): 73.1
of which Sugars (g): 51.3
Protein (g): 6.1
Salt (g): 0.17

Porky Pigs:
Sugar, Vegetable Fat, Whey Powder, WHEAT Flour, SOYA Lecithin : E322. Colours: E120, Allergens: GLUTEN, MILK, SOYA, WHEAT

Rainbow Drops:
Sugar, Maize Starch, Rice, Glucose Syrup. Colours: Beetroot, Copper Chlorophyll, Lutein, Paprika Extract

This item contains the following per 100g:

Energy (kj): 1566
Energy (kcal): 370
Fat (g): 0.5
Saturated Fat (g): 0
Carbohydrate (g): 88.7
of which Sugars (g): 64
Protein (g): 2.8
Salt (g): 0

Rhubarb and Custards: The Best You've Ever Tasted!:
Sugar, Glucose Syrup, Citric Acid. Colours: Beetroot, Allergens: May Contain Traces Of NUTS, SULPHITES

Sherbet Fountains:
Sugar, Treacle, WHEAT Flour, Cornflour, Bicarbonate of Soda, Citric Acid, Tartaric Acid, Liquorice Granules, Anti Caking Agent( Tricalcium Phosphate). Colours: Caramel, Flavours: Aniseed Oil, Allergens: SULPHITES, WHEAT

This item contains the following per 100g:

Energy (kj): 1584
Energy (kcal): 373
Fat (g): 0.4
Saturated Fat (g): 0.2
Carbohydrate (g): 91
of which Sugars (g): 82.6
Protein (g): 1
Salt (g): 3.25

Sherbet Pips:
Sugar, Glucose Syrup, Citric Acid, Bicarbonate of Soda. Colours: E100, E163, Allergens: SULPHITES, May Contain Traces Of MILK

Sour Apple Belts:
Glucose Syrup, Sugar, WHEAT Flour, Modified Starch, Citric Acid, Lactose, Hydrogenated Vegetable Fat, Acidity Regulator: E331, Lactic Acid, Acidity Regulator: Sodium Lactate, Salt, Emulsifier (E471). Colours: E104, E131

This item contains the following per 100g:

Energy (kj): 1582
Energy (kcal): 373
Fat (g): 3
Saturated Fat (g): 1.8
Carbohydrate (g): 84
of which Sugars (g): 60
Protein (g): 2.5
Salt (g): 0

Sour Apples:
Sugar, Glucose Syrup, Citric Acid, Malic Acid. Colours: Copper Chlorophyll

This item contains the following per 100g:

Energy (kj): 1606
Energy (kcal): 384
Fat (g): 0
Saturated Fat (g): 0
Carbohydrate (g): 99
of which Sugars (g): 99
Protein (g): 0
Salt (g): 0

Spearmint Chews:
Glucose Syrup, Sugar, Vegetable Fat( Palm Oil) Beef Gelatine, Emulsifier( Sunflower Lecithin). Colours: Titanium Dioxide, Allergens: May Contain Traces Of SOYA

This item contains the following per 100g:

Energy (kj): 1718
Energy (kcal): 406
Fat (g): 5.0
Saturated Fat (g): 3.5
Carbohydrate (g): 89.9
of which Sugars (g): 54.9
Protein (g): 0.2
Salt (g): 0

Strawberry Flyers:
Sugar, WHEAT Flour, Glucose Syrup, Maize Starch, Citric Acid, Stabiliser, E414, Salt, Gelatine( Dextrose, Emulsifier (E471)) Humectant. Colours: Curcumin, Anthocyanins, Beetroot, Allergens: WHEAT

This item contains the following per 100g:

Energy (kj): 1550
Energy (kcal): 366
Fat (g): 1.1
Saturated Fat (g): 0.4
Carbohydrate (g): 85.9
of which Sugars (g): 67.2
Protein (g): 2.7
Salt (g): 0.1

Strawberry Foam Mushrooms:
Sugar, Glucose Syrup, Pork Gelatine, Citric Acid. Glazing Agents: Vegetable Oil, Carnauba Wax, Beeswax. Colours: E120

This item contains the following per 100g:

Energy (kj): 1396
Energy (kcal): 328
Fat (g): 0.4
Saturated Fat (g): 0.4
Carbohydrate (g): 75.8
of which Sugars (g): 68.3
Protein (g): 4.2
Salt (g): 0.03

Strawberry Milkshakes:
Sugar, Glucose Syrup, Cornflour, Beef Gelatine, Lactic Acid. Colours: Carmine extract, Flavours: Flavourings

This item contains the following per 100g:

Energy (kj): 1451
Energy (kcal): 342
Fat (g): 0.6
Saturated Fat (g): 0.3
Carbohydrate (g): 79.2
of which Sugars (g): 61.8
Protein (g): 4.6
Salt (g): 0.06

Strawberry Pencils:
Glucose Syrup, Sugar, WHEAT Flour, Hydrogenated Vegatable Oil, Beef Gelatine, Humectant, Modified Starch: Dextrose, Emulsifier (E471), Acidulants, Citric Acid, Malic Acid, Glazing Agents: Carnauba Wax, Shellac. Colours: E129, Allergens: May have an adverse effect on activity and attention in children, SULPHITES

This item contains the following per 100g:

Energy (kj): 1937
Energy (kcal): 463
Fat (g): 1.4
Saturated Fat (g): 1.1
Carbohydrate (g): 90.3
of which Sugars (g): 61.8
Protein (g): 2.1
Salt (g): 0.1

Taveners Liquorice Comfits:
WHEAT Flour, Sugar, Treacle, Dextrose, Glucose Syrup, Modified Tapioca Starch, Vegetable Oil, Liqourice Extract, Glazing Agents: Carnauba Wax, Shellac, Safflower Extract. Colours: Curcumin, Anthocyanins, Carotene, Calcium carbonate, Flavours: Spirulina, Allergens: WHEAT

Toffee Crumble:
MILK Chocolate( Sugar, MILK, WHEAT Flour, Cocoa Butter, Cocoa Butter, Dextrose, Invert Sugar Syrup, Emulsifier: SOYA Lecithin : E322; BARLEY Malt) Salt, Skimmed MILK Powder, Whey Powder, Butterfat, Glucose-Frutose Syrup, Glucose-Frutose Syrup, Gelatine, Citric Acid; Glazing Agents, Modified Starch, Hazelnuts. Allergens: MILK, SOYA, NUTS, WHEAT, GLUTEN

This item contains the following per 100g:

Energy (kj): 2086
Energy (kcal): 499
Fat (g): 25.3
Saturated Fat (g): 15.2
Carbohydrate (g): 60.7
of which Sugars (g): 49.3
Protein (g): 5.1
Salt (g): 0.2

Traffic Light Lollipops:
Glucose Syrup, Sugar, Citric Acid. Colours: E100, E120, E133, E171, Flavours: Blackcurrant Flavour, Carrot

This item contains the following per 100g:

Energy (kj): 1673
Energy (kcal): 394
Fat (g): 0
Saturated Fat (g): 0
Carbohydrate (g): 97
of which Sugars (g): 84
Protein (g): 0
Salt (g): 0.05

Twisty Marshmallows:
Glucose Syrup, Fructose, Sugar, Gelatine, Anti Caking Agent: Maize Starch. Colours: E100, E120, E131, E162

Vimto Lollies:
Glucose Syrup, Sugar, Citric Acid. Allergens: SULPHITES, May Contain Traces Of SOYA

This item contains the following per 100g:

Energy (kj): 1620
Energy (kcal): 380
Fat (g): 0.2
Saturated Fat (g): 0.1
Carbohydrate (g): 94.2
of which Sugars (g): 63.4
Protein (g): 0.5
Salt (g): 0.01

Wham Bars:
Glucose Syrup, Sugar, Palm Oil, Citric Acid, MILK Protein, Sodium Citrate, Safflower Extract, Spirulina. Colours: Curcumin, Anthocyanins, Flavours: Apple Juice Concentrate, Allergens: MILK, SOYA

This item contains the following per 100g:

Energy (kj): 1577
Energy (kcal): 372
Fat (g): 3.5
Saturated Fat (g): 1.8
Carbohydrate (g): 84.7
of which Sugars (g): 49.2
Protein (g): 0
Salt (g): 0.18

White Chocolate Fish and Chips:
Sugar, Palm Oil, Whey Powder, WHEAT Flour; Emulsifier: SOYA Lecithin. Allergens: GLUTEN, MILK, SOYA, WHEAT

This item contains the following per 100g:

Energy (kj): 2186
Energy (kcal): 522
Fat (g): 26.9
Saturated Fat (g): 23.2
Carbohydrate (g): 66.4
of which Sugars (g): 52.7
Protein (g): 3.8
Salt (g): 0.25
Stocking Fillers Under £10
Christmas Gifts Under £15
Larger Presents £15-£20
Selections They'll Love £20-£30