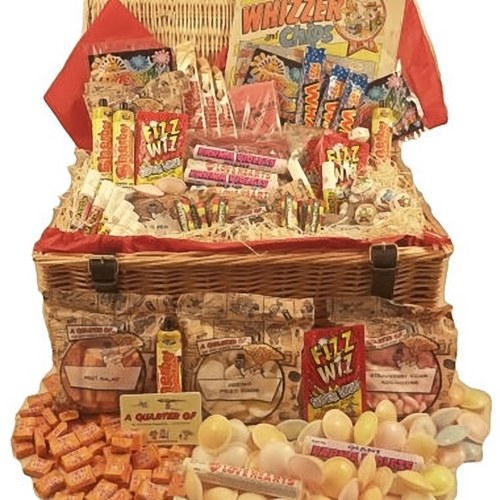 If you like this, you you'll love...
Giant Retro Sweet Hamper
Description
Giant Retro Sweet Hamper - A great big wicker hamper packed full of all kinds of traditional sweets . We've packed it with as many old school sweets as we could, from boiled favourites like Rhubarb and Custard, to chews like Fruit Salad and Blackjacks, to classics like Wham, Space Dust and Parma Violets. It's a real blast from the past... and it's not just sweets - we've also included a whoopee cushion, water bombs, and an original comic from bygone times (you might get a 1972 Whizzer and Chips, or a 1985 Beano... it's a surprise!) just to complete the nostalgia trip!
It's the perfect gift for someone who really deserves something special. Each hamper measures 45cm x 29cm x 19cm and weighs a whopping 5.7kg. And it contains 25 different types of sweets! It's ace!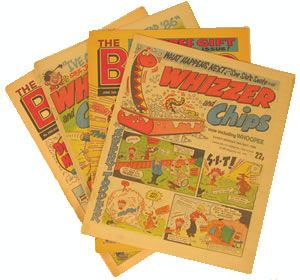 Here are the contents:
Kola Kubes, 250g
Rhubarb and Custard, 250g
Pineapple Chunks, 250g
Pear Drops, 250g
Fruit Salad, 250g
Black Jacks, 250g
Chewing Nuts, 250g
Lemon Bonbons, 250g
Fizzy Cola Bottles, 250g
Haribo Fried Eggs, 250g
Strawberry Foam Mushrooms, 250g
White Chocolate Fish and Chips, 250g
Brown Gems, 250g
Liquorice Comfits, 250g
Coconut Mushrooms, 250g
50 x Flying Saucers
10 x Strawberry Flyers
3 x Wham Bars
3 x Sherbet Fountains
6 x Drumsticks - Original
6 x Super Candy Whistles
6 x Double Lollies
3 x Parma Violets
3 x Love Hearts
3 x Space Dust - Strawberry
3 x Highland Toffee
1 x Whoopee Cushion
3 x Water Bombs
1 x Original Vintage Comic
(Please note: Very occasionally, we may be out of stock of something. Although rare, if it does happen, rather than hold up your order we will replace the item with a similar, equally nostalgic item)
Customer Reviews

Nutritional Information
INGREDIENTS

Black Jacks:
Glucose Syrup, Sugar, Palm Oil, Citric Acid, Beef Gelatine, Emulsifier: Soya Lecithin : E322. Colours: Vegetable Carbon, Flavours: Aniseed Oil, Allergens: Soya, May Contain Traces Of Milk

This item contains the following per 100g:

Energy (kj): 1387
Energy (kcal): 327
Fat (g): 3.2
Saturated Fat (g): 1.6
Carbohydrate (g): 74.2
of which Sugars (g): 41
Protein (g): 0.4
Salt (g): 0.79

Brown Gems (aka Jazzies or Jazzles):
Sugar, Palm Oil, Whey Powder, Wheat Flour, Wheat Starch, Cocoa Powder, Glucose Syrup; Emulsifier: Soya Lecithin : E322; Glazing Agents: Beeswax. Colours: Chlorophyll, Carotene, Betanin, Anthocyanins, Allergens: Gluten, Milk, Soya, Wheat

This item contains the following per 100g:

Energy (kj): 2074
Energy (kcal): 495
Fat (g): 22
Saturated Fat (g): 18.9
Carbohydrate (g): 71
of which Sugars (g): 53.6
Protein (g): 2.9
Salt (g): 0.2

Chewing Nuts:
Glucose Syrup, Sugar, Chocolate Flavoured Coating( 22%) Sugar, Vegetable Oil, Whey Powder, Maize Starch, Cocoa Powder, Emulsifier; Soya Lecithin, Polyglycerol Polyrincinoleate) Vegetable Fat, Whey Powder. Allergens: Milk, Soya, May Contain Traces Of Nuts

Double Lollies:
Sugar, Stearic Acid, Modified Starch, Acidity Regulator: Malic Acid; Cornflour, Magnesium Stearate, Anti Caking Agent: Magnesium Carbonate;. Colours: Anthocyanins, Copper Chlorophyll, Curcumin, Lutein, Paprika Extract, Beetroot

This item contains the following per 100g:

Energy (kj): 1745
Energy (kcal): 411
Fat (g): 3.5
Saturated Fat (g): 3.5
Carbohydrate (g): 93.4
of which Sugars (g): 90.5
Protein (g): 0
Salt (g): 0

Drumsticks - Original (Raspberry and Milk):
Glucose Syrup, Sugar, Vegetable Oil, Acidity Regulator: Citric Acid; Gelatine, Emulsifier: Glycerol Mono Stearate;. Colours: Anthocyanins

This item contains the following per 100g:

Energy (kj): 1753
Energy (kcal): 414
Fat (g): 6.3
Saturated Fat (g): 4.2
Carbohydrate (g): 87.9
of which Sugars (g): 87.9
Protein (g): 0.5
Salt (g): 0.1

Fizz Wiz Strawberry Popping Candy:
Sugar, Lactose, Glucose Syrup. Flavours: Carbon Dioxide, Allergens: Milk

This item contains the following per 100g:

Energy (kj): 1700
Energy (kcal): 400
Fat (g): 0
Saturated Fat (g): 0
Carbohydrate (g): 100
of which Sugars (g): 100
Protein (g): 0
Salt (g): 0

Fizzy Sour Cola Bottles:
Glucose Syrup, Sugar, Cornstarch, Gelatine, Humectant; Glycerol , Citric Acid, Malic Acid, Gelling Agent ; Pectin. Colours: apple Concentrate, Hibiscus, Carrot

Flying Saucers:
Sugar, Dextrose, Maize Starch, Tartaric Acid, Sodium hydrogen carbonate. Colours: E100, E132, E162, Allergens: Sulphites

This item contains the following per 100g:

Energy (kj): 1532
Energy (kcal): 361
Fat (g): 0.1
Saturated Fat (g): 0
Carbohydrate (g): 89.7
of which Sugars (g): 52.7
Protein (g): 0.1
Salt (g): 0.88

Fruit Salads:
Glucose Syrup, Sugar, Palm Oil, Citric Acid, Beef Gelatine, Emulsifier: Soya Lecithin : E322.. Colours: Paprika Extract, Anthocyanins, Flavours: Flavourings, Allergens: Soya, May Contain Traces Of Milk

This item contains the following per 100g:

Energy (kj): 1608
Energy (kcal): 380
Fat (g): 3.8
Saturated Fat (g): 1.8
Carbohydrate (g): 85.9
of which Sugars (g): 48.3
Protein (g): 0.04
Salt (g): 0.21

Haribo Fried Eggs:
Glucose Syrup, Sugar, Dextrose, Gelatine, Citric Acid, Glazing Agents: Vegetable Oil, Beeswax, Carnauba Wax, Fruit Extract. Colours: Carob, Flavours: Elderberry Concentrate, Lemon Concentrate, Mango Concentrate, Passion Fruit Concentrate, Orange, Safflower

This item contains the following per 100g:

Energy (kj): 1466
Energy (kcal): 345
Fat (g): 0.5
Saturated Fat (g): 0.1
Carbohydrate (g): 79
of which Sugars (g): 53
Protein (g): 5.8
Salt (g): 0.02

Highland Toffee:
Glucose Syrup, Sugar, Palm Oil, Sweetened Condensed Milk, Skimmed Milk Powder, Butteroil, Salt, Emulsifier, Soya Lecithin. Allergens: Milk, Soya

Kola Kubes: The Best You've Ever Tasted:
Sugar, Glucose Syrup, Egg Albumen, Vegetable Oil, Citric Acid. Colours: Beetroot, Allergens: Sulphites, Egg, May Contain Traces Of Nuts

Lemon Bonbons:
Sugar, Glucose Syrup, Hydrogenated Vegatable Oil, Dextrose, Humectant, Sorbitol, Citric Acid; Pork Gelatine: Stabiliser, Gum Arabic, Emulsifier. Colours: E100, Allergens: Milk

This item contains the following per 100g:

Energy (kj): 1698
Energy (kcal): 399
Fat (g): 5.4
Saturated Fat (g): 5.4
Carbohydrate (g): 87.2
of which Sugars (g): 64.2
Protein (g): 0.3
Salt (g): 0.02

Love Hearts:
Sugar, Acidity Regulator: Malic Acid, Stearic Acid, Bicarbonate of Soda, Modified Starch, Magnesium Stearate, Anti Caking Agent, Magnesium Carbonate:. Colours: Anthocyanins, Beetroot, Copper Chlorophyll, Curcumin, Lutein, Paprika Extract

This item contains the following per 100g:

Energy (kj): 1651
Energy (kcal): 389
Fat (g): 3
Saturated Fat (g): 3
Carbohydrate (g): 89.9
of which Sugars (g): 85.4
Protein (g): 0
Salt (g): 2.1

Parma Violets:
Sugar, Stearic Acid, Modified Starch, Glucose Syrup, Anti Caking Agent: Magnesium Carbonate. Colours: Anthocyanins

This item contains the following per 100g:

Energy (kj): 1741
Energy (kcal): 410
Fat (g): 3.4
Saturated Fat (g): 3.3
Carbohydrate (g): 94.7
of which Sugars (g): 93.5
Protein (g): 0.1
Salt (g): 0.1

Pear Drops:
Sugar, Glucose Syrup, Citric Acid. Colours: E102, E122, Allergens: May have an adverse effect on activity and attention in children

This item contains the following per 100g:

Energy (kj): 1682
Energy (kcal): 396
Fat (g): 0.0
Saturated Fat (g): 0.0
Carbohydrate (g): 98.0
of which Sugars (g): 80.0
Protein (g): 0.1
Salt (g): 0.23

Pineapple Chunks: The Best You've Ever Tasted:
Sugar, Glucose Syrup, Egg Albumen, Citric Acid. Colours: Carotene, Allergens: Sulphites, Egg, May Contain Traces Of Nuts

Rhubarb and Custards: The Best You've Ever Tasted!:
Sugar, Glucose Syrup, Citric Acid. Colours: Beetroot, Allergens: May Contain Traces Of Nuts, Sulphites

Sherbet Fountains:
Sugar, Treacle, Wheat Flour, Cornflour, Bicarbonate of Soda, Citric Acid, Tartaric Acid, Liquorice Granules, Anti Caking Agent( Tricalcium Phosphate). Colours: Caramel, Flavours: Aniseed Oil, Allergens: Sulphites, Wheat

This item contains the following per 100g:

Energy (kj): 1584
Energy (kcal): 373
Fat (g): 0.4
Saturated Fat (g): 0.2
Carbohydrate (g): 91
of which Sugars (g): 82.6
Protein (g): 1
Salt (g): 3.25

Strawberry Flyers:
Sugar, Wheat Flour, Glucose Syrup, Maize Starch, Citric Acid, Stabiliser, E414, Salt, Gelatine( Dextrose, Emulsifier (E471)) Humectant. Colours: Curcumin, Anthocyanins, Beetroot, Allergens: Wheat

This item contains the following per 100g:

Energy (kj): 1550
Energy (kcal): 366
Fat (g): 1.1
Saturated Fat (g): 0.4
Carbohydrate (g): 85.9
of which Sugars (g): 67.2
Protein (g): 2.7
Salt (g): 0.1

Strawberry Foam Mushrooms:
Sugar, Glucose Syrup, Pork Gelatine, Citric Acid. Glazing Agents: Vegetable Oil, Carnauba Wax, Beeswax. Colours: E120

This item contains the following per 100g:

Energy (kj): 1396
Energy (kcal): 328
Fat (g): 0.4
Saturated Fat (g): 0.4
Carbohydrate (g): 75.8
of which Sugars (g): 68.3
Protein (g): 4.2
Salt (g): 0.03

Super Candy Whistles:
Sugar, Stearic Acid, Modified Starch, Acidity Regulator: Malic Acid, Cornflour, Magnesium Stearate. Colours: Anthocyanins

This item contains the following per 100g:

Energy (kj): 1749
Energy (kcal): 412
Fat (g): 3.4
Saturated Fat (g): 3.4
Carbohydrate (g): 93.7
of which Sugars (g): 90.6
Protein (g): 0
Salt (g): 0

Taveners Liquorice Comfits:
Wheat Flour, Sugar, Treacle, Dextrose, Glucose Syrup, Modified Tapioca Starch, Vegetable Oil, Liqourice Extract, Glazing Agents: Carnauba Wax, Shellac, Safflower Extract. Colours: Curcumin, Anthocyanins, Carotene, Calcium carbonate, Flavours: Spirulina, Allergens: Wheat

Wham Bars:
Glucose Syrup, Sugar, Palm Oil, Citric Acid, Milk Protein, Sodium Citrate, Safflower Extract, Spirulina. Colours: Curcumin, Anthocyanins, Flavours: Apple Juice Concentrate, Allergens: Milk, Soya

This item contains the following per 100g:

Energy (kj): 1577
Energy (kcal): 372
Fat (g): 3.5
Saturated Fat (g): 1.8
Carbohydrate (g): 84.7
of which Sugars (g): 49.2
Protein (g): 0
Salt (g): 0.18

White Chocolate Fish and Chips:
Sugar, Palm Oil, Whey Powder, Wheat Flour; Emulsifier: Soya Lecithin. Allergens: Gluten, Milk, Soya, Wheat

This item contains the following per 100g:

Energy (kj): 2186
Energy (kcal): 522
Fat (g): 26.9
Saturated Fat (g): 23.2
Carbohydrate (g): 66.4
of which Sugars (g): 52.7
Protein (g): 3.8
Salt (g): 0.25