1960s Decade Box... Sweets from the Swinging 60s! (Large)
Description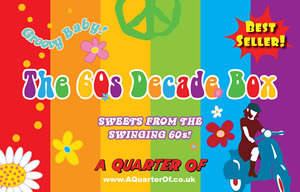 1960s Decade Box - Sweets from the Swinging 60s! - What can you buy for a child of the 60's who has everything? Well fret no more, because this is the most brilliantly original retro gift they could ever hope for!
We've been doing tons of research, and we've compiled this superb 1960s Decade Box - a great big gift box filled to the brim with the best sweets from the 1960s - if this doesn't bring a nostalgic tear to their eyes, we don't know what will!

It weighs in at a JUMBO 3 kg (that's 6.6lb!) and it measures 30cm x 30cm x 9cm (that's a foot square and 3 1/2 inches deep!) It's jam-packed with all these lovely goodies that will make the lucky recipent go all misty-eyed: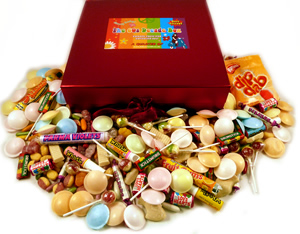 Sweet Tobacco, 125g
Taveners Liquorice Cuttings, 250g
Taveners Coconut Mushrooms, 250g
Dolly Mixtures, 250g
White Chocolate Fish Chips, 250g
Traffic Light Lollies, 15
Sherbet Fountain, 1 Tube
Fruit Gums, 1 Tube
Jelly Babies, 250g
The Best Rhubarb Custard You've Ever Tasted!, 250g
The Best Kola Kubes You've Ever Tasted!, 250g
Drumstick Lollies, 5 Lollies
Pascalls Liquorice Comfits, 250g
Flying Saucers, 50
Fizzers, 2 Packs
Parma Violets, 1 Tube
Super Candy Whistles, 4
Mini Love Hearts, 2 Packs


(Please note: Very occasionally, we may be out of stock of an item. It's rare, but if it does happen, rather than hold up your order we will replace the item with a similar, equally nostalgic item - so you won't ever be disappointed!
Customer Reviews

Nutritional Information
INGREDIENTS

Barratts Jelly Babies:
Sugar, Glucose Syrup, Beef Gelatine, Cornflour, Citric Acid. Colours: Anthocyanins, Curcumin, Paprika Extract, Chlorophyll, Flavours: Safflower, Spirulina, Allergens: May Contain Traces Of Nuts, Sulphites

This item contains the following per 100g:

Energy (kj): 1450
Energy (kcal): 341
Fat (g): 0.43
Saturated Fat (g): 0.2
Carbohydrate (g): 79.1
of which Sugars (g): 70.3
Protein (g): 5.27
Salt (g): 0.045

Dolly Mixtures:
Sugar, Glucose Syrup, Beef Gelatine, Palm Oil, Maize Starch, Citric Acid, Cocoa Powder.. Colours: Anthocyanins, Caramel, Paprika Extract, Chlorophyll, Lutein, Beetroot, Flavours: Safflower, Spirulina

This item contains the following per 100g:

Energy (kj): 1604
Energy (kcal): 378
Fat (g): 1.5
Saturated Fat (g): 0.7
Carbohydrate (g): 89.6
of which Sugars (g): 81.2
Protein (g): 1.5
Salt (g): 0.12

Drumsticks - Original (Raspberry and Milk):
Glucose Syrup, Sugar, Vegetable Oil, Acidity Regulator: Citric Acid; Gelatine, Emulsifier: Glycerol Mono Stearate;. Colours: Anthocyanins

This item contains the following per 100g:

Energy (kj): 1753
Energy (kcal): 414
Fat (g): 6.3
Saturated Fat (g): 4.2
Carbohydrate (g): 87.9
of which Sugars (g): 87.9
Protein (g): 0.5
Salt (g): 0.1

Fizzers:
Sugar, Acidity Regulator, Malic Acid, Stearic Acid, Bicarbonate of Soda, Modified Starch, Magnesium Stearate, Anti Caking Agent, Magnesium Carbonate. Colours: Anthocyanins, Copper Chlorophyll, Curcumin, Lutein, Paprika Extract

This item contains the following per 100g:

Energy (kj): 1665
Energy (kcal): 392
Fat (g): 3.1
Saturated Fat (g): 3.1
Carbohydrate (g): 87.6
of which Sugars (g): 85.6
Protein (g): 0.1
Salt (g): 2.1

Flying Saucers:
Sugar, Dextrose, Maize Starch, Tartaric Acid, Sodium hydrogen carbonate. Colours: E100, E132, E162, Allergens: Sulphites

This item contains the following per 100g:

Energy (kj): 1532
Energy (kcal): 361
Fat (g): 0.1
Saturated Fat (g): 0
Carbohydrate (g): 89.7
of which Sugars (g): 52.7
Protein (g): 0.1
Salt (g): 0.88

Fruit Gums:
Glucose Syrup, Sugar, Starch, Gelatine, Malic Acid, Citric Acid( Lactic Acid, Acidity Regulator( Trisodium Citrate) Glazing Agents, Carnauba Wax. Colours: Anthocyanins, Carmine extract, Copper Chlorophyll, Curcumin, Carotene, Flavours: Grape Concentrate, Apple Flavour, Strawberry Flavour, Blackcurrant Flavour, Orange, Lime, lemon

This item contains the following per 100g:

Energy (kj): 1466
Energy (kcal): 345
Fat (g): 0.2
Carbohydrate (g): 79.3
of which Sugars (g): 44.6
Protein (g): 4.4
Salt (g): 0.50

Kola Kubes: The Best You've Ever Tasted:
Sugar, Glucose Syrup, Egg Albumen, Vegetable Oil, Citric Acid. Colours: Beetroot, Allergens: Sulphites, Egg, May Contain Traces Of Nuts

Mini Love Hearts:
Sugar, Acidity Regulator: Malic Acid; Stearic Acid, Bicarbonate of Soda, Modified Starch, Magnesium Stearate, Anti Caking Agent: Magnesium Carbonate. Colours: Anthocyanins, Copper Chlorophyll, Curcumin, Lutein, Paprika Extract, Beetroot, Flavours: Flavourings

This item contains the following per 100g:

Energy (kj): 1664
Energy (kcal): 392
Fat (g): 3.1
Saturated Fat (g): 3.1
Carbohydrate (g): 87.6
of which Sugars (g): 85.5
Protein (g): 0.1
Salt (g): 2.1

Parma Violets:
Sugar, Stearic Acid, Modified Starch, Glucose Syrup, Anti Caking Agent: Magnesium Carbonate. Colours: Anthocyanins

This item contains the following per 100g:

Energy (kj): 1741
Energy (kcal): 410
Fat (g): 3.4
Saturated Fat (g): 3.3
Carbohydrate (g): 94.7
of which Sugars (g): 93.5
Protein (g): 0.1
Salt (g): 0.1

Rhubarb and Custards: The Best You've Ever Tasted!:
Sugar, Glucose Syrup, Citric Acid. Colours: Beetroot, Allergens: May Contain Traces Of Nuts, Sulphites

Sherbet Fountains:
Sugar, Treacle, Wheat Flour, Cornflour, Bicarbonate of Soda, Citric Acid, Tartaric Acid, Liquorice Granules, Anti Caking Agent( Tricalcium Phosphate). Colours: Caramel, Flavours: Aniseed Oil, Allergens: Sulphites, Wheat

This item contains the following per 100g:

Energy (kj): 1584
Energy (kcal): 373
Fat (g): 0.4
Saturated Fat (g): 0.2
Carbohydrate (g): 91
of which Sugars (g): 82.6
Protein (g): 1
Salt (g): 3.25

Spanish Gold Sweet Tobacco:
Coconut, Sugar, Cocoa Powder, Glucose Syrup. Allergens: May Contain Traces Of Nuts, May Contain Traces Of soya, May Contain Traces Of Milk

Super Candy Whistles:
Sugar, Stearic Acid, Modified Starch, Acidity Regulator: Malic Acid, Cornflour, Magnesium Stearate. Colours: Anthocyanins

This item contains the following per 100g:

Energy (kj): 1749
Energy (kcal): 412
Fat (g): 3.4
Saturated Fat (g): 3.4
Carbohydrate (g): 93.7
of which Sugars (g): 90.6
Protein (g): 0
Salt (g): 0

Taveners Coconut Mushrooms:
Sugar, Glucose Syrup, Coconut( 15%) Cornflour, Beef Gelatine, Vegetable Oil, Cocoa Powder. Colours: Caramel, Allergens: Sulphites, May Contain Traces Of Milk

Taveners Liquorice Comfits:
Wheat Flour, Sugar, Treacle, Dextrose, Glucose Syrup, Modified Tapioca Starch, Vegetable Oil, Liqourice Extract, Glazing Agents: Carnauba Wax, Shellac, Safflower Extract. Colours: Curcumin, Anthocyanins, Carotene, Calcium carbonate, Flavours: Spirulina, Allergens: Wheat

Taveners Liquorice Cuttings:
Treacle, Wheat Flour, Glucose Syrup, Liquorice Powder, Palm Oil, Glazing Agents, Carnauba Wax:. Allergens: Wheat , Gluten

This item contains the following per 100g:

Energy (kj): 1322
Energy (kcal): 311
Fat (g): 0.6
Saturated Fat (g): 0.2
Carbohydrate (g): 71.2
of which Sugars (g): 45.2
Protein (g): 4.8
Salt (g): .65

Traffic Light Lollipops:
Glucose Syrup, Sugar, Citric Acid. Colours: E100, E120, E133, E171, Flavours: Blackcurrant Flavour, Carrot

This item contains the following per 100g:

Energy (kj): 1673
Energy (kcal): 394
Fat (g): 0
Saturated Fat (g): 0
Carbohydrate (g): 97
of which Sugars (g): 84
Protein (g): 0
Salt (g): 0.05

White Chocolate Fish and Chips:
Sugar, Palm Oil, Whey Powder, Wheat Flour; Emulsifier: Soya Lecithin. Allergens: Gluten, Milk, Soya, Wheat

This item contains the following per 100g:

Energy (kj): 2186
Energy (kcal): 522
Fat (g): 26.9
Saturated Fat (g): 23.2
Carbohydrate (g): 66.4
of which Sugars (g): 52.7
Protein (g): 3.8
Salt (g): 0.25