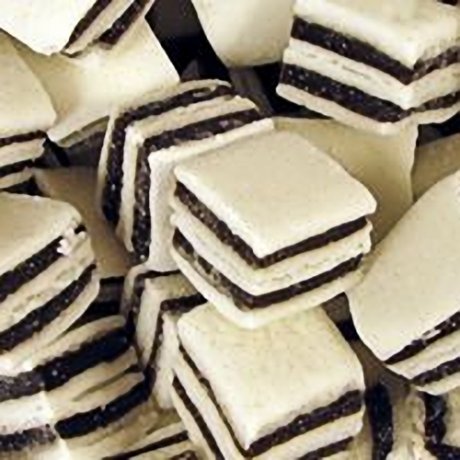 Taveners Black and White Mints
(Mint and Liquorice flavour chewy sweets.)
No artificial flavours
No artificial colours
Description
Taveners Black and White Mints - These are absolutely delicious! We love the blend of rich dark liquorice and the bite of sweet refreshing mint.
A classic and moreish combination of the traditional sweet made by Barker and Dobson.
STOP PRESS: Those pesky, meddling manufacturers have been up to their tricks again. They have changed the layers from... liquorice mint liquorice mint liquorice to... mint liquorice mint liquorice mint.
It doesn't sound much of a change but it means that the sweets are now much more minty with less liquorice... so if you're after a liquorice hit you might be better off with Pontefract Cakes, Liquorice Cuttings or one of the other hard-core liquorice sweets.
Customer Reviews

Nutritional Information
INGREDIENTS
Sugar, Glucose Syrup, Treacle, Wheat Flour, Coconut, Vegetable Oil, Gelatine( Humectant) Liqourice Extract, Cocoa Powder. Colours: E162, E100, E160c, E163, Allergens: Wheat

This item contains the following per 100g:

Energy (kj): 1573
Energy (kcal): 371
Fat (g): 4.48
Saturated Fat (g): 3.06
Carbohydrate (g): 79.2
of which Sugars (g): 67.2
Protein (g): 2.9
Salt (g): 0.34
Taveners Black and White Mints are also available as part of these fantastic gift sets