A Small Wooden Box of Festive Fun
Description

A Small Wooden Box of Festive Fun - A beautiful handmade wooden box filled to the brim with a stunning mix of Christmassy and retro goodies - what a cracking Christmas present to give to someone who really deserves a good old treat!!!

Just to give you an idea, the box (full of sweets) weighs 1 kg (that's 2.2lb) and measures 22cm x 12cm x 12cm (8.7in x 4.7in x 4.7in) - - a really meaty treasure trove of goodies!

The box contains all these lovely goodies that will make you go totally misty-eyed and get you totally in the mood for a Cool Yule: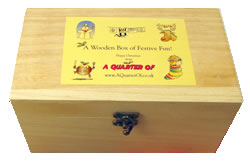 Christmas Chocolate Mix, 250g
Snowballs, 250g
The Best Strawberries and Cream Ever Tasted, 250g
Chocolate Coins, 1 Net
Wham Bar, 1 Bar
Drumsticks Lollies, 2 Lollies
Space Dust, 1 Pack
Double Dip, 1 Pack
Mini Love Hearts, 4 Packs
Mini Parma Violets, 4 Packs
Sherbet Fountain, 1 Tube

Loads of scrumptious festive goodies!!!
(Please note: Very occasionally, we may be out of stock of an item. It's rare, but if it does happen, rather than hold up your order we will replace the item with a similar, equally nostalgic item - so you won't ever be disappointed!)
Customer Reviews

Nutritional Information
INGREDIENTS

Chocolate Coins:
Sugar, Whole Milk Powder, Cocoa Butter, Cocoa Mass, Whey Powder, Milk: Soya Lecithin : E322. Flavours: Vanilla, Allergens: Milk, Soya, May Contain Traces Of Nuts

Dinky Chocolate Christmas Puddings:
Sugar, Whole Milk Powder, Cocoa Powder, Cocoa Butter, Emulsifier: Soya Lecithin : E322. Allergens: Milk, Soya

Dinky Chocolate Santas:
Sugar, Whole Milk Powder, Cocoa Powder, Cocoa Mass, Emulsifier: Soya Lecithin : E322. Allergens: Milk, Soya

Dinky Chocolate Snowmen:
Sugar, Whole Milk Powder, Cocoa Powder, Cocoa Mass, Emulsifier: Soya Lecithin : E322. Allergens: Milk, Soya

Double Dip Cherry & Orange:
Sugar, Dextrose, Acidity Regulator( Citric Acid, Malic Acid) Cornflour, Bicarbonate of Soda, Modified Starch, Stearic Acid, Anti Caking Agent( Magnesium Carbonate, Magnesium Stearate). Colours: Beetroot, Curcumin, Lutein

This item contains the following per 100g:

Energy (kj): 1651
Energy (kcal): 388
Fat (g): 0.5
Saturated Fat (g): 0.5
Carbohydrate (g): 93.8
of which Sugars (g): 91.6
Protein (g): 0.2
Salt (g): 1.1

Drumsticks - Original (Raspberry and Milk):
Glucose Syrup, Sugar, Vegetable Oil, Acidity Regulator: Citric Acid; Gelatine, Emulsifier: Glycerol Mono Stearate;. Colours: Anthocyanins

This item contains the following per 100g:

Energy (kj): 1753
Energy (kcal): 414
Fat (g): 6.3
Saturated Fat (g): 4.2
Carbohydrate (g): 87.9
of which Sugars (g): 87.9
Protein (g): 0.5
Salt (g): 0.1

Fizz Wiz Strawberry Popping Candy:
Sugar, Lactose, Glucose Syrup. Flavours: Carbon Dioxide, Allergens: Milk

This item contains the following per 100g:

Energy (kj): 1700
Energy (kcal): 400
Fat (g): 0
Saturated Fat (g): 0
Carbohydrate (g): 100
of which Sugars (g): 100
Protein (g): 0
Salt (g): 0

Mini Love Hearts:
Sugar, Acidity Regulator: Malic Acid; Stearic Acid, Bicarbonate of Soda, Modified Starch, Magnesium Stearate, Anti Caking Agent: Magnesium Carbonate. Colours: Anthocyanins, Copper Chlorophyll, Curcumin, Lutein, Paprika Extract, Beetroot, Flavours: Flavourings

This item contains the following per 100g:

Energy (kj): 1664
Energy (kcal): 392
Fat (g): 3.1
Saturated Fat (g): 3.1
Carbohydrate (g): 87.6
of which Sugars (g): 85.5
Protein (g): 0.1
Salt (g): 2.1

Mini Parma Violets:
Sugar, Stearic Acid, Modified Starch, Glucose Syrup, Magnesium Carbonate. Colours: Anthocyanins

This item contains the following per 100g:

Energy (kj): 1742
Energy (kcal): 410
Fat (g): 3.4
Saturated Fat (g): 3.4
Carbohydrate (g): 94.7
of which Sugars (g): 93.5
Protein (g): 0.1
Salt (g): 0

Sherbet Fountains:
Sugar, Treacle, Wheat Flour, Cornflour, Bicarbonate of Soda, Citric Acid, Tartaric Acid, Liquorice Granules, Anti Caking Agent( Tricalcium Phosphate). Colours: Caramel, Flavours: Aniseed Oil, Allergens: Sulphites, Wheat

This item contains the following per 100g:

Energy (kj): 1584
Energy (kcal): 373
Fat (g): 0.4
Saturated Fat (g): 0.2
Carbohydrate (g): 91
of which Sugars (g): 82.6
Protein (g): 1
Salt (g): 3.25

Snow balls:
White Chocolate( 58%) Raisins( 42%) Sugar, Cocoa Butter, Milk Powder, Whey Powder, Vegetable Fat, Emulsifier: Soya Lecithin : E322, Glazing Agents: Gum Arabic, Shellac. Allergens: Milk, Soya, May Contain Traces Of Nuts

The Best Strawberry and Cream You've Ever Tasted:
Sugar, Glucose Syrup, Citric Acid. Colours: Beetroot, Allergens: Sulphites, May Contain Traces Of Nuts

Wham Bars:
Glucose Syrup, Sugar, Palm Oil, Citric Acid, Milk Protein, Sodium Citrate, Safflower Extract, Spirulina. Colours: Curcumin, Anthocyanins, Flavours: Apple Juice Concentrate, Allergens: Milk, Soya

This item contains the following per 100g:

Energy (kj): 1577
Energy (kcal): 372
Fat (g): 3.5
Saturated Fat (g): 1.8
Carbohydrate (g): 84.7
of which Sugars (g): 49.2
Protein (g): 0
Salt (g): 0.18