Another bar that we think was made by Macintoshes. It was a brittle mint centre (lurid green if we remember right) covered in milk chocolate. Not sure when it went... but it surely did - apparently due to difficulties with production. The fact that it used to cut your tongue didn't help either!!!

Anyway... here are some memories that you will enjoy about Macintoshes Mint Cracknell...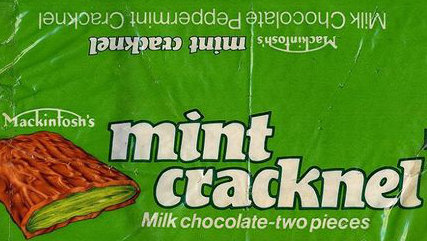 Sounds very similar to Peppermint Crisp, which I used to buy a a kid in South Africa. - Rob
Still available in South Africa and Australia, I believe. In SA, it's marketed by Nestle and is called Peppermint Crisp. - John

Definitely sounds like the South African Peppermint Crisp - which you can buy at any South African shop in South West London. Except when I bought a whole lot for my English colleagues, they found it too weird - maybe that's why it didn't last. Pretty sure it is made by Nestle - Fi
My favourite sweet ever! I was gutted when they stopped making them. Might be worth a trip to Australia or South Africa just to get it!! - Gillian
Cracknell bars were indeed made by John Macintoshes and Son of Halifax West Yorkshire. The cracknell sweet was first a member of the Quality Street selection and was then later made into bars, then came in Orange Cracknell, Mint Cracknell, Coffee Cracknell and Original Cracknell (original being the one found in Quality Street). Sadly it went many years ago, a shame really as this was one of my favourites.
Mint Cracknell was a two piece bar a bit like todays Bounty My Mum would only ever buy one & my sister & I had to have half each. My ambition was to have a whole one to myself one day but by the time I had money of my own they had stopped making them! They DID cut your tongue tho' !
Its mint glaciar chocolate bar by Macintosh!
Have just discovered your site which is fab, my first job was in the village post office which had a sweet counter just like this...if I lived near Bolton I would apply!! Anyway..re Mint Cracknell something which sounds identical to this is called Peppermint Crisp and is available in most south african import shops, it is manufactured by Nestle (I think) and is a big favourite among the South African ex-pats (can't see the appeal myself but my husband loves it!) Hope that helps Best wishes Victoria
Im glad that someone else remembers Mint Cracknell - I loved it as a kid. Wish they'd bring it back........ Sarah
The mint cracknell you described is still for sale in South Africa. I can't remember the name it has there. Something with Mint :-) I used to call it Mint Crisp. Cheers, Isobel.
hi,,i remember a bar of chocolate called mint cracknell, it was lime green on the inside mint flavoured bits that looked liked icicles and was covered in chocolate, delicious, do you know if it can still be got? jackie
Firstly i would like to thank you for a great speedy service ! All the things i ordered are just as i remember them and i will soon be placing another order with you ! I wondered if you can get Mint Cracknell at all? and another bar but i dont know its name ! It was a mint honeycomb puff bar covered in chocolate but melted in the mouth not hard like a crunchie ! I think they made an orange one as well? Thanks Anne
Do you remember mint cracknell - is it possible to still get this. Sonia. Sadly not, Sonia.
Hi I have been looking for it to but macintosh no longer makes it.??? However I have heard that Nestlé make one the same called peppermint crisp I ordered a few bars of a uk website see if you put mint cracknal in the search bar then pick shopping the website should come up but I let you know if it is the same but as I heard someone describe it and it does sound the same cos I tried mint crisp and that's not the same and mint bits cos when you bit into a mint cracknal the only way I can describe it is it looks like fibreglass so I let you all know if it is the same Susan
---
Do You Remember These Other Retro Sweet Classics...?
Aztec Bars
Cabana Bars
Frys Five Centres (and Five Boys)
Macintoshes Golden Cups
Mint Cracknell